These days, it's not just "good practice" to add visuals to your online content, it's necessary.
Nearly 70% of customers consider visual information about a product to be very important. That's more than the number of customers that consider written information, product descriptions, and reviews important.
To reach people, you need to be visual.
Luckily, there are online tools out there that make it easy to create graphic design for print and digital media. The freemium design tool DesignBold adds a lot of value to your content for a minimal investment of time and money.
The main advantage of DesignBold over other online design tools, like Canva, is its huge selection of stock photos.
You can access 40 million stocks with DesignBold (300,000 of which are free to use), to Canva's 1.5 million paid stocks.
DesignBold is a younger, hungrier version of Canva that, in the last year, has been winning startup competition after startup competition in Southeast Asia. But enough about them, let's run their tool through the paces:
DesignBold vs Canva: A Comparison Review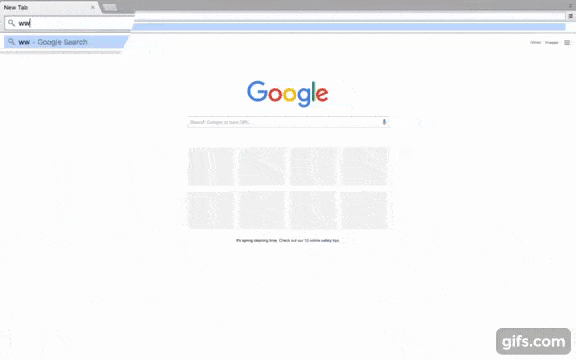 Intuitive Design
It's easy to master DesignBold's basic features, even if you've never used design software before or, like me, used it and hated it.
If you know Canva, getting started with DesignBold is easy, since many of its features – like drag-and-drop design, color palettes, and custom fonts – work in the exact same way.
Better Stock Media for Less $$$
If the image you're looking for is one in a million, you can find 40 of them on DesignBold. Use an advanced keyword search to effortlessly sift through 40 million premium stock photos, images, and vectors from 123RF and other established brands.
The number of stock photos adds much needed diversity to online design. Canva, for example, has over 10 million users, but only 1.5 million stock photos.
Even if each user selects just one stock image, there's a huge amount of repetition going on.
It's highly likely that you'll run into another brand using the same Canva images as yours.
It's also more affordable to purchase stock images on DesignBold than on other tools. There are 300,000 stocks that are free for anyone to use. The others cost $0.80 each, to Canva's $1.00 per photo.
Unlike other tools, DesignBold includes premium stock packages as part of its Pro and Team plans. With Pro ($19), you can use 20 premium stock photos every month for free.
With Team ($49), you can use 100 premium stocks per month for free.
The bottom line: if you use at least six stock images per month, then, DesignBold Pro is immediately a better deal than Canva for Work. If you use more than six stock images, it's an even better deal.
Fresh, New Templates
There are more than 10 million users pulling designs from market leader Canva's template pool.
This means that many businesses are inadvertently using the same designs for their branding. If you want to distinguish your brand from others, a fresh template is the solution.
You'll find thousands of fresh templates for digital media, print media, and social media on DesignBold.
These templates vary from the clean and professional to the very goofy, so you may have to spend some time browsing to find the right template for your project.
The design quality of the individual templates is, however, generally high and the DesignBold design team adds new templates every single day.
The templates aren't cookie cutters, either. The templates are fully customizable, drag-and-drop friendly designs that are easy to rearrange, deconstruct, or put together from scratch.
You can also access a real-time stream of all the designs that the DesignBold community shared publicly. This stream is a great place to find design inspiration.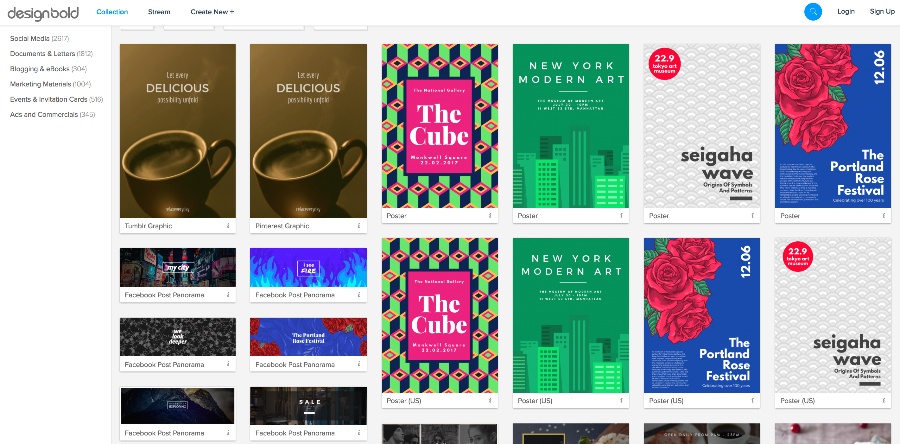 Unlimited Cloud Storage
DesignBold is a cloud-based tool that saves every design you make to the cloud so that you can edit, change, and reuse it at any time. There's no limit on the number of designs you can create, save, and store indefinitely, even with the free plan.
Unique Features
DesignBold has a few unique design features that set it apart from other tools I've used.
One of these is brush frames, the feature I used to create the header for this review. DesignBold offers dozens of brush frames, which give your photos unique shapes like paint splatters and brushstrokes.
If you want to get creative, you can take advantage of the number of unique features in this tool. These features, like brush frames, focus mainly on photo editing, which is in keeping with DesignBold's emphasis on stock photos.
You can also upload an unlimited amount of personal media to DesignBold.
The platform supports file sizes of up to 5MB (free plan) and 20MB (Pro, Team plans) for high-resolution designing. You can download any design in high resolution using the "PDF for Print" option.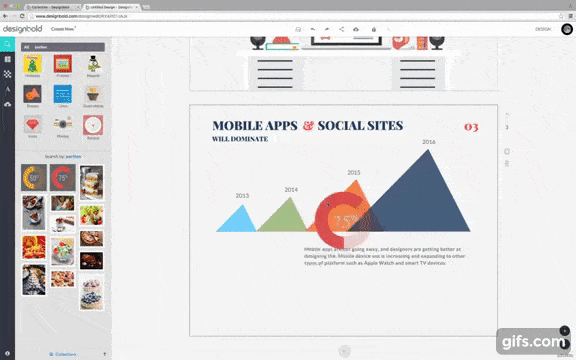 Pro Features
The custom color palette feature on Pro helps keep every design consistent with your brand's identity.
You can add an unlimited number of colors to your "palette." Then, every time you change the color of a block of text or a vector, you can refer to your palette. The feature makes branding with color much simpler and much faster.
Like color, font is a powerful branding tool that helps solidify your brand identity.
With the custom font feature, upload unique and rare fonts to your account and use these fonts for any text. With Pro, you can upload up to 30 custom fonts and, with Team, can upload up to 50.
Use the magic resize feature to recreate any design in another size.
If you've made an event flyer, for example, it takes two seconds to resize that flyer as a Facebook cover photo, an Instagram post, a LinkedIn update, or a presentation slide.
This keeps branding consistent and saves huge amounts of time.
Pro Giveaway For 3HUNDRD Readers
Typically, DesignBold Pro costs $19 per month to use, but, this month, I'm giving away a year-long Pro subscription to DesignBold to one awesome 3HUNDRD reader.
The free subscription has everything but stock photos, including color palette, custom fonts, magic resize, and up to 20MB image uploads.