In modern life, you can see logos everywhere, in the street, in the restaurant, on the product surface and so on. The logo has become more and more important in our life, especially for the business person.
A successful business requires a successful logo, such as Apple, Toyota, Microsoft, etc. A successful logo can not only express your company culture but also represent your company and attract more clients to you.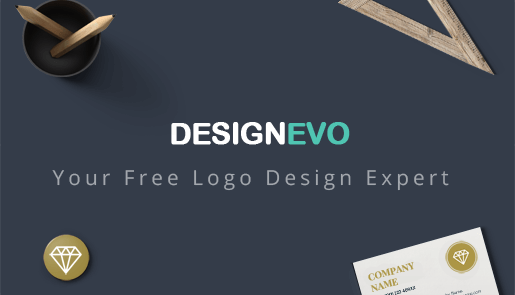 Then how to get a successful logo? There are two ways, hire a professional designer or do it yourself.
To be honest, it is the best way to hire a designer to create a unique and suitable logo for your company, but it's costly for a large number of small business owners and startups. Thus, there is only one way for them to make a logo by yourself-use online logo maker.
Here, I want to introduce a great online logo maker named DesignEvo for you guys.
DesignEvo is a web-based(now there is a desktop version for Mac) graphics tool that allows you to make professional logos online easily. It is very easy to use, and it comes with an intuitive interface that you are able to figure out the way to master it in a few minutes.
DesignEvo has prepared a lot of resources for you, including 3,000+ well-designed templates, millions of icons, 100+ fonts, qualified shapes and powerful editing tools. All of them are easy and free to use that allows you to design your logo freely.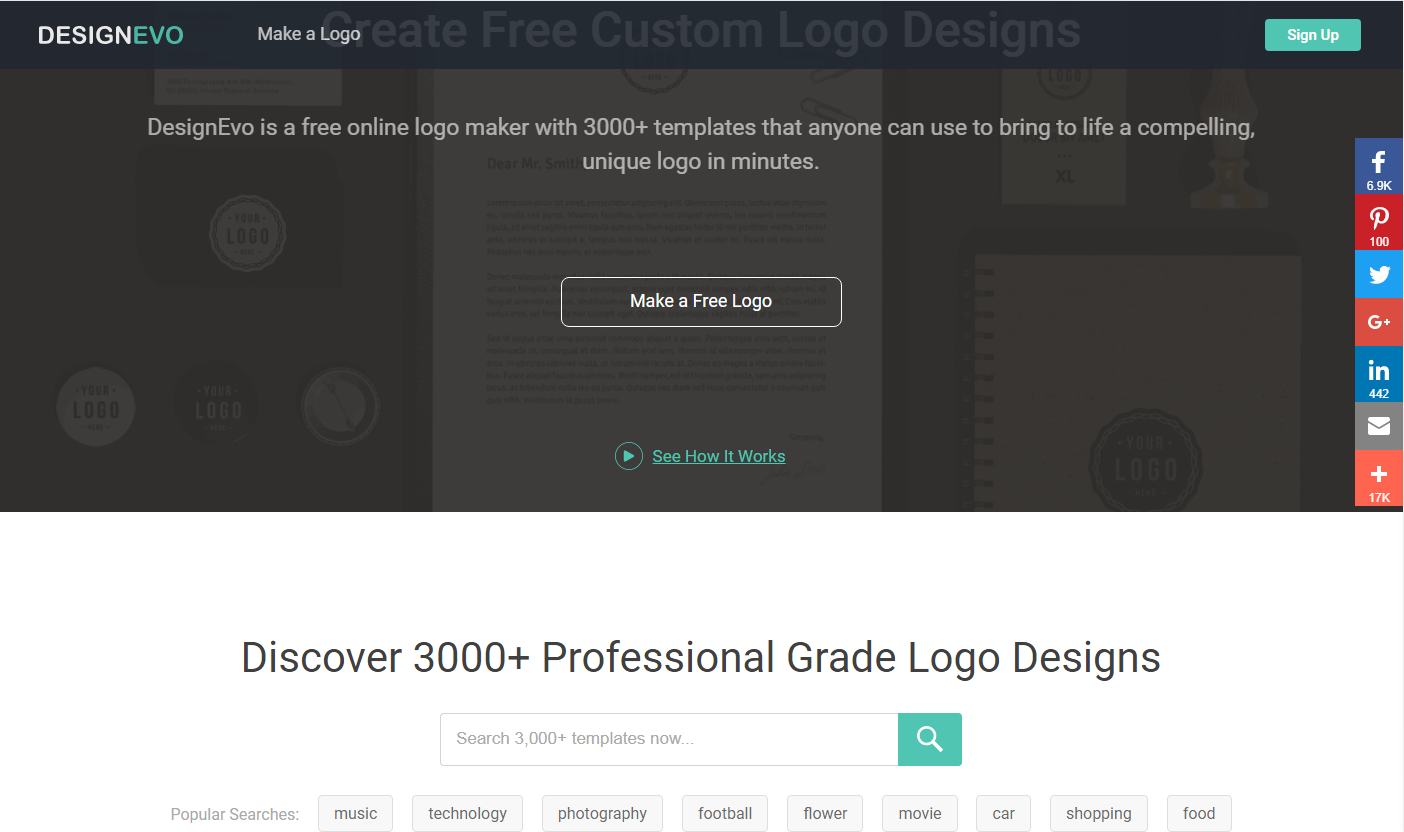 Next, I'll show you more details about the features.
3,000+ Well-designed Templates:
If you have no breakthrough idea to design a logo from zero, you can use the pre-designed logo templates to complete a logo design quickly.
DesignEvo provides 3,000+ free delicate logo templates for you, which cover a range of categories, for example, technology, sports & fitness, gaming, nature and so much more.
No matter what kind of logos you need, you will find a suitable template to begin your logo design. Besides, all of the templates are fully customizable.
It enables you to adjust every element of the template, which can not only inspire you but also simplify your design process. Then you can easily customize it to meet your specific needs.
By the way, there is a search box on the front page of DesignEvo, which allows you to search a needed category with a keyword and you can select a preferred template easily and fast.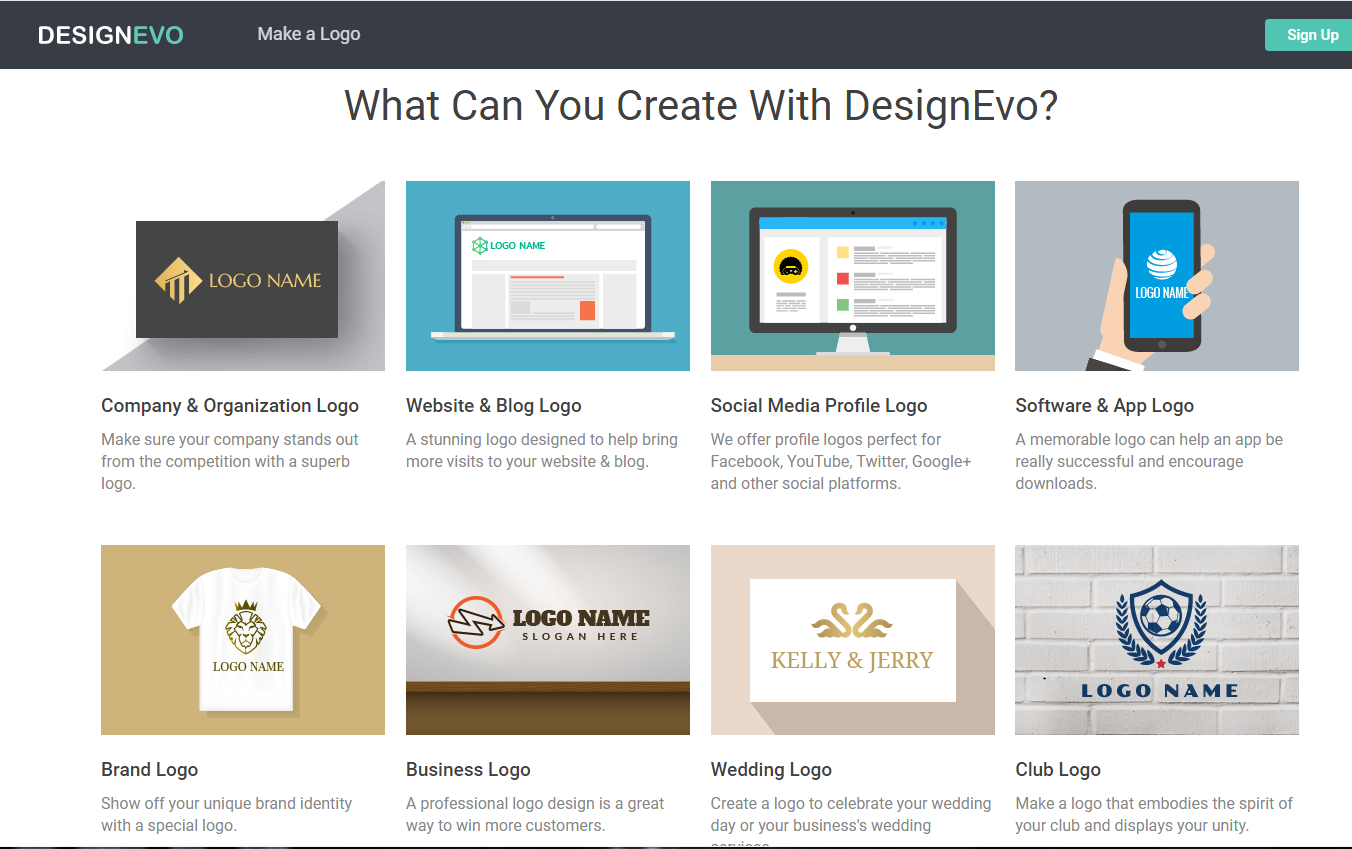 Millions of Icons:
If you want to create a brand-new logo on your own, then you can start from a professionally designed vector icon. Simply enter a keyword in the search box, and DesignEvo will filter out a myriad of related icons in seconds.
The only thing you should do is select and try to decide which one to use. There is a sweet thing is that it offers you a list of popular searches(20 keywords) in case you have no idea what to search.
What's more, there is a feature that can keep some keywords that you have searched to remind you what you tried to find last time.
It is worth mentioning that the icons are vector icons, which means they can keep the quality even if you amplify the icon to an extreme size.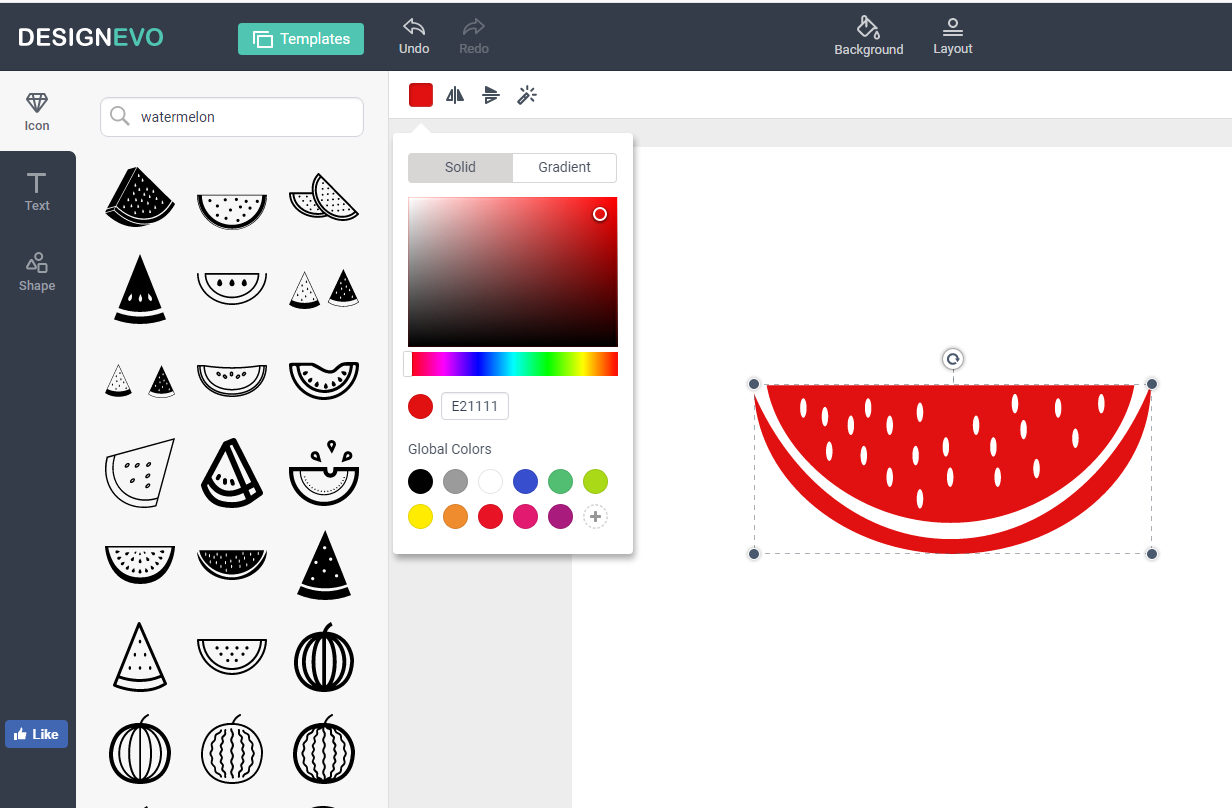 Stylish Fonts & Shapes:
Apart from the qualified vector icons, there are over a hundred of stylish fonts, and various of shapes await you to play around with.
All of the shapes are vector graphics as well so you don't need to worry about the quality problem. There are badges, decorations, lines, solid shapes, outlined shapes, banners and symbols for you.
You will definitely find out one or two useful shapes to perfect your logo. What you should be careful is that don't put too many elements into one logo, it will not enhance your logo but makes it in poor taste.
There are two types of fonts, including classic fonts and art fonts. Every font is beautiful and well-designed that can express your company name or slogan in the best way.
DesignEvo has also prepared powerful editing tools. You can edit the templates and graphics freely, resize, rotate, change background, color, layout, effect and so on.
It doesn't need many professional skills because it is born to serve ordinary people. You can just drag and click and everything will be done easily.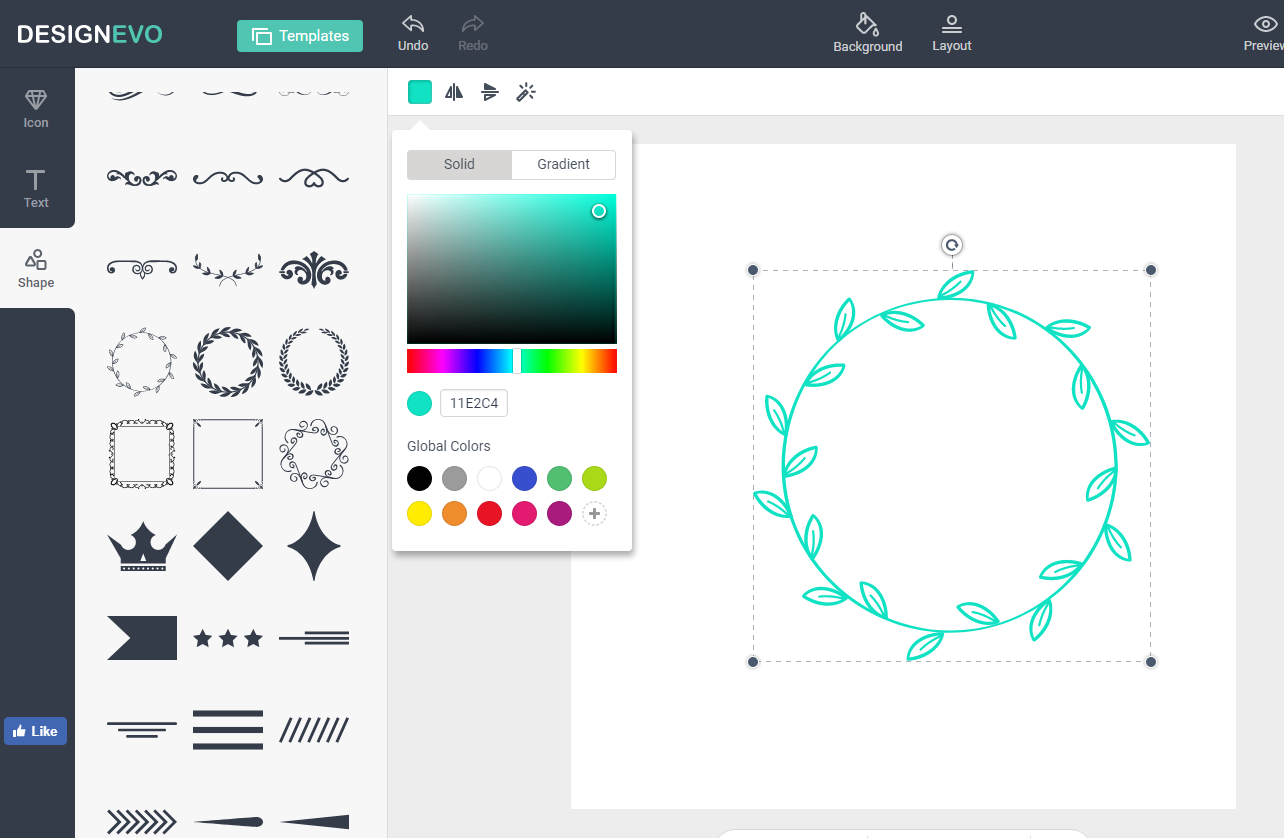 Preview & Download:
If you are done with your logo design, you'd better preview it before downloading, which can help you visualize your designed logo on several commonly used items, such as business card, wall, book cover, T-shirt and so on.
So you can easily figure out whether your logo design is perfectly fit your needs or not. Otherwise, you can redesign it to adjust something to meet your needs. It can definitely save you a lot of time and energy.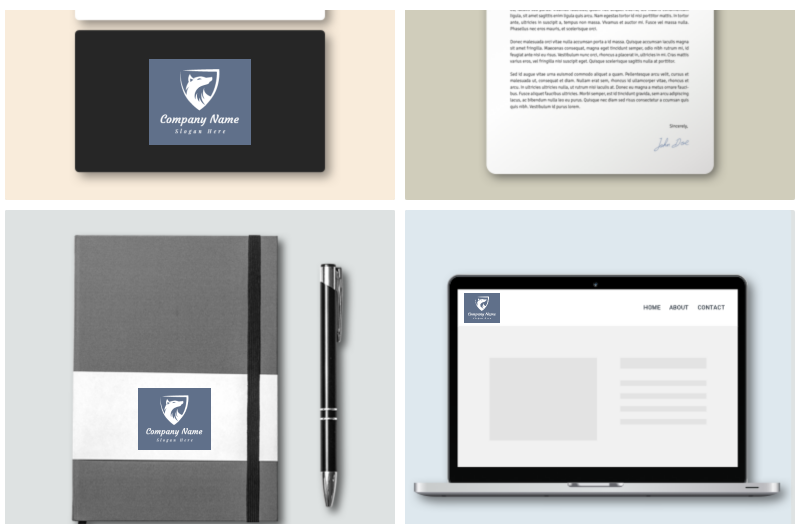 When everything has finished, you can download your logo. It will give you two types of the output, jpg and png with a background. You can choose the different one for different occasions.
See how it works with this video guide that will show you show to make a logo with a few minutes. It's quite easy and useful.
A Few Logo Design Tips For You:
#1 Simple:
Too complicated design can create barriers to communication, so don't be over-crowded in your logo. Keep it simple and use a few elements to combine and beautify it.
A complex logo is not only illegible but also hard appealing to the audience. To some extent, simple means complicated. The logo is a mark, not a declaration.
It needs to be kept simple to speak more for your business and attract more clients to you.
#2 Unique:
This is one of the tricks we care about but not always good at. How to make a logo become a brand identity? Very easy, is the only identifiable.
Don't be ordinary. Your company is unique with a special culture and market management features, so it must be thoughtful when designing a logo.
The so-called uniqueness means to make the ordinary object to be an extraordinary classic.
#3 Meaningful:
Every logo is telling a story. If you simply treat the logo as a work of art or a pattern of lines and words, you can never understand the deeper meaning behind the logo. Ideally, a good logo speaks two stories: a superficial one, a hidden one.
If you can prove to your clients that the logo you are designing is not just a superficial design, but rather a thought-provoking one, they will love it, even if it is simple.
Final Words
DesignEvo logo maker is really a useful tool that offers you a chance to create brilliant logos easily. Don't worry if you are a newbie, and all the features are easy to handle.
Believe that you can be a great logo designer with DesignEvo and you can create a stunning logo for your business.
If you are a small business owner or just an independent designer, come to work with DesignEvo and enjoy your design journey right now!