Last week I announced to my subscribers that by sometime next year (mid-2020) I will have ready-made-niche-sites for sale.
These will all be sites that have traffic, are making money and are "turn-key" solutions for affiliate marketers looking to invest in a ready-made, passive-income earning affiliate websites.
I've sold some of my websites before (and learned a lot about how to do it, and how to do it well) so today;
I want to share with you this guide to show you how you can start creating websites with the sole purpose of selling them later.
Here's what I will be covering in this guide:
5 reasons why building websites is a great business
How to create websites to sell (for top-dollar)
How long this "process" would take and of course;
How much you should sell your website for.
If you're curious about this business model and how it works, keep reading as I'm about to share everything that I've learned in the past 5 years building and selling websites.
Let's get started…
5 Reasons Why Building Websites (To Sell) Is A Good Business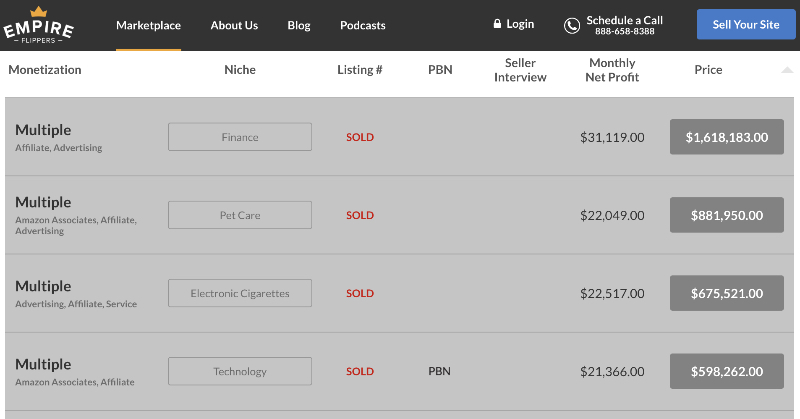 It's Cheap To Build A Website
Websites are very, very cheap to start, build and maintain.
On average, with a cheap domain and hosting package from BlueHost, your website will only cost you $100 a year to run, which as you will see, is peanuts compared to how much you can earn building and selling them.
So yes, if you don't have much money to invest, this would be a good reason why you should try this "website-flipping" method I will be sharing with you below.
You Can Build Them Fast (& Sell Them Fast)
Compared to other online business models, building a website primed to make money does not take too much time.
I estimate a website needs to have at least 30 published pieces of content for it to have some significant rankings, traffic and maybe even some sales.
Now you can either hire writers (which will incur further expense) or you can write the 30 blog posts yourself, however; 30 blog posts should take you about 30 days to write and publish (one a day is more than enough).
(30 posts might get you started, but ideally – you'd want to increase the published posts count to 100).
Given enough time (which I'll explain better below), 100 published blog posts would be more than enough for you to be making quite a bit of money and to have your website ready to sell, for a handsome exit-figure.
(More on this below).
Websites Are Digitial Real Estate
One other reason why I will soon make building websites to sell is that websites are digital real-estate.
You can think of your website, as a "property" that you own and you will soon realize that if you start thinking of your website portfolio like a real estate portfolio, this business starts to make a lot of sense from an investment point of view.
Just like real estate, websites (typically) hold and increase value over time.
You Can Build A Website In Any Niche
You might be thinking;
"But what is my site going to be about?"
I will explain how to find your niche below but you can build a website about anything you want.
Got a hobby? Build a website around that.
Got a skill that can help people? Build a website and help people.
There are millions of niches (topics) you can build your website around and billions of people online.
However obscure and weird a topic is, there are still people all over the world who want to know about it.
You Can Make A Lot Of Money – Quickly
Down below I will show you the exact mechanisms of how to build a website that you can sell for $5000, and since you can build up such a website in one month;
You can theoretically build one site per month that you can eventually sell for $5000.
Of course, it's not always as simple and as straight forward, but yes;
That is the opportunity that is at play here if you're willing to go through the steps required to pull it off.
How To Create A Website (To Sell It Later)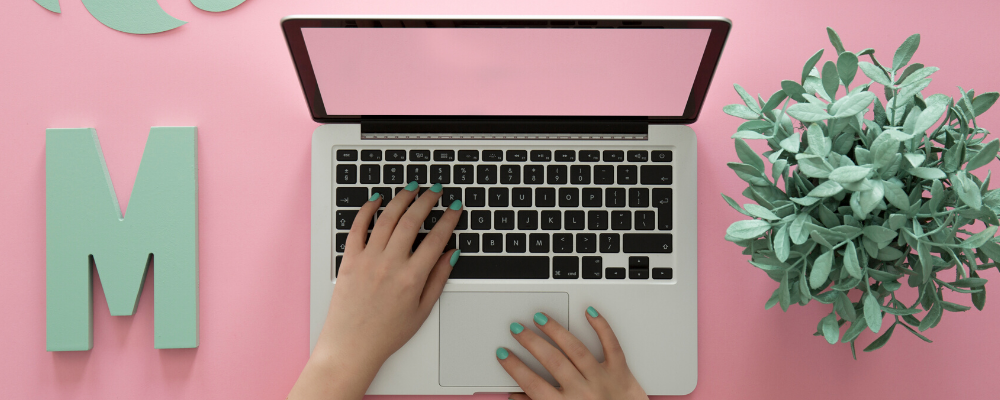 Find A Low-Competition Niche
The first thing you need to do is to find a niche that you'd like to build your website around.
As I've mentioned already, there are countless options and pretty much every niche can make money (although some are harder than others).
If you want to go into the business of building and selling websites, I'm going to assume you're going to want to do it "quickly" so, with that in mind, I would advise you to pick a niche that has:
Low competition and
A decent search volume.
A few weeks ago I published a mega in-depth guide complete with step by step picture instructions and videos on how to pick a profitable niche for affiliate marketing.
I highly recommend you check out that training course so you can see how I go about picking niches that I can then build for myself (or for my customers).
Buy A Domain
Of course, if you're going to have a website, you are going to need to have a domain (and hosting).
This can be had either from BlueHost or from any other major domain registrar (NameCheap and GoDaddy would also be a good option to use).
This will cost you just $100 a year, but you can get started with BlueHost for just $3.95!
Build Your Website
The next step is to build your website, which of course is the hardest thing you need to do.
Since you've picked a niche (topic) with minimal competition, then you should not find it too hard to rank for certain keywords and to start getting traffic to your website, which will eventually lead to money.
It will take time to build up so don't expect too much too soon but if you stick with the 30+ published blog posts method mentioned above, that should be enough to get you started.
Of course, the more content you publish, the more traffic you will get, the more sales you will do and the higher you can sell your website.
Monetize That Traffic
Once you have the traffic coming in, the next thing you need to do is to start making money, which is where it gets interesting.
The valuation of your website will come from how much money your site earns, which is where this whole "build websites to sell them" business models suddenly starts making a lot of sense.
How Much Should You Sell A Website For?
The average going rate for websites that are earning money starts from 20X up to about 50X the monthly profit.
Meaning, if you have a website that makes $500 a month, you can sell that website anywhere from $10,000 up to $25,000.
What makes the difference in multiplier?
Great question.
This guide goes much more in-depth about this but the value multiples can come from many different things – for example;
If your site has a name/face associated with it, it will fetch a lower value because not "anyone" can run it.
If your site is making $500 p/month, but has only 10 blog posts published, it will fetch a lower multiple because not much work was put into it.
If your site is making $500, and you have a nameless/faceless website that anyone can run and 200 published blog posts, that multiple can go up to the 40X and more.
At the end of it all, only you can put a fair value on your website to see how much it's worth and it's up to the market to decide if it's worth investing into, or not.
However, just to give you an estimation of how much money you can make creating and selling a website, let's just run through some numbers so you see how quickly these "digital real estate" assets can increase in value.
Site making $100 = $3,000 selling price.
Site making $200 = $6,000 selling price.
Site making $1,000 = $30,000 selling price.
Believe it or not, building a site that earns $1000 a month is really not that hard.
I have many sites that earn that and more and I say this not to brag, but to show you that anyone can do this and it really does not take that much effort to create websites that can go on to sell for a lot of money.
Above I started this guide off with a picture from the EmpireFlippers marketplace to show you there are plenty of sites being sold in the six-figure region.
Here's another example, again from EmpireFlippers: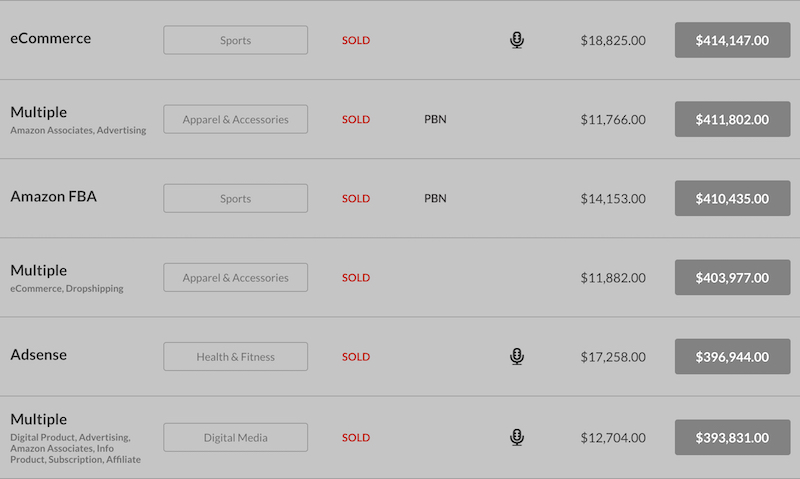 How Long Should You Wait Before You Sell?
Above I showed you how to create a website, how to get traffic to it, and how much you can sell it for (once it's ready to be sold), which begs the question;
When do you sell?
On average, a website created with the above-explained method takes about 6-8 months to fully grow to the point that it can be sold, for a profit.
This does not mean that you have to work on it for 6 months, it means it needs time for the traffic to come in, and thus income.
You can build a website this month, publish 30+ blog posts next month and then walk away from it and let the content rank in Google and eventually bring in traffic.
This is because of how Google ranks new websites.
It takes time for a new website to get the rankings it deserves and yes, there's a 6-8 month period where Google is not yet sure what to do with you and your content and thus they (the algorithm) continuously tests out your content to eventually find you your place in the search engines.
This does not mean you won't be making money before that either, my flagship website in the profitable niche site case study was earning $300+ by it's 5th month, – which gives it a valuation of about $10,000 in my eyes.

So yes, you need to wait.
Just build it, and then let it mature – it will bring traffic and it will bring income.
Of course, if you want to "keep building it" then you can eventually sell it for a much higher price down the road.
5 FAQs About Creating Websites To Sell
Before I share with you a very-special bonus pack which I have prepared for you down below, let me first address some common FAQs about creating websites to sell them that I'm sure you may be wondering, starting off with the…
Q: Where Is The Best Place To Sell Your Website?
Although there are many places you can buy and sell websites online, there are 3 major "exchanges" which you can use and these are:
I have used all 3 and I can recommend all 3 of them to you with the utmost confidence. I would also encourage you to go to each individual marketplace and see what is currently being offered and for how much.
You will learn a lot about how to create websites to sell if you see what's working and what's getting sold often.
Q: What The Process Of Selling A Website?
Once you list your website with any of the above marketplaces, your site will be visible to any potential buyers who are also in the marketplace.
If someone wants to buy the website, they either place a bid on your listing, buy it instantly with the "buy it now" price or even get in touch with you with some questions.
Q How Long Does It Take To Sell A Website (Once Listed)?
If a website is a good deal, you can expect to sell your website in one week tops.
Very few "good deals" last long as there's a big demand right now for well-built websites which already make money.
Q: How Does Payment & Transfers Work?
Once you have a buyer, the buyer will "deposit" the funds into Escrow using the marketplace itself and then you (as the seller) need to transfer the website to the buyer.
Once everyone is happy, the escrow will then release the funds to you, and the transfer information to the seller, and that's it – your job is done.
Pocket the cash, go on a vacation or re-invest it into your next website – it's up to you.
Want Some Free Training On How To Create Money-Making Websites?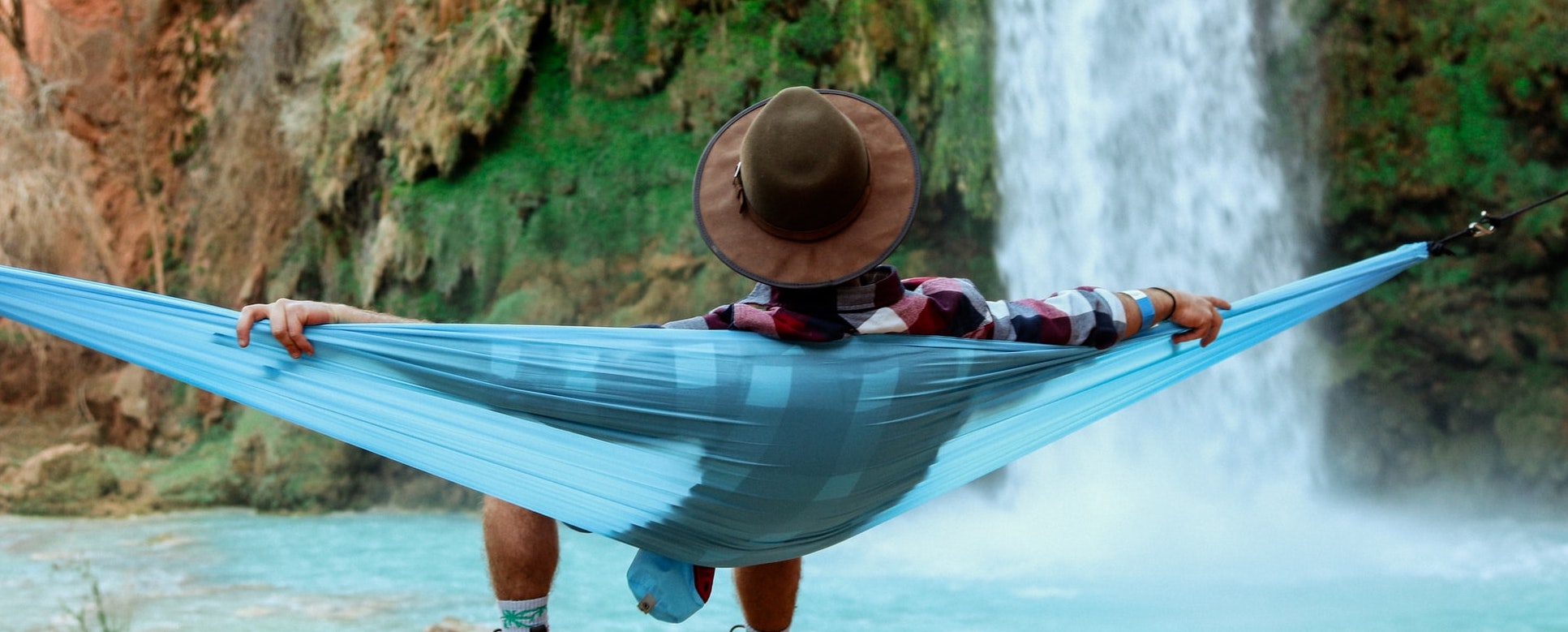 Hopefully, this post delivered some inspiration and some motivation to help you understand how you can create a business online selling websites.
However, you're going to need more than what has been laid out for you here to really understand the whole process of what it takes to build up a successful money website.