One of the best skills you can possess in affiliate marketing is the ability to spot profitable niches from the thousands of niches available online.
Without a proper niche research you could end up building your whole affiliate business on a shaky ground, and you could suffer from inconsistent monthly sales.
A good niche research will tell which profitable products you can promote, and could make your content marketing strategy more effective.
I saw firsthand many affiliate marketers fail or still struggling with their affiliate marketing business just because they made a bad niche choice.
One of the most common mistakes beginner affiliates make is targeting niches with very low buyers' base.
Take for example a niche like "how to gain weight" and "how to lose weight"; one of them is less profitable than the other: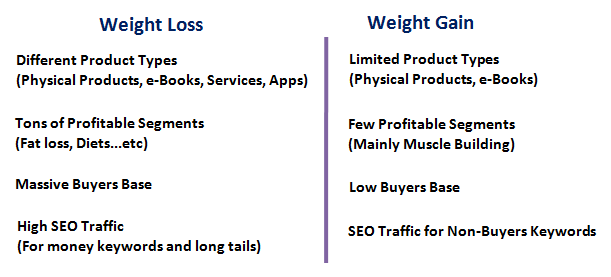 As you can see, failing to identify these factors in any niche could be the main reason why you fail or at least not achieve a desired affiliate marketing success in a reasonable time.
I am going to show you how to spot these factors with a simple niche research.
Find the Product Types in Your Niche
In any online business there are 4 types of products that you can promote as an affiliate marketer:
Physical Products

Software and Apps

eBooks

Services
Each type of product has a different average price, for example; ebooks usually sell for an average of $20 (give or take), while physical products and services range between $50 and up to 1000s of dollars.
To find out if your niche has many physical products you can use Amazon.
Search Amazon for your niche keyword:

Now browse through the results to see if there are any physical products there, also take a note of the average price of the product.
You can also check the product types that Amazon shows you for your niche keyword:
These different categories suggest that your niche has different types of physical products (exercise equipment, pills, and supplements…etc).
To find out if your niche offers software and mobile apps, we use Google and App stores.
Google "YourNiche "software" to find if there is any software being sold: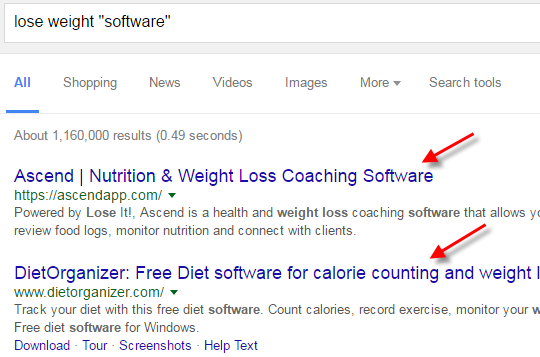 Mobile apps are also a great type of affiliate products to promote, and they are new to affiliate marketing since the whole mobile app boom is new.
Android is one of the most used platforms for mobile apps, and you can search Google's App store to see if your niche offers any apps:
Most of the apps in this niche are free, so don't depend on them for making affiliate sales.
Ebooks are also great for affiliate marketing, even though most of them are very low priced, they still sell in massive amounts and they have low refund rates.
You can use Amazon to search for ebooks in your niche, or use Google to find non-Amazon ebooks.
Search Google for "weight loss guide "money back"" (replacing "guide" with ebook or book)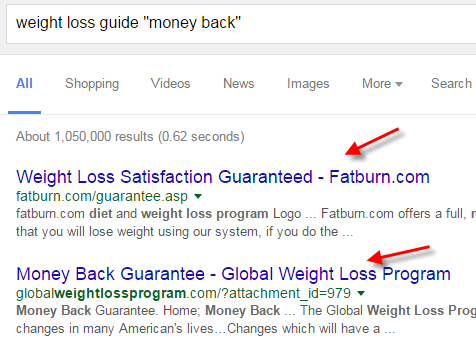 Services are the kind of affiliate products that bring the most commissions because they are either high priced or even offer recurring monthly commissions.
But services can sometimes be localized, like a company offering its service only to certain city or town.
How to find service providers in your niche is easy, depending on your niche you need to know if the services being offered are "coaching" or more traditional services.
For our niche example "weight loss" I am going to use the word "coaching" to find service providers.
Penetrate Your Niche Using Proper Segmentation
If you want to do affiliate marketing like a pro, you need to be aware of the concept "niche segmentation".
Any niche has a subset of micro niches that offer different types of products and a whole other pool of affiliates promoting these products.
By segmenting your niche you are staying far from the competitive part (segment) of your niche and you get to make your affiliate website more targeted one.
Not to mention that, you could find yourself more experienced about a certain segment than other parts of your niche.
From a marketing perspective, many companies have been segmenting niches even before the internet was created.
Taking the "weight loss" niche, for example, we are going to see how we can divide it into a list of micro niches.
Search Google for "NICHE a" (replacing "a" with b,c,d…etc)
Using these segments you can start to build a content strategy for your affiliate blog; writing informative content that solves the problems in your niche segment.
You then limit your affiliate products search only to those relevant to your segment so you can achieve the best sales conversion rates.
Assessing the Niche Size and Buyers' Base
Now you need to find out if your selected segment is profitable or not.
That can be done by finding out how many people are searching Google for your niche keywords.
Google keyword tool offers you with valuable data on niches size, and it is also an indication of the amount of traffic you can get with SEO.
Enter all your selected niche segments in Google's keyword tool and look at the monthly searches for each segment:

If you are a beginner affiliate marketer then it is best to pick niches with a maximum of 2,000 monthly searches.
Starting small is very important for beginners because you get to test various strategies that you learn in your affiliate marketing journey.
You will also start seeing traffic to your affiliate website more quickly because niches of that size tend to have SEO keywords that are easier and faster to rank for.
And with the small amount of traffic you generate to your affiliate website, you can start testing various writing styles for your product reviews.
Once you feel that you are ready to take your affiliate marketing business to the next level, start targeting a bigger micro niche.
And since many micro niches are closely related, you can target few of them on the same affiliate website and still be relevant to your visitors.
For example, starting out your affiliate website with "fat loss exercises" micro niche, then adding "fat loss pills" micro niche will not affect your affiliate business.
You will still make any visitor you get from both micro niches buy any product from both micro niches since they are complementary to each other.
In Conclusion
Affiliate marketing is a process and you need to think about it this way, don't expect it to be a quick money-making scheme.
Finding a profitable niche that works for you is very important, but so are other areas of affiliate marketing like creating review pages, designing your affiliate website, sales funnels and all of that.
Some affiliate marketing training (ex. Affset) offer affiliate tools that could make the process of finding profitable niches easy and less time consuming.