Incoming links to your site, or as usually called; "backlinks", are inherent to your blog's success.
These links are necessary because they improve organic ranking (that is, search engines will rank your blog higher) and they provide referral traffic (traffic that comes from the sites that link to you).
This kind of traffic is good for your blog because the audience is already narrowed down, and they are likely to stay longer on site.
As a new blogger, you may think that as long as you write your awesome blog posts, people will link to you without much effort on your part. After all, you're a great writer. Your content is – let's use some buzzwords here – compelling, valuable, and relevant. Who can resist?
Who can resist?
The thing is, that's the ideal situation, but we know very well the real world is anything but ideal.
In order to generate backlinks, you can't just sit back and wait for them to come. Instead, you have to be proactive.
That being said, let me share some tried and tested ways to get backlinks to your blog.
Backlinking for Beginners: How to Generate Backlinks to Your Blog
What Are Quality Backlinks?
Before we dig in, there's one critical concept that you must grasp: quality backlinks.
Simply put, these are links from sites that are established and have a good reputation. In this matter, quality trumps quantity.
You may have thousands of backlinks, but if they are from spammy sites, they will only ruin your blog.
So, how do you know you're chasing after quality backlinks?
There are tools to determine the authority of a website.
My favorite recommendation is SEMrush. It provides data that shows you if the website is worth getting a link from or not.
What you want to see is the number of keywords it ranks for (general rule of thumb, it should be around 300, minimum), a high number of backlinks, and the traffic over a period (you will want to look at least 6 months, with an upward trend, or at least a plateau).
Here's an example.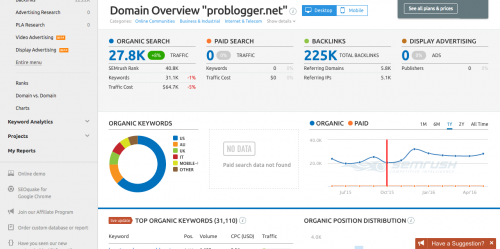 Obviously, it will be rather difficult for a new blog to get a backlink from sites such as ProBlogger, but you get the picture.
There will be other sites with lower numbers, but the same trends – sites which are more accessible.
Now that you can identify sites which can give you quality backlinks, let's look at ways to get these links.
Backlinking For Beginners
1. Guest Posting
Guest posting has more than its fair share of naysayers, and to this day, some experts will yawn even before you finish saying the phrase.
However, there is still something to be said about publishing posts on other blogs and linking back to your own. If done right, it still works!
How do you do guest posting right? Here are some tips.
Make a list of blogs that are related to your own. This is your "first draft", so to speak.
Use the method I mentioned above to determine which blogs to reach out to, and narrow down your list.
Do your research. Learn about the blog and the blogger inside out.
Work hard on your email pitch. Make it as short as possible. Introduce yourself and your blog. Say something that will let the blogger know you've been reading his blog. Ask if you can guest post, and offer topic proposals.
Send your pitches, and then send some more.
Follow up but don't nag. Wait for about a week to follow up if you don't receive a reply. If you still don't get one, leave it be. Perhaps you can try again after some months.
2. Outreach Marketing
Outreach marketing is similar to guest posting except that you don't have to create new posts for a single blog. Instead, you offer an existing post to another blogger.
To make outreach marketing work for you, first, choose the article you want to promote. Make sure it's something that your target audience will find worthwhile, like step-by-step guides, how-tos, an infographic, and a list of practical tips.
A post I wrote – "How to Start a Freelance Writing Business Online" – is a good example, since this blog is targeted toward freelancers.
The next step is to reach out to bloggers. As with guest blogging, get straight to the point. The essence of your email boils down to something like:
I wrote a post that you may find interesting. If you think it's worth sharing with your readers via a blog post or on social media, please feel free to do so.
If you're sharing an infographic, it is a good idea to offer to write a short introduction for a blog post.
Pro tip: make sure your signature includes your social media accounts so the blogger can tag you if he shares your post. 
3. Be Active On Sites Like Quora
If you're not on Quora yet, create an account now – not only to get backlinks but for personal/professional improvement as well.
How do you get backlinks from Quora?
First of all, you need to be an active participant. The site has so much information to offer, with smart people sharing their knowledge. It is no place for spammers to drop links (not that you want to be one!).
The way to get backlinks from Quora is to answer questions and link to sites that provide additional information. Occasionally, you can link to your own posts if they are truly relevant to the discussion.
A nice byproduct of being active on Quora is that you get to establish your name. When you've reached the point that people respect you as knowledgeable in your field, the chances are they'll voluntarily visit your blog and even link to your posts without you asking.
4. Network With Other Bloggers
Networking is essential to building a successful blog. It may not bring you tons of backlinks immediately, but success doesn't happen with a snap of your fingers anyway.
In itself, networking may not directly bring you backlinks. You will probably still have to make an effort to explicitly ask your contacts to link to you.
However, if you cultivate relationships with other bloggers, it will be easier to ask for backlinks.
Additionally, if you have established good relationships and people in your niche know that you have great content, they will naturally turn to your blog posts as reference material.
You can see how to network with other bloggers here.
Final Advice
In closing, remember these two things:
One, never compromise quality. Some sites may be easy to get backlinks from, but they may do you more harm than good.
Two, don't forget the importance of being authentic. Don't spam. Show your respect for other bloggers. Build relationships. Be patient.
Are you struggling with getting backlinks? Why not try the techniques I've just shared with you?
Let me know what you think in the comment section below. Also, feel free to join my email list where I will be sending you:
Thank you for reading.