"Publish more content, publish more content, publish MORE content."
That is the mantra of every wannabe SEO guru on the internet telling your their "secret" to get more organic rankings.
But what if there is another way?
In this guide, I a going to show you my tips on how to get more organic traffic from your already existing content.
No, there's no need to create an endless stream of content to be able to get the traffic you need.
Most likely, your existing content already is capable of getting you a 100% increase in organic traffic if you just follow the guidelines I will show you below.
A 100% increase a pretty big promise I know – I got a 72.87% increase and I have proof to back it up.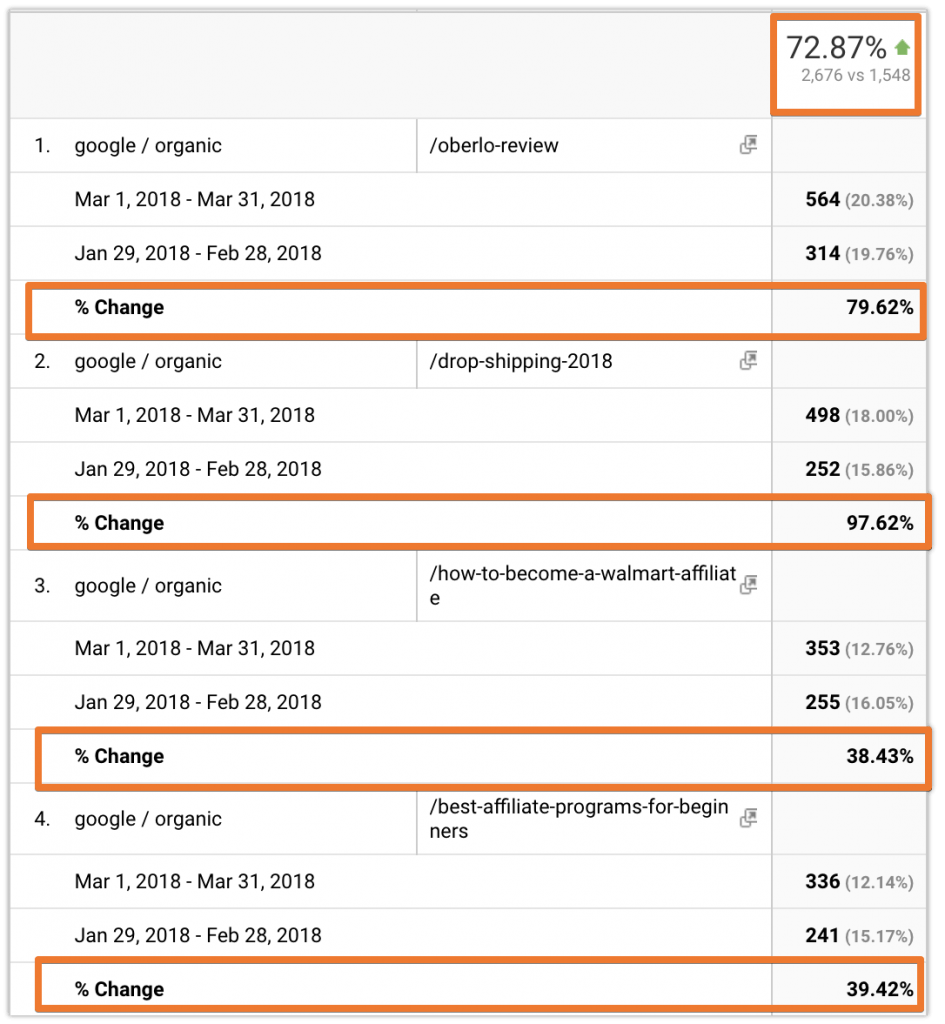 Overall, my site will be doubling in traffic as time goes by and I myself continue making these fixes I will share below with the remainder of my content.
So, how to get more organic traffic from your existing content?
Simple; optimize!
Chances are when you published your blog post, you were not even thinking about SEO.
If you're like me and you pay attention to SEO, then you might have done the usual on-page optimization techniques, but you have not yet optimized form the data you are getting.
Right?
Sadly, many of us (as I used to do this as well), simply publish a blog post (with SEO work), release it to the world and never think twice about checking it again and see how it can be improved.
Sounds familiar? I am sure it does. That's the trick of the "publish more content" mantra. You do not have time to optimize for your already existing content.
Does that mean that you should not post fresh, new content?
Absolutely not, it is important you keep your site fresh and updated but it's also important to get the most out of your already existing content and milk it for all its SEO benefits.
Now as I said, I've only been doing this recently so I myself am still learning about it but the results do look promising.
Here's some more proof that what I am about to tell you will do work.
I tried this experiment with one of my small niche sites that were getting less than 50 a day, after the changes, this happened:

How Did I Get To This?
Just like you, I was sick of being on the "new-content treadmill" constantly sweating out effort and getting nowhere exciting.
It can feel like that sometimes as I am sure you'd agree and while it does work to have more and more fresh content, it sucks knowing that the 100s of blog posts you spent hours on were all for nothing.
Well not anymore. Here's how you can use those blog posts to start getting the organic traffic you deserve.
Step 1: Look At Your Google Webmaster Tools
The journey to more organic reach starts from Google's Webmaster Tools. If you do not know what that or (worse) you do not have it installed, then you are shit out of luck.
Go learn about it, install it, wait a few months to get some data and then come back and re-read this post.
Anyways… what are we looking for on Webmaster Tools?
You first need to go on the "Search Analytics" and then to '"Pages".
This will bring up a list of your top performing pages sorted according to the clicks they are getting on Google.
Select the page you want to optimize for and then switch the tab to queries. Once done that, you will see the top keyword that specific page is ranking for (sorted by clicks)
You also need to "switch on" the:
Impressions
CTR and
Position Metrics
Step 2: See What Keywords You Are Ranking For On The Second Page
Once you do that, sort the keyword by impressions not just clicks and look for keywords you are ranking for on page 2 and beyond.
And here are the keywords shown in the last frame of the above video that I would be working on improving.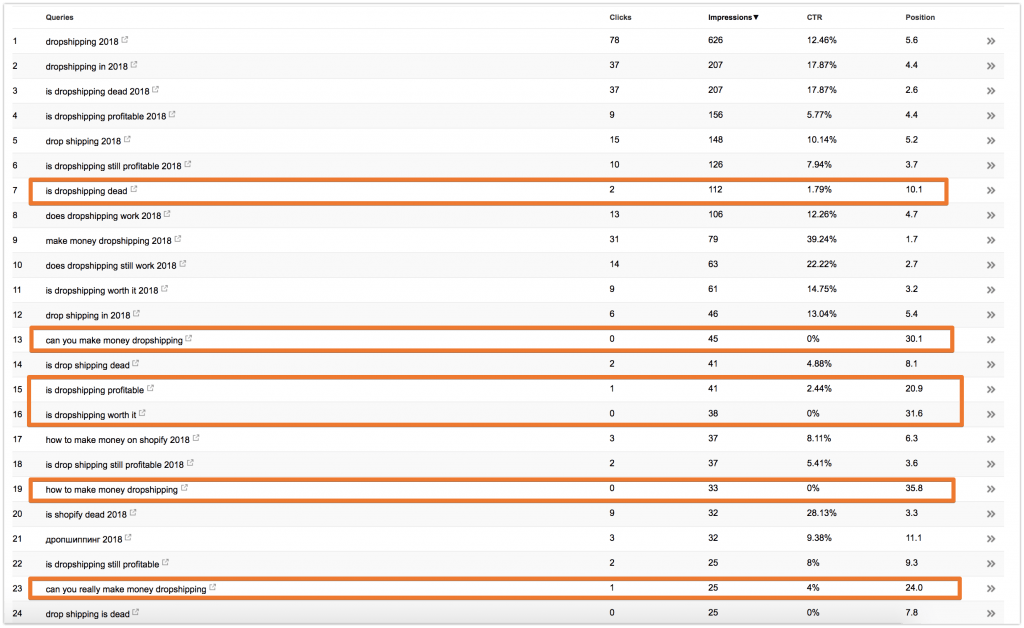 Step 3: Optimise Your Text For Those Specific Keywords
What you want to do know is to optimize your blog post for those selected keywords.
How do you do this?
You may already have these "keywords" in your content, probably as an H2 or H3 tag.
What you need to do is then improve that portion of the text with more content, this could be fresh new content, adding a couple more paragraphs and so forth.
Just explain that point a little bit better than you previously did and expand on it the best you could.
Basically, it all comes down to making your content better – which is the trick to getting more organic traffic.
Step 4: Add New Media To Your Post
I would also suggest you add new media to the posts as well.
This includes a brand new image and also start adding YouTube videos to your blog posts!
I am not 100% sure of this but I do think YouTube videos embedded on ap age illustrating a specific piece of information can have a significant increase on your rankings – just a hunch I have been since it's working, I am going to continue doing it.
Speaking of which…
Step 5: Republish With A Fresh Date & Re-Index
One last tip I would also suggest is if the blog post is more than 2 years old, you update the "Publish Date" on WordPress.
Make sure the content is relevant to the current year and you are good to go.
I do this because this shows "freshness" on your site to Google (as if it's a new post), even though the post has been published before.
There's a great case study done by Moz which shows this metric is real and it does have an effect on getting an increase in organic traffic from existing blog posts.
After all the above is done, simply re-index the people using Google's Webmaster Master Tool's Fetch as Google tool.
Step 6: Wait A Month, Look At The Results
Track the date which you made the changes and reindexed.
Wait a month
See the results (hopefully it's a significant increase).
Repeat the process.
In a month's time, you are going to have other keywords that are getting, impressions but are on the second page.
Your job now is to redo the whole process again with the current keywords you find in the second month.
Will This Always Work?
No.
I have tried this on about 10 blog posts so far and 2 of them actually didn't have an increase, with one slightly decreasing.
It's not a sure thing, but I do like my chances and if it does go well, the increase in traffic (as you can see from my screenshots) is worth the effort.
Couldn't The Time Spent be Used To Create More Content?
Yes, but as I said, it'd be a disservice to the posts you already publish to never get to their full potential.
After some time, you will start running out of new ideas and start recycling the same ideas and topics all over again (I did this myself).
This can get quite boring and tedious, but an 80% increase in traffic from a post you published 3 years ago that was "dead" is pretty exciting and it will open doors for you that you would've never have reached otherwise.
In Closing
I hope this guide on how to get more organic traffic from your already existing content helps you improve your blog and business.
If there is anything you are not sure of or have a sperate option about, please let me know in the comment section below.
I would love to hear your thoughts and ideas on how we can crack "the Google code".
Go get it.