The internet is made up of content and that same content generates around $200 billion in revenue each year. I guess it is safe to say that producing content can be very lucrative.
With that type of money being spent online, companies and businesses are trying to create their presence online and one of the best ways to do that is to create content (i.e blogging).
Now there is one tiny problem with that: Creating content is (very) time consuming and some businesses can't afford to use their time to create quality content but, they can afford to hire a "content creator".
This is where the "freelance blogger" comes in play!
I have used freelancing to make some extra cash in the past myself before I went into affiliate marketing so today I'd like to share my advice with anybody that would like to get started blogging as a freelancer.
If you have a basic understand on how to create articles and have a passion for writing, then this one is for you.
How To Get Paid For Blogging As A Freelancer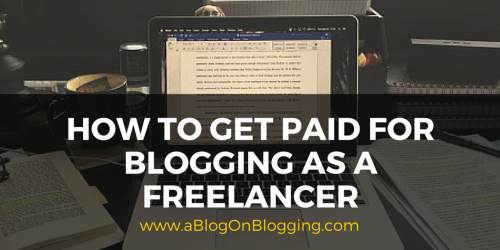 Welcome to the Gig Economy
Around four years ago, this idea of doing freelancing from home has become really popular.
This boom was brought on by an unstable economy and by the emergence of freelance sites that make it very easy and cheap to set up shop.
I jumped on that bandwagon as well around that time. Actually the first money I made online was doing freelance work and I would recommend it to anyone that is starting out making money online.
Following are two sites I regularly use that I can recommend to you with full confidence.
Fiverr: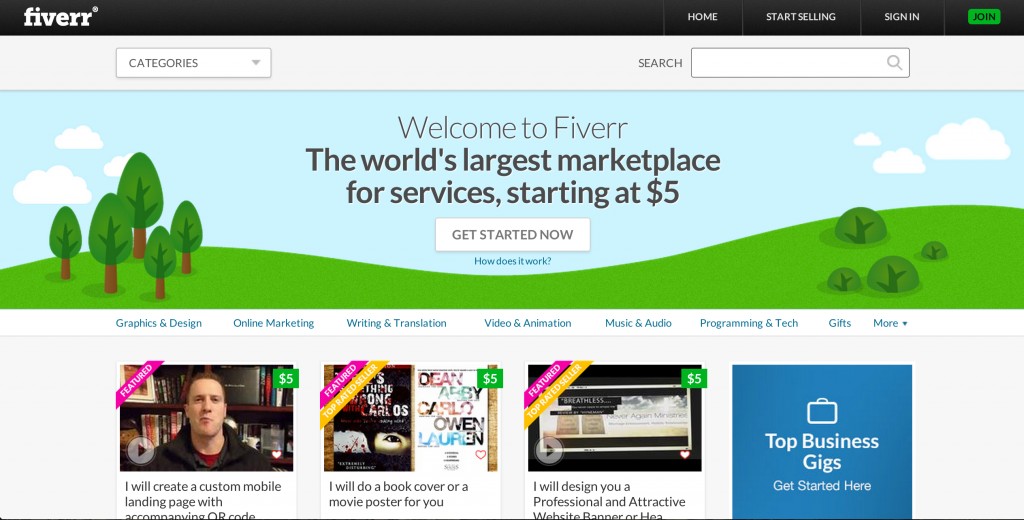 Fiverr is an online platform for people selling services starting from just $5. Before I go on, I should mention that you actually only get $4 as Fiverr keeps 20%. Kinda steep I know.
Anyways, Fiverr is a cool starting point for anybody that is a beginner in this business. If you're interested in doing some article writing, go over to Fiverr, set up an account and create your first gig. It's very easy to do and it's 100% free.
If you think "you got what it takes" to turn it into a small part time income, then maybe you should consider going to People Per Hour.
PeoplePerHour: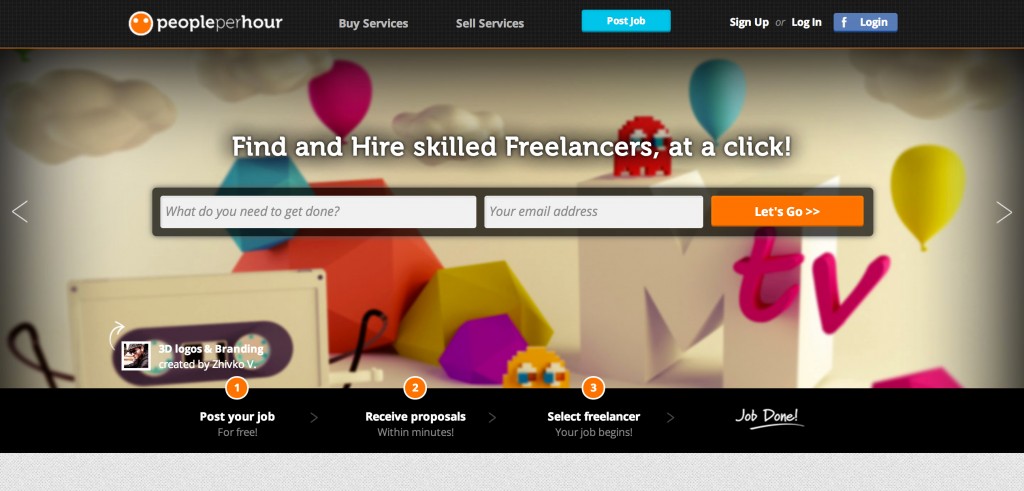 This has to be my favourite out of all the freelance platforms.
It's a lot like Fiverr, but it has a much more professional feel to it. The "gigs" are called "hourlies" there and just like Fiverr, you can set up for free BUT this time, YOU set the price!
Now this is why I prefer PPH over Fiverr;
You can promote your "Hourlie" by paying to get it featured.
You can go find work and send proposals to clients.
On Fiverr you kind of have to wait for work to come to you but on PPH, you can go out and bring it in.
Here you can charge as much money per article as you like. Since I'm assuming you're an average article writer, I suggest you start off in the $10-$20 range.
Tips To Remember When Blogging As A Freelancer
Refuse work that you're not knowledgeable about:
If you're not knowledgeable about the topic, just say no. If you deliver poor content, a customer will leave you a negative review and it's going to show to prospective clients. I've come to find people will appreciate you more if you refuse work rather than deliver a worthless piece of content.
It takes time:
Think research, writing and proofreading. An average 500 word piece of content can take you about an hour or so to complete so think of that when coming up with a price for your services.
Enjoy your work:
Again; If you're not enjoying what you're doing, it's going to make you miserable. Don't see "freelance blogging" just as a quick way to make some money. Do this only if you enjoy writing and would like to make some extra income on the side (or turn it into a home business).
Don't sell duplicate content:
Don't ever steal somebody's content and sell it to another person. That is just plain wrong on so many levels. Also most people that buy content always check for things like that with services such as CopyScape. Don't risk it, it's not worth it.
[Tweet "How To Get Paid For Blogging As A Freelancer"]
How Much Money Can You Make Blogging As A Freelancer? 
Well, your starting point should be $5 to $10 per article so don't go any lower than that. Once you get the hang of it all, consider moving to a site like PPH where you can charge $10+.
If you get really good at it and you have a lot of customers knocking on your door, start increasing your prices. The top freelance bloggers can get $100+ each article. Can you imagine selling 1 of those a day?
That's a very nice side-income!
Who Owns The Content? 
Any content that you sell on these sites will be the property of the buyer. Meaning it can be published on his or her own site, citing himself as the author.
You might get someone that would like to use your name (as a paid guest blogger) but that is very rare. Most of the times you won't be getting any credit whatsoever.
If one of your posts happens to go viral, you obviously won't get anything more than what you've charged in the first place. It's just a sad fact in the life of a freelance blogger.
Is There An Alternative To Freelance Blogging?
Yes there is. And that is you starting up your own blog business.
While freelance blogging can give you some instant cash, in the long run, it will be much more profitable for you to write content for your own site, learn how to drive traffic to it and make money with it.
If you're interested, I have a checklist that walks you through the steps of how to start your own blog. Feel free to check it out here.
Final Words
Blogging is an art form, and art should never be forced. Also blogging provides the ability to scale so enjoy it and make it work for you rather than you working for it.
Thanks for stopping by my blog. If you'd like to know more about freelance blogging and the blog business, feel free to check out some more of my posts and also subscribe to my newsletter.
As always, if there is anything I can help you with, simply contact me using these methods.
Till next time…