According to a recent study, the average office desk worker in the US is likely to gain 12 pounds while working in the office.
Most workers blame the workplace for their weight gain, claiming that the office environment affects their health and fitness levels.
A whopping 65% of employees go as far as to name their job as the biggest reason for their weight struggle. 
Indeed, office desks tend to encourage mindless snacking at the desk. As an employee works longer hours, they tend to turn to snacks for motivation and energy.
However, the effect is short-lived. In other words, the office snacking habit may not support productivity; it hurts it. 
Combined with stress, lack of time, and celebrations with co-workers, desk employees admit that their job makes them unhealthy and fat.
Weight gain is associated with growing health issues. Additionally, the food choices made in the office affect productivity and motivation negatively. Businesses need to take back control and restore their team's relationship with food.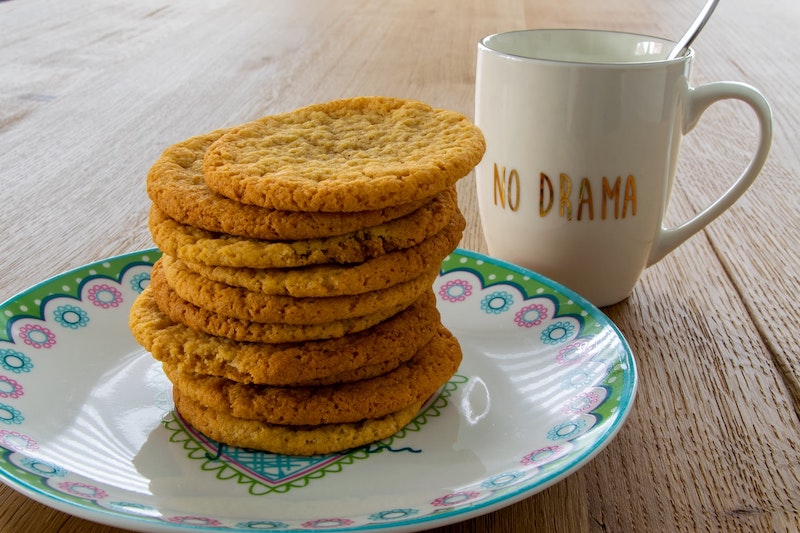 Educate, educate, educate
If the workplace has an intranet network, it's the perfect opportunity to start an educative campaign about food. Indeed, more often than not, people don't take the time to consider the impact of their food choices.
They might even not realize how harmful some choices might be for their health. Therefore, it can be helpful to create an internal blog dedicated to health tips for office life. 
Even if your blog content only exists in the workplace network, it's crucial to prepare it with competition in mind. Employees prefer to focus on topics that relate to their current work projects.
Therefore, you need to think of your health content in terms of shareability, quality, engagement, and ease of reading. 
According to a study, 59% of links shared on social media platforms get ignored because the title doesn't sound compelling. The principle still applies to your internal network.
In fact, it needs to be even more appealing to convince employees that the article is worth their time. 
Make it easy to budget
Grocery shopping is expensive. Employees are prone to choose easy and affordable items for their grocery shopping. Unfortunately, healthy food can come at a price when you have to feed a family.
For a lot of employees, making healthy choices is a matter of cost. Buying organic fruits and vegetables, free-range chicken eggs, and quality meat, for instance, could dramatically affect their budget.
As a result, many opt for both time- and budget-friendly alternatives, whether they buy a bottle of sugar-loaded fruit juice or processed meat.
Therefore, it could make a big difference to use food gifts for employees.
Grocery vouchers, for example, could transform people's shopping habits and bring healthier food choices in the office. 
Make it part of the workplace
Tech giants, such as Apple and Google, have long realized the importance of a workplace canteen. The ability to deliver healthy meals to your staff completely transforms the work culture.
Indeed, a canteen serves multiple purposes within the business. First of all, it is a place where employees can socialize, which reduces isolation and loneliness in the office.
Individuals who share a meal benefit greatly from the interaction: They work better together and be more productive. 
The canteen also ensures that meals are nutritious, healthy, and delicious. After all, it can be a hassle to prepare a lunch box, let alone a healthy one! A freshly cooked meal will also be more nutritious and appealing than a lunch box sandwich or salad. 
More importantly, it also increases motivation and engagement within the workplace, ensuring the team can plan a proper lunch break away from the desk. 
Find other pick-me-up perks
What is the typical desk snack? Most frequently eaten snacks in US offices include donuts, chocolate candy bars, cookies, and chips.
However, the business could introduce new habits by creating a self-service snack bar that would include healthy and fresh alternatives.
A plate of freshly cut bell peppers, for instance, is high in water and vitamins. A cup of roasted chickpeas is crunchy and full of fibers and proteins, making it the ideal pick-me-up during the day. 
But, food is only one of the available options.
Many employees turn to snacks to cope with stress and lack of concentration. Encouraging frequent breaks with dedicated break rooms can also reduce snacking habits and help employees recharge. 
Offer unique access to food
Lastly, the business can bring new food options. You could create a business garden where employees can grow vegetables and pick harvested crops.
Another favorite is a cooking class where participants can prepare a meal and pack it to eat later. 
In conclusion, food choices can be influenced by a lot of work-related factors. Helping your employees to make better choices and have access to healthier food can transform the office's health, culture, and productivity.