Here we at the dawn of a new year and looking back at my best winners of 2017; I have to tip my hat towards e-commerce and dropshipping.
Thanks to this new business model that I discovered, I was able to make record income in 2017 even though my affiliate earnings have started to plateau – a bit of a worry, but to be discussed next time.
One of the best things I did to help my drop shipping (e-commerce) business take off was using my Instagram pages and also reaching out to Instagram influences, who, for a small and very worth-while price, helped me promote my products and store to thousands of people.
Before I go into further about how to monetize Instagram with e-commerce, let me just give you a quick recap of my best month in 2017, which was November 2017.

Yes, I did have months where I made less than the above-shown proof, but I only got into this seriously this year and for the most of 2017 I was in and out of e-commerce regrettably letting it run without too much care – thankfully it still turned a profit every month.
As the article title suggests, this post is all about how to monetize your Instagram with e-commerce in 2018.
2018 is going to be a big one, as the platform keeps evolving and new and unseen tools and features roll out both on Instagram and on Shopify (the e-commerce platform I will talk to you about soon).
What Instagram Updates Will We See In 2018?
This is just speculation from my end, but tests on these new roll out features are already happening with selected demographics on Instagram
(Whenever Facebook, parent company of Instagram rolls out a new feature, they test it out in samples).
Unfortunately from my end, being outside the US, I have not yet had the privilege of testing out these tools but rest assured I will be jumping on them as soon as they are made available on my Instagram page(s).
Here are some updates to look forward to. Some you may have already seen, some are just speculation and ideas of what-to-come:
Instagram Shopping – Instagram Shoppable Photos
These are the next big thing (I believe) in the e-commerce space.
Pinterest does this right, but since they continually fail to innovate on new ideas, I think Instagram is going to beat them to the punch with this.
We have already seen how shoppable pins from Pinterest have been praised as one of the best-converting social networks, but as I previously said, with such a machine behind Instagram (Mr. Zuckerburg), we're about to see the same with Instagram Shoppable photos.
What are Instagram Shoppable Photos?
You can tag products that you feature in your Instagram photos and have them link right to your product page on your e-commerce store (more on this later).
The idea is genius, and I am sure it is going to make the job for us much more accessible, and the process of selling even more manageable.
As I said, I have seen excellent results from Instagram marketing (both using my page and influencers), so I am eagerly waiting for this.
So, back to the topic at hand (how to monetize Instagram), what else do you need to make it happen in 2018?
Instagram Marketing Tools
The tool I will talk about below are not a must, but they sure do help, and if you want to have the best chance at making money with Instagram, then they would help you in some way or the other.
I am already using all three, so I can guarantee that they work. Here is what I am talking about?
Instagram Analytics
Google Analytics is something that you need to have on your Shopify store, but here I am talking about Instagram Analytics.
You are going to need this as it;'s great insight on what type of posts works best. This would require you to have an Instagram Business account so make sure you convert your existing profile to a Business account in case you haven't already.
You would also need to verify your Instagram page with a FB page so make sure you have all of this setup and ready to go before witch to Business.
It's a small hassle (takes about ten mins to do), but it's super necessary to better understand your audience thus allowing you to monetize Instagram much better with better content and promos.
Influencer Marketing
Ahh, they say the golden era of Influencers was 2017, but I think 2018 is going to get even bigger and better.
Influencers, are people who are in the same niche as you are but have a much bigger following.
With a simple hashtag related to your content, you can find hundreds, yes hundreds, of Instagram influencers ready to promote your store and Instagram account for some money.
At the time of writing this, I am paying a guy with 30,000 followers $15 per post – this is incredibly cheap, and I would guess that the price will show up some more once people (the influencers) start realizing what power they have.
Yes, influencers are needed here to make money on Instagram and allow you to get your account off the ground quickly, and I suggest you spend some time on it.
Be warned, it may take a couple of failed attempts and failed campaigns before you find the right one, but just finding one right one can be a game changer for your new, exciting Instagram business.
Buffer
Speaking for myself here, automation is a HUGE time saver and being the one and only person running your business, time is really of the essence.
Buffer, which is a social media management tool, allows you to automatically schedule posts to be published later on your Instagram account.
This allows you to carefully plan out content that works (thanks to Instagram Analytics) and also leaves you to sit for just 30 minutes a week and schedule a slew of Instagram posts that go out promptly.
Please note that while your posts will be scheduled, you still need to be the one that gives the confirmation to post when the time comes.
Hence, you are going to need the free Buffer app installed in your phone, and once the alert comes, you just open the app, and you will find the picture along with the rest you wrote for that posts ready for you to post with just one click of a button.
I am using this all the time, and I love Buffer – you can see my in-depth and detail Buffer review for more details and more information about the different membership structures (free + premium).
Monetizing Your Insta With Shopify
This is where the fun begins, and for this, you are going to need a Shopify basic plan which runs around $29 per month.
Although you may be seeing this as an "extra expense" trust me, $29 per month is nothing when you realize that thanks to that, you have an international business in your hands ready to take and fulfill orders from anywhere you are in the world across to where your customers are.
What Is Shopify
Shopify is an out-of-the-box online store builder that makes the process of starting your online store incredibly simple and stress-free.
I will include a video of how Shopify works below, but I would also suggest you read my posts on how to get started with Shopify.
How To Build Your Shopify Store
All you need to do to build up your Shopify store is:
Find a product, niche or industry that you'd like to promote and build a store around that.
Wait, where are you going to find products? Do you have to import a whole bunch of stuff and store them in your living room?
No, that is where drop shipping comes in.
This amazing business model allows you (the store owner) to collect orders and then have your supplier (usually based in Asia) ship them out to you across the world to your customers.
Sounds complicated? Trust me it is not. See my guide on getting started with drop shipping to see how easy it really is.
It requires a tool, Oberlo, but it's free to use if you have a Shopify membership plan.
A Winning Instagram eCommerce Strategy
Now, back to the meat of this article and let's start answering some questions I know you have been waiting for.
How To Monetize Your Instagram With Shopify
Once your store is ready to launch (Shopify gives you a free 14-day trial to do so), you are ready to start collecting order and drive traffic from Instagram to your store.
Yes, you can use many different methods to drive traffic to your store (paid ads, SEO, Facebook Pages, etc.), but this post is all about how to monetize Instagram, so that is what I will be focusing on.
How To Drive Traffic From Instagram To Your Shopify Store.
With a Business account, you can create Instagram ads (although not necessary), and you can also drive traffic by posting photos of your products + some lifestyle shots.
Yes, at first you won't have many followers to promote to, but that is where Instagram influencers will come in handy (as discussed above).
Your biggest goal here is to reach 10,000 followers, which trust me, using the methods outlined in this post, it won't take you long.
Once you get to that magical 10,000 number, you can also do Instagram Stories and link out to your products.
Yes, you can use Instagram Stories from day one, but unfortunately, you will only be able to use the "swipe up function" once you reach the 10K mark (and are a business account).
PRO TIP: Use Your Facebook Pixel!
A pro tip most experienced e-commerce gurus use is the Facebook Pixel which is something you will find in the Facebook Ads manager account (learn all about FB pixels here).
What this will allow you to do is to capture data from the Instagram visitors you will be driving to your store thus it will allow you to, if you wish, hit them with retargeting ads that convert incredibly well.
Ok, we're getting a bit too technical here I know, but it's essential you understand that there are a lot of tools and resources for you to use to build yourself a great business in 2019 monetizing one of the biggest social media networks out there.
This was hopefully a good introduction on how to make money with Instagram, but I will leave you with some resources that you can use to understand better this whole concept.
Starting a business is not easy, and you are going to need all the help you can get.
Below are some of the resources I regularly follow and use to build myself an income such as the one shown above.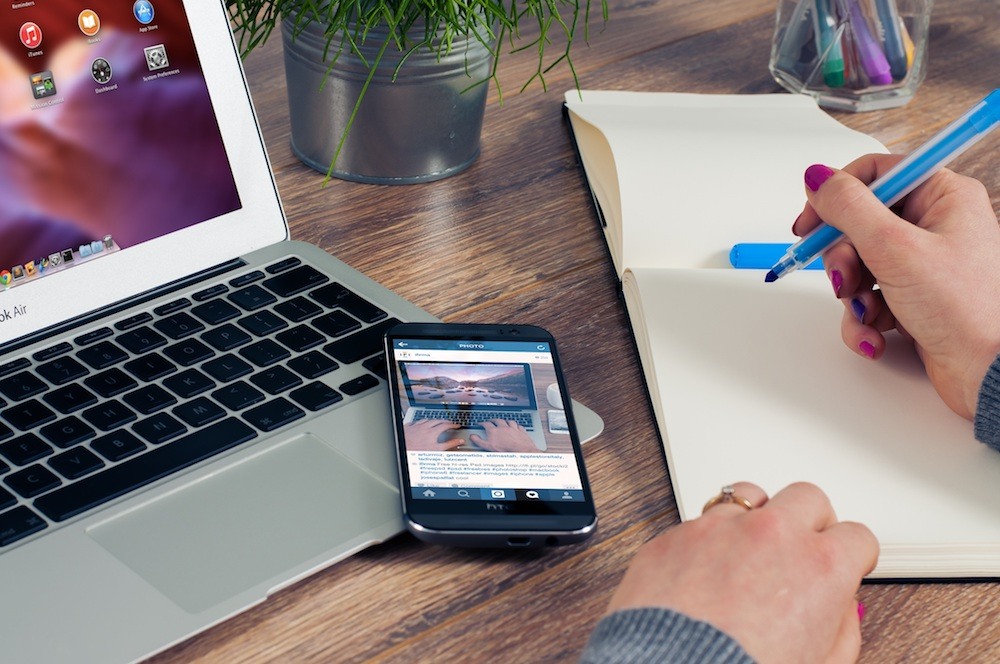 Resources To Learn More About Instagram Marketing
Wealthy Affiliate
Wealthy Affiliate is my #1 rated product that teaches you how to start an online business. You can get started for free with a complimentary ten-day lesson on how to build a thriving business.
Wealthy Affiliate was what saved me; I had been looking for many years on how to build my online business and once I stumbled on WA, all made sense.
You can see my Wealthy Review, or you can go ahead and experience it for yourself.
Franklin Hatchett
My favorite guy when it comes to learning e-commerce is the man, the legend, Franklin Hatchett.
A funny character at times but a genius at making e-commerce easy for everyone to understand.
I suggest you check out his website (OnlineDimes) and also his YouTube channel. I will leave you with an interview he did with another great guy, Miles Beckler, where they discuss the many opportunities with making money with Instagram.
Facebook Groups
Facebook groups are the world's best-hidden resource of information.
Join a couple of groups and starts asking questions. You will get lasers immediately and you will find one mingling with other people that have done what you are trying to do.
Final Thoughts
Thank you very much for reading.
I hope this post was a suitable introduction on how to monetize Instagram in 2018, and I wish you nothing but the best for 2018 and beyond.
If you have any questions, I am here to help so feel free to leave me a comment down below or over at Wealthy Affiliate where I will be your personal mentor you to finally build a great business you can be proud of.
Talk soon.