Just a few years ago, it seemed a fantasy to start an online business, but with the success of numerous small and large online businesses and other changes it has become possible for anyone to start his/her own small online business.
With the rise of easy-to-install eCommerce platforms such as Magento, Shopify, and blogging platforms such as Google Blogger, WordPress, and do it yourself website builders such as SiteRubix almost anyone can learn how to start a small business online.
Recent changes have removed any technology barrier as now anyone who can read or write English (or any other language) can find all the information about the tools required for starting an online business.
Despite this, several people struggle as they don't know the process and steps which are essential for starting a small business online. So, in this article we will explain the whole process of starting a small business online in a few simple easy and easy to follow steps.
For the sake of simplicity, we will use an analogy of a small online business selling goods and merchandise but the steps discussed here can also be used for other type of business.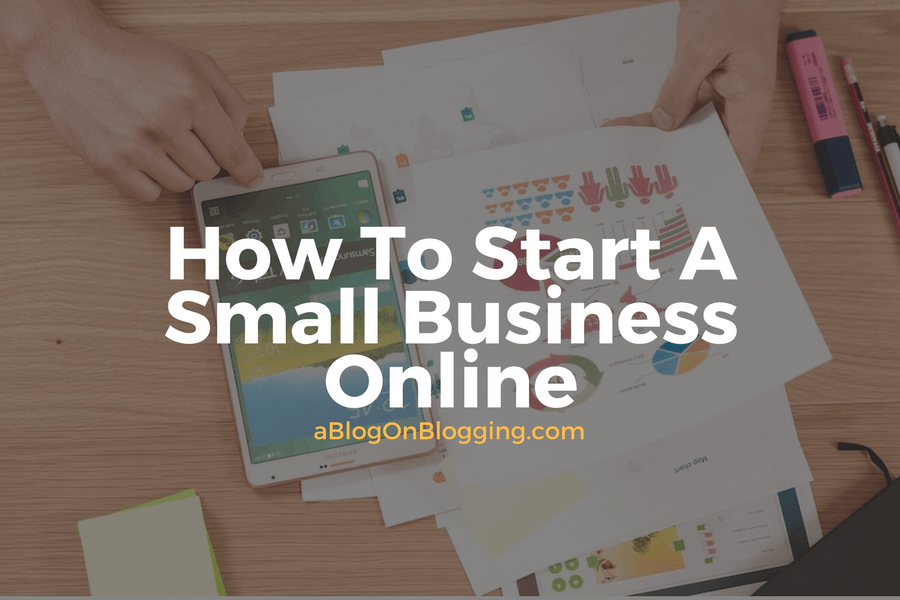 Make A Business Plan
Having a business plan is what separates experienced and serious businessmen from newbies. New comers often assume that as they have everything in their head so they don't need to write down a plan on paper.
Mental calculations can work in some scenarios, but starting a business without a written or printed business plan is a sure recipe for disaster.
Having a well-defined plan covering all the necessary items, profits, sales, investment figures will give you an edge and will allow you to get a feel for every aspect of the business.
A business plan can also serve as a helpful tool if you want to invite outside investors into your venture as most investors and even family members or friends will like to see at least projections of future sales and profits before committing to anything.
Research The Goods You Are Going To Sell
Perhaps this is the most important step for starting a small business online, as a large part of your success as an online entrepreneur will depend on the types of goods you are selling.
Price of these goods is also important to factor in as with cheap goods or goods with low profit margin you'll have to generate higher sale volume for reaching your target sales or profit figure.
You must also consider the needs of your target market as even a single user demographic can buy or not buy goods based on the price or quantity of goods.
For example, certain goods can be sold either in batches or individually and this can affect your sales as many buyers may hesitate to buy an item in large quantities if they only need a piece or two.
Compare & Choose The Right Platform
Today, setting up an eCommerce store is not a big deal as several highly-sophisticated eCommerce software are available online. The best thing is that now you can set up your online shop with a very small investment sometimes in the region of $20-30 per month.
With shopping platforms, such as Shopify, millions of small business owners have set up their online stores and are thriving!
You must carefully study all the features, pros and cons of each eCommerce software and only then select one as switching from one eCommerce platform to another can be a headache later.
Remember that you are going to spent a huge amount of time in managing your store, so an ideal eCommerce platform must be easy to use and have all the features which you need.
Set Up Your Website
After selecting an eCommerce software, the next step involves buying a domain name along with hosting or you can decide to go with the hosted eCommerce solutions provided by many eCommerce vendors which make setting up an eCommerce store a matter of few clicks.
Most eCommerce software have drag and drop features and a ton of themes for setting up a website.
The process to add shopping cart, forms, category pages is also easy and you will not need to do anything other than adding basic information such as descriptions, images for your products.
Make Arrangements For Logistics, Inventory & Shipping
Now the last step will require both online and offline work and a bit tricky. Now you'll need to sync various things such as inventory, logistics and shipping.
If you are buying goods from manufacturers or dealers and then selling to your visitors, then you'll need to keep an eye on inventory and link the inventory to the eCommerce platform.
It's easy to avoid the whole inventory management if you are using a drop shipping service where you just take orders and pass them to another dealer or wholesaler who then ships the goods to the buyer from his own warehouse.
You must also set up the shipping information which is easy to do if you are shipping within a country and not internationally. Buyers must have the option to use normal or expedited shipping.
Most eCommerce platforms are equipped to set up shipping rates based on the type of shipping selected and the distance.
You can easily use API of various shipping and courier companies which will allow the final price to be updated before checking out accounting for the shipping costs.
Also, platforms such as these have quite advanced API features and can easily integrate with outside services.
Conclusion
As you can see from the above points, setting a business online has much in common with setting a normal brick and mortar business. Both require a significant investment in terms of planning, energy, money and time. But if done right can change your life.
Although, initially this may sound as lot of hard work and you must expect to spend initial few months working hard, in the end results will prove that all the work was worth the effort as if done right you can become the owner of a business which can be easily controlled from any part of the globe through internet.
With the above mentioned easy to follow steps you can avoid mistakes made by most online business owners and set up a small business online easily.