A lot of our favorite comfort foods tend to be healthy. The dishes we crave for comfort are usually buttery, creamy, deep-fried, or high in calories, sodium, or fat. When temperatures drop or you've had a bad day, a big bowl of mac 'n' cheese or a cinnamon roll sound pretty good.
Luckily, you can trim some fat or add some fiber and make a recipe for healthy comfort food.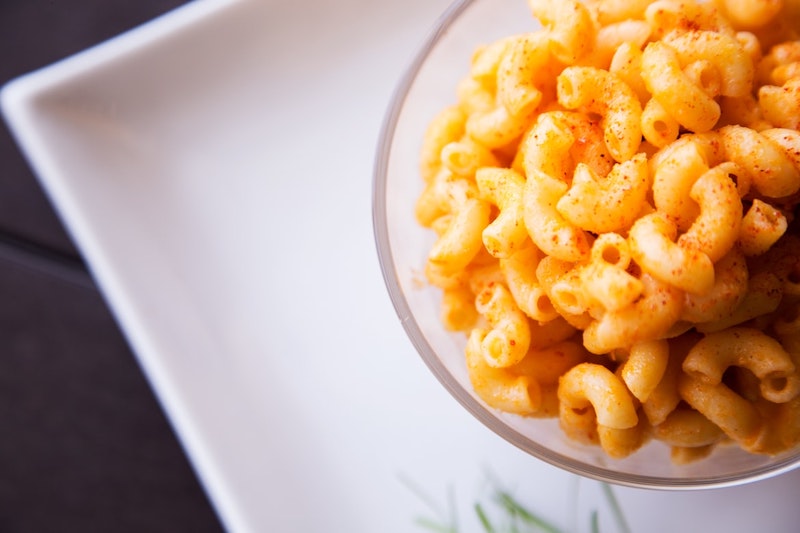 Try A New Meat
For lasagna or burgers, try swapping the ground beef for ground elk or bison. Bison and elk are both grass-fed and free range, their nutrient content is higher than ground beef.
You're getting more protein and nutrients from your meat with fewer calories and less fat. 
Upgrade Your Meatloaf
Next time you make meatballs or meatloaf, use oats rather than breadcrumbs and ground turkey breast instead of ground beef. The oats add fibre and whole-grains, and the ground turkey is lower in saturated fat than the beef. You won't notice the difference when it's cooked either.
Make Cream Sauce Without Cream
If you want pasta with a creamy sauce, swap out the heavy cream for evaporated skim milk.
This cooks very well with a rich taste but has a lot fewer calories than the cream and half the fat. Next time you're craving creamy pasta, give this a try. 
Cut The Fat In Your Tuna Sandwich
Do you want a tuna salad sandwich for lunch? Ditch the mayonnaise, and instead use non-fat plain yogurt. You can add some flavor to the yogurt if you want to with herbs and spices.
You can reduce the fat even more by using tuna that has been canned in water, rather than in oil. 
Revamp Your Mac 'n' Cheese
Change out your pasta, change the amount of cheese, and chuck in some vegetables, and you have a healthier option. Use whole-wheat pasta or sprouted grain pasta to get more protein in the dish.
Use half your usual cheese, like cheddar, and half low-fat cottage cheese, ricotta, or yogurt. Mix in some broccoli, peas, or spinach, to get another serving of veggies into your diet. 
Build A Better Burrito
Get a tortilla or wrap and heat it in a cast-iron pan with a small amount of light oil or cooking spray. Spread on a couple of teaspoons of refried beans and then grate a small amount of cheese on top.
When the cheese has melted, add a little hot sauce for some kick.
This is much healthier than the usual cheese-laden version but just as tasty. Serve with salad for a full meal. 
Upgrade Your Fried Chicken
Don't actually fry your chicken, and drop the heavy sides that usually come with fried chicken. Instead of frying the chicken like normal, coat the chicken in whole-wheat panko breadcrumbs and bake it instead.
You still get the crunchy texture, without all the fat. Serve the finished chicken with a side of sweet potato fries and fresh green beans, instead of the classic mashed potatoes and canned green beans. 
Make Over Your Mashed Potatoes
To make mashed potatoes a bit healthier, you can try swapping out the cream you use to mash for vegetable or chicken stock. Part of what makes mashed potatoes so appealing is the rich, creamy look, so use a potato that has a pleasing buttery color.
Yukon Gold and Yellow Finn potatoes work well, and the look can help you to use less butter to mash, as your brain is fooled into thinking they're already buttery. By doing this, you still get the taste you want, without adding as many extra calories as cream and butter. 
Try Japanese Noodles
Replace your usual rice noodles with shirataki yam noodles in your stir-fry. These noodles have no calories in them and less than 1 gram of carbs per serving.
This makes them a really great substitute for most noodle dishes. You should be able to find them in your local Asian food market. 
Make Deviled Eggs Less Sinful
The buffet classic can be improved with some simple changes. Deviled eggs get their name because they're loaded with fat and other less than healthy ingredients.
The classic version has around 70 calories per half an egg. The egg white, however, is all protein and only 17 calories. To make them healthier, ditch the yolk and fill each egg half with a small scoop of hummus instead.
This will have the same texture as the classic filling, tastes just as good, and is very filling. However, two halves will only have 42 calories.