Since June of this year (2018), I have been on the grind trying to grow my personal Twitter account.
Now while Twitter does have its own Analytics feature, I also wanted to get some insights into who's following me, what type of content is working best and an overall deeper analytical understanding of what is going on.
This is when I came across ManageFlitter, a Twitter tool that will help you do the above, and so much more.
In this ManageFlitter review I have for you today, I am going to walk you through how ManagFlitter works, how it can be used, what features are interesting to check out and how my overall experience has been as a premium user.
If you are looking for a Twitter management tool, ManageFlitter may be for you, but let's look a bit deeper into it and see if it's something you can make use of yourself.

What Is ManageFlitter?
At its core, ManageFlitter started off as a way to manage your followers, seeing exactly who's following you, not following you back, your best fans, who or which is a fake account, who's talkative and who's quite etc…
However, since then ManageFlitter has grown to be much more than that.
Today it also gives you the ability you schedule tweets in advance, search for a specific type of content, for influencers and so forth.
With a staggering ~4,000,000 Twitter profiles connected, I guess it's safe to say that I'm not the only one that has found ManageFlitter unique and useful in their offerings.

Let's now take a closer look at some of the features I regularly use to keep track of what's happening.
Features In ManageFlitter
Not Following Back
You've probably guessed; this feature gives you a list of Twitter accounts you are following but are not following you back.
In my case, there are 190 people who I follow but have not yet since returned the favour.
Moving on…
Inactive Users
Some of the accounts you follow may have long been gone, thus they will show as "inactive" in your ManageFlitter dashboard.
MF measures this by looking at who has not tweeted anything in the past 30 days.
Now in my case, there's only one person on this list, but I recognize this person and he's still active on Twitter, he just doesn't tweet at all.
Fake (Spam)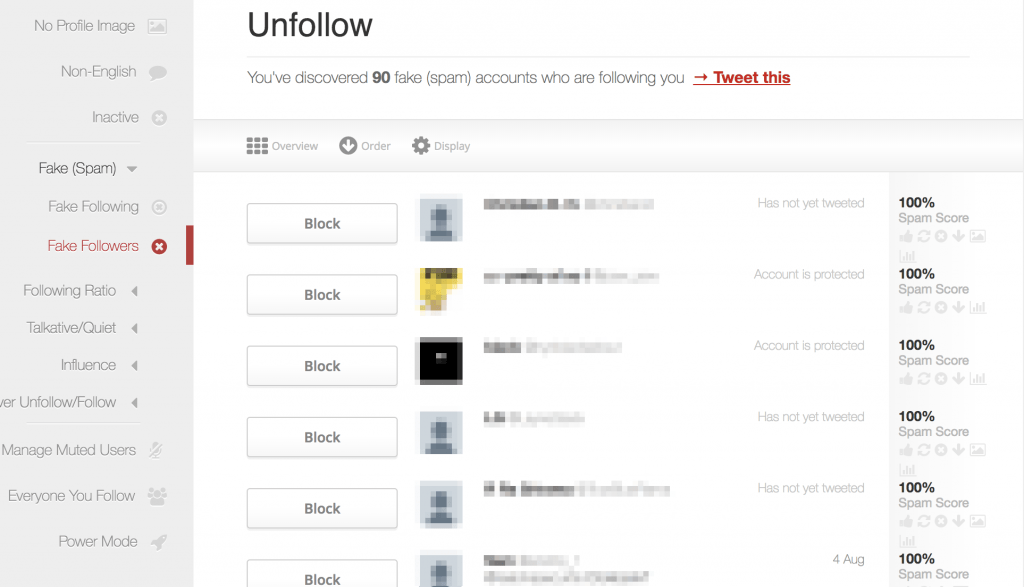 Apparently, this has turned up 90 fake accounts who are following me.
I have the option to remove i.e block them, but I'm not too worried about these so I'll leave them there for now. However; if you do not want fake spam account to be following you, you can use ManageFlitter to block them out of your content.
Talkative / Quiet
Want to see which os the accounts you're following is the most active?
The Talkative/Quiet feature allows you to quickly see who is:
Posting more than 5 times a day or

Less than 1 tweet per day
High Influence / Low Influence
Who are the most/least influential people that you follow?
ManageFlitter can answer that as well for you giving you both lists of people who have massive reach and engagement on their tweets and profile.
The Search Tool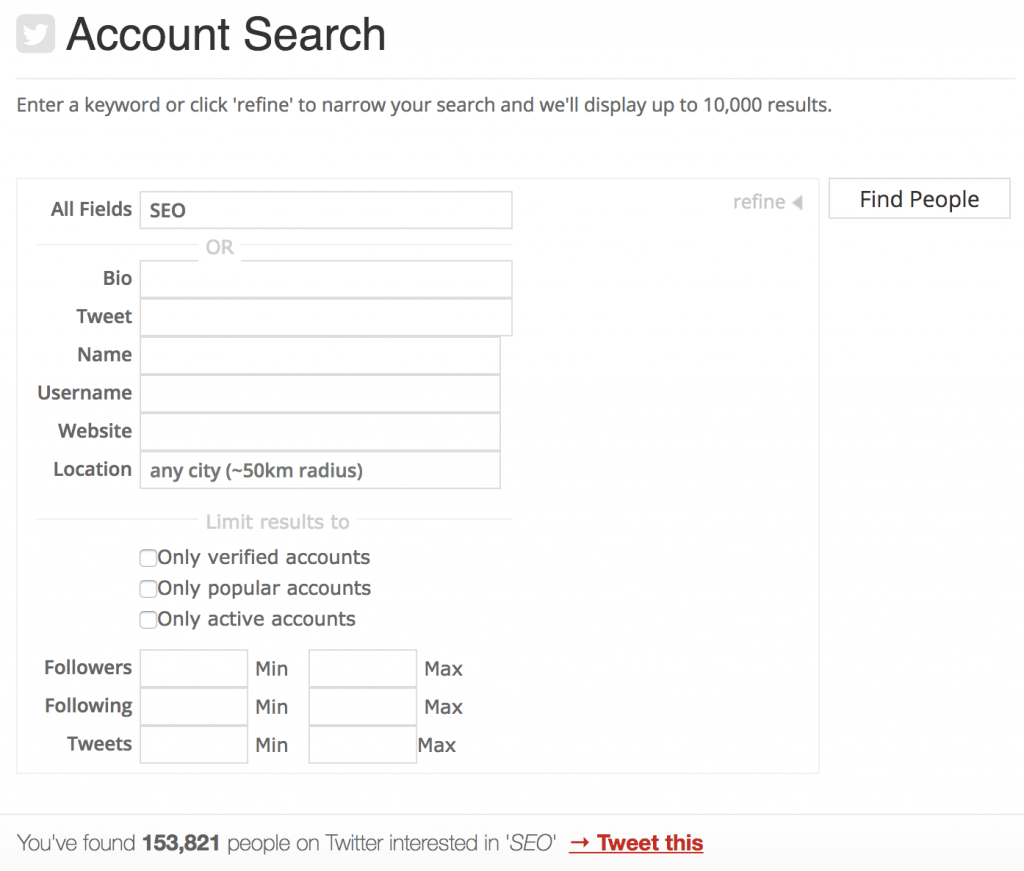 Want to find people and accounts that you can connect with? Maybe even reach to leverage their influence?
Hop on over to the "Account Search' feature and type in your keyword.
Once you have your list, you can segment and refine the accounts to find precisely what you are looking for.
The Analytics Tools
You join ManageFlitter by giving them access to your Twitter account, thus they can also curate for you some Analytics.
Here's mine to give you an idea of what information will be present in this feature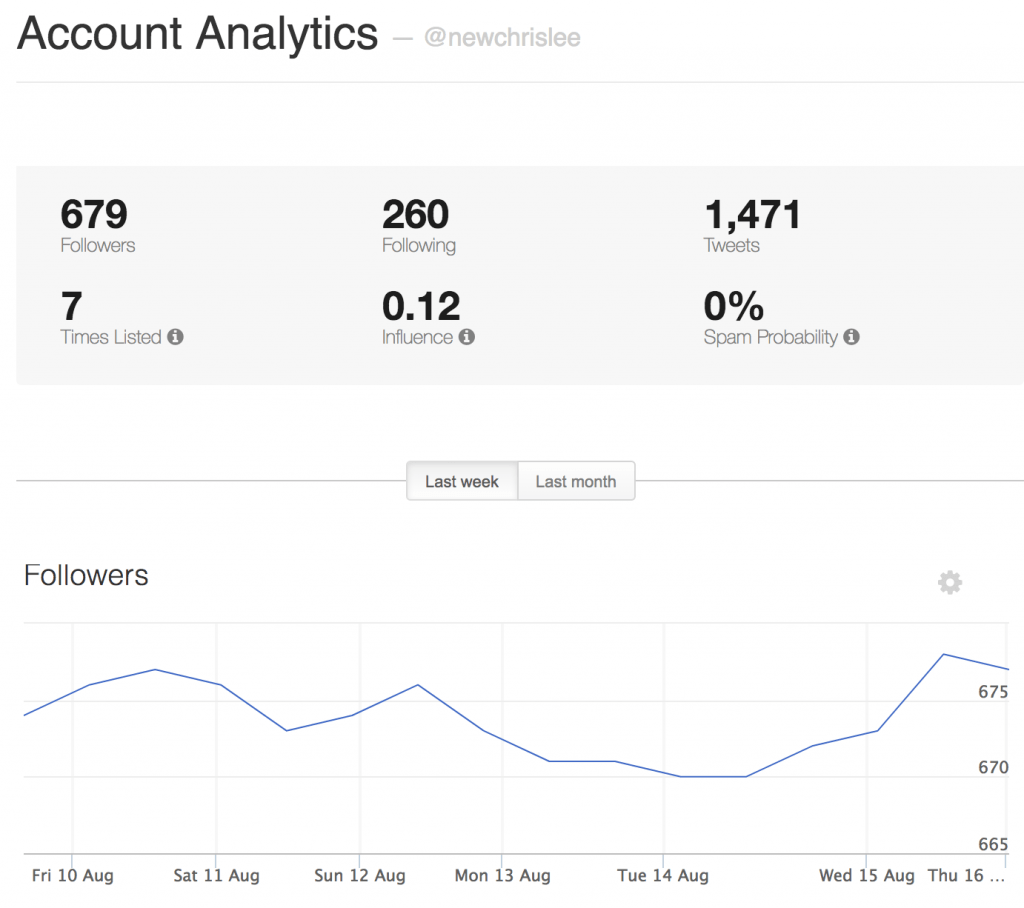 *this is a premium feature though so you need to be a paying member to get access to this.
The PowerPost (Schedule Tweets With ManageFlitter)
This also is a premium-only tool but I make no use of it as I'd much rather prefer to use Buffer for scheduling tweets when I have to.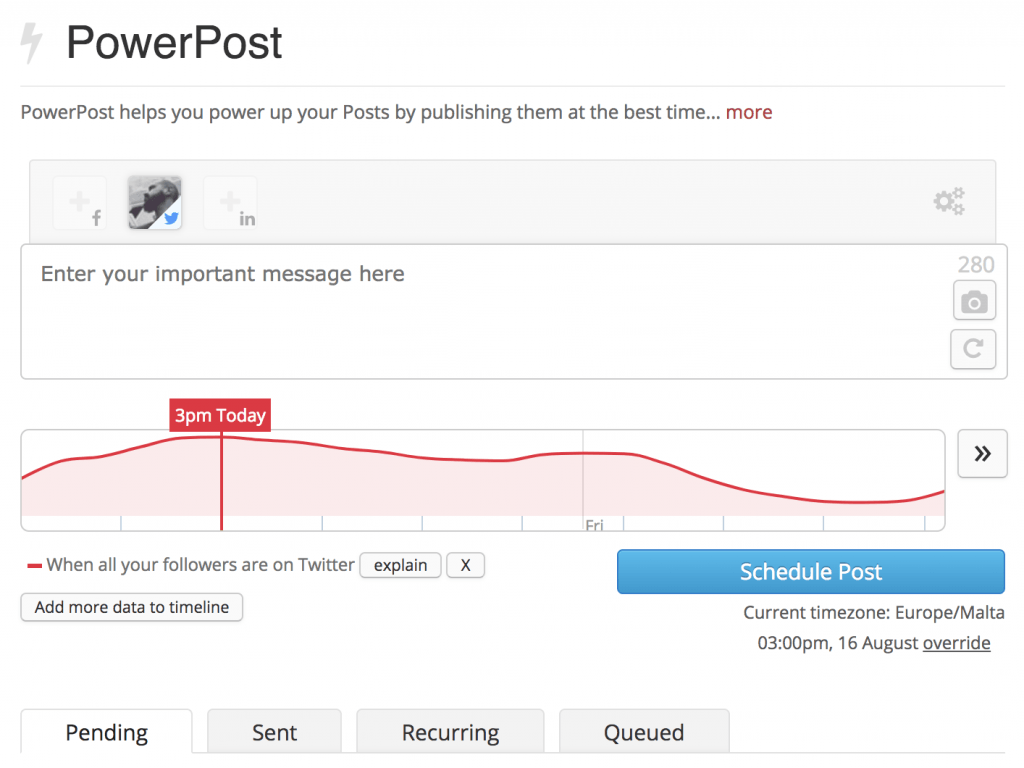 However, you can use this is if you'd like and it will even post your content at the time ManageFlitter seems fit to get the highest engagement on your content.
Who Can Use ManageFlitter?
Anyone who's interested in understanding more their Twitter audience can definitely benefit from signing up to ManageFlitter.
It gives you a pretty good understanding of what is happening to those you follow and those who follow you.
While I admit this would not do much for you with regards to growing your account, but it does give you access to information that you can then use to go and grow your account more strategically and efficiently.
For me, I like seeing what is going on thus I pay the small premium monthly fee but if you're not too worried about this kind of info, you can make do with a limited, yet free membership plan.
Which brings me to my next point…
How Much Does ManageFlitter Pricing?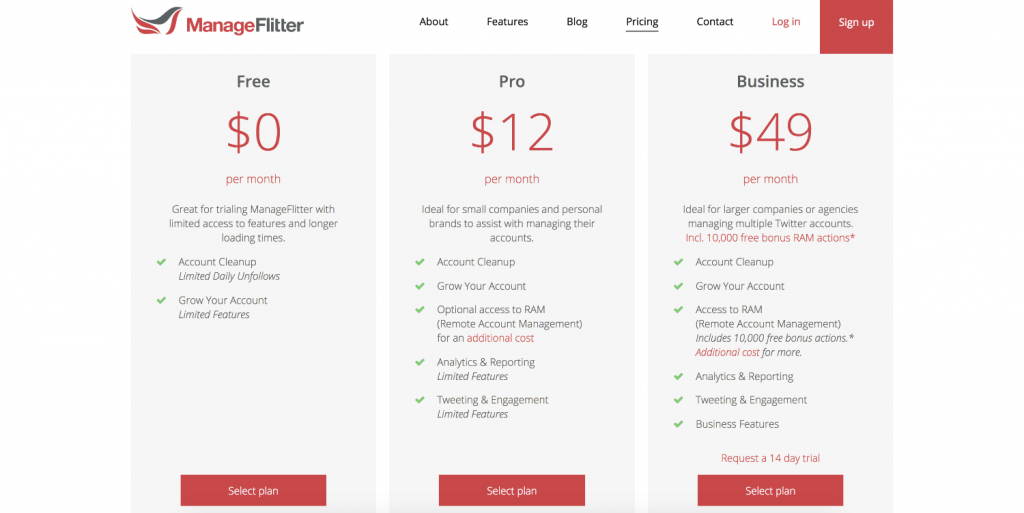 ManageFlitter has 3 pricing options and these are:
Free:
You get a limited version of the features mentioned above. I would assume that for many of those reading this, this free membership would be more than enough.
Pro ($12 per month)
This is the plan I am on and the only difference besides being unlimited would be the Analytics feature.
Business ($49 per month)
This is more for the larger companies and agencies who would handle massive clients thus can make use of the incredible data and features a Business version opens up.
I can't talk much about the "Business" features as I do not use and I never plan on doing so.
Do I Recommend ManageFlitter?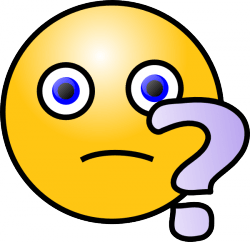 It depends.
You don't really need it unless you want to see what's happening with the people you follow and the people following you.
Just for that, you can get the free version and use that as it would be more than enough if you have a small to medium-sized following.
If you are a slightly bigger, more influential user, then using the pro version may be useful to you given the fact that you may have a lot of inactive spam bots accounts following you and you just want to "clean up house".
Whatever you decided to do, I suggest you first join ManageFlitter with a free membership, see what they are offering and then make up your mind if you want to go to Premium (or business)
Final Thoughts
Overall, I think ManageFlitter is a useful tool to use but I admit I do not rule out going back to a free basic membership sometime in the future.
It's more of a vanity tool that a practical tool in my eyes and thus, I would advise you to make up your own mind about this.
However, one thing I may add is that I do not know of any other tool that has the features ManageFlitter has so while there may be some other tool, given that these features work great, it would do you no harm in testing it out.
Thank you for reading my ManageFlitter review, I hope this finds you well and I look forward to hearing from you.
Talk soon
Christian Lee.