Opinion City claims to help you make $500 a week by giving your opinions in surveys.
Now that is a bold claim and from someone who has tried doing surveys as a way to make an income online, that is a figure that is hard to achieve.
In this review, I will go deep and try to discover shat Opinion City is all about (including how can they make such bold claims.
Can Opinion City really live up to the hype? Can you really make $500 a week using their services?
This is what I will be answering for you today, but before we get into the nitty-gritty of this review, let's start with some basic info about Opinion City.
What is Opinion City?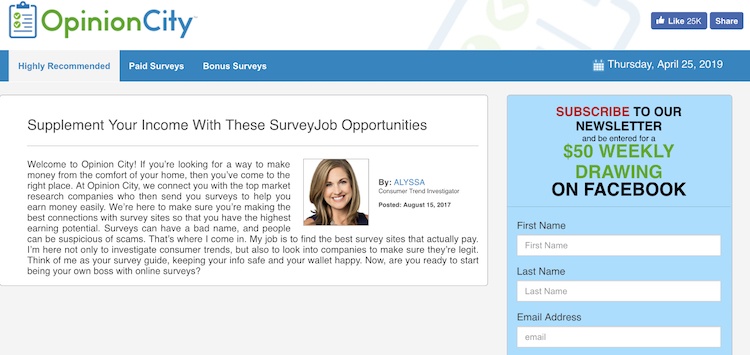 On the main page and in the introductory passage, they do say how their aim is to help people find survey sites to make money, however; there is more to it than that.
Now the thing is and what people may be thinking and maybe including you are that Opinion City is yet another survey site that pays people to complete surveys.
That's what it seems like anyway.
Unfortunately, that is not the deal here and instead what Opinion City will do is show you survey sites that you can make money completing surveys with, do you see the difference?
There are many sites and companies that are just like Opinion City. I actually just reviewed a similar company the other day called Survey Voices which operates in the same fashion.
I will uncover in a bit just what the purpose and the reasons behind them and how it all works.
What Is A Survey Aggregator?
Opinion City is a survey aggregator, but what is that exactly?
Well, it's a site that promotes other survey sites and gets paid when people sign up.
This means that they don't handle and give out surveys themselves nor are they a market research firm.
They are simply a middle man if that makes sense, it's like those companies you find that compare prices on car insurance and offer to give you the best value, however, there is no value with Opinion City and I will explain why in a second.
How Do You Sign Up For Opinion City?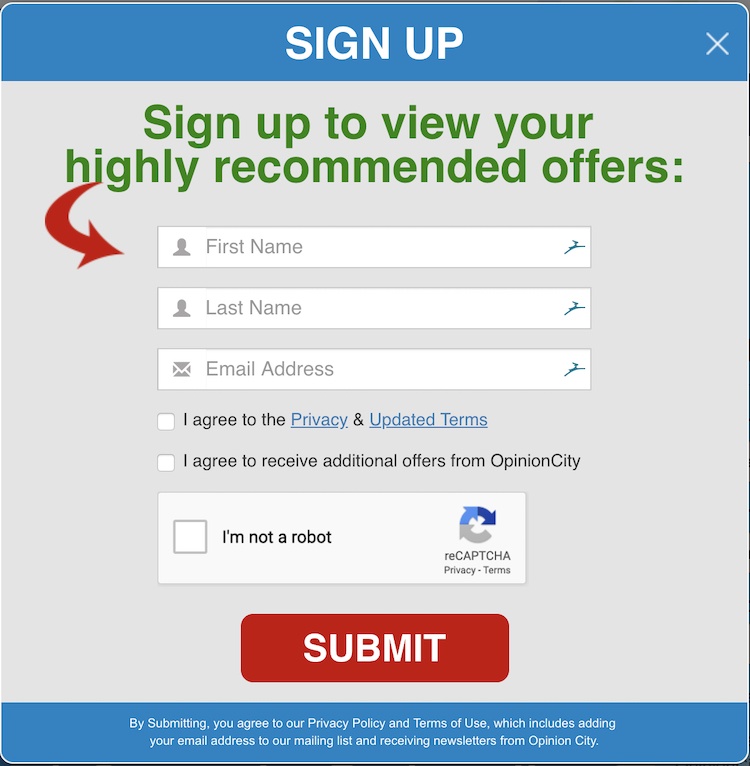 I already had a fairly good idea of how Opinion City was going to be like as I have tried sites like these but thought I would sign up to see what would be offered to me, which turned out to not be a great deal.
Anyways, on the first page, I was told to enter my email address.
After this, I was taken to a page where I was required to fill in various details which I was skeptical about however proceeded to fill in. These were questions such as my age, my location, name, etc.
Once completed I was taken to a page of so-called special offers which was basically a list of survey panels. I was given sites such as Ipsos, Panda Research and more.
Each panel has 'join now' buttons and also a countdown where it says how many spots are remaining. I would see 10 and 9 spots for most of them but this is a lie and is just a sales tactic used by Opinion City to get you to sign up to all the panels on display
Who's Making Money With Opinion City?
The way Opinion City works and makes money is from each time someone signs up for one of the survey sites they recommend. They will get a one-time commission for each sign-up.
This payout does vary however pays well per sign-up, in fact, companies like this one can get up to $5 per referral and this is all through Affiliate Marketing
At the moment Opinion City is highly promoted and there is a lot of hype around the site. I don't quite understand it though as it isn't a survey site however they are paying people to refer others to the site as you can see through the image below.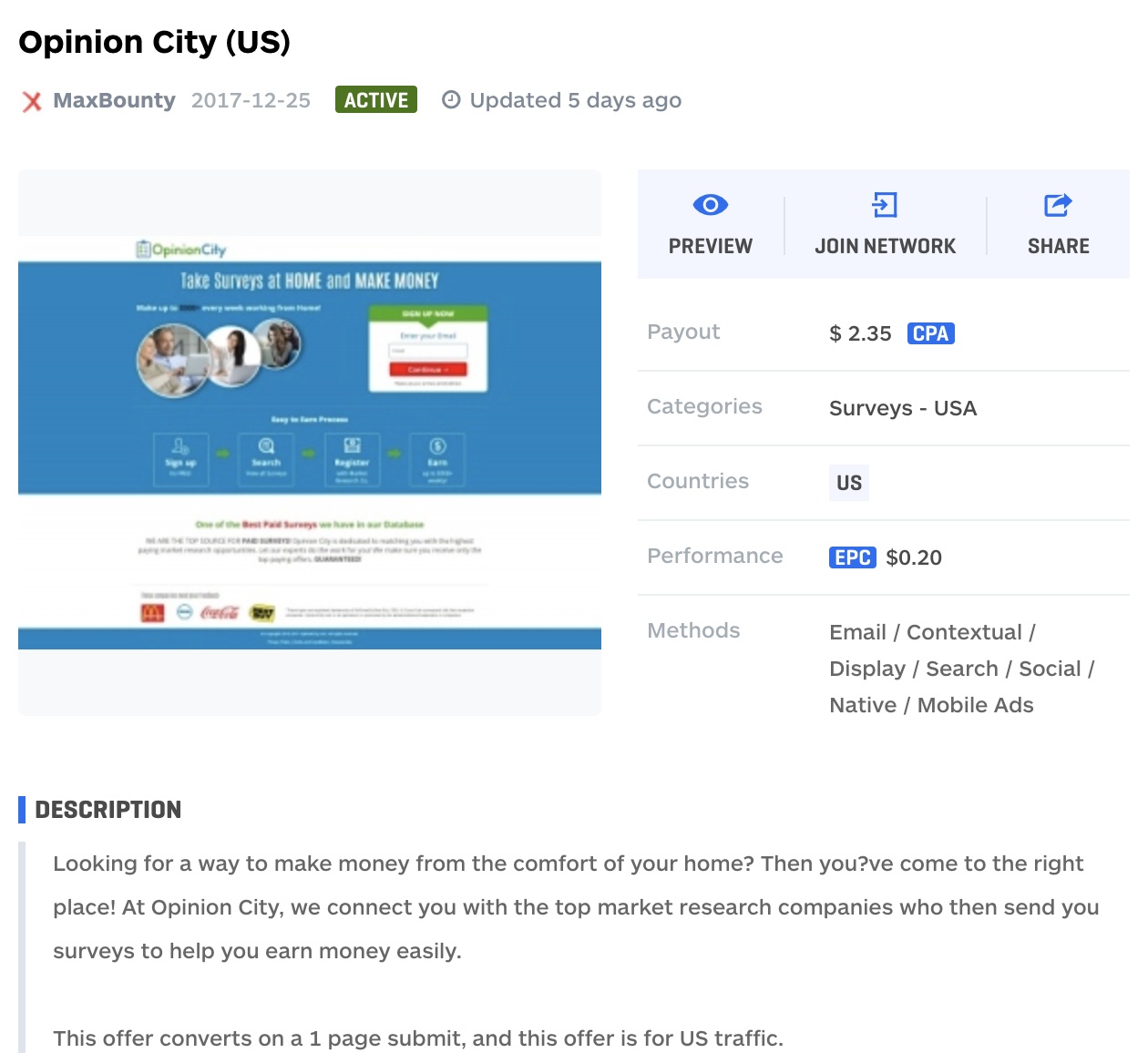 3 Things I Don't Like About Opinion City
While I like to be balanced in my reviews I couldn't find any aspects to Opinion City that were good and could benefit you.
Here I am going to talk about the 3 things I don't like about them.
1. The Survey Sites Are Poor!
We already know that Opinion City get paid for every time they refer someone to a survey site however what I was shocked by were the survey sites they were recommending.
I have tried most of them on the list and apart from 1 or 2, they are all shocking.
Take Panda Research for e.g this is one company that has had issues for many years with payments in which many of their members have not been paid.
Which makes me ask the question of whether or not Opinion City are looking to help you make money doing surveys or out to make themselves money by promoting below average companies. I think its the latter myself.
3. No Value To The Site
Going on from the first point this one is similar in that there is no benefits or value to Opinion City and is the same thing I say with all these sites.
They don't help you make money and they don't promote all legitimate websites which is no good to you.
he thing I don't get and I know its for business purposes but why they require so many details from you just to show you survey panels.
If you were to google survey sites into Google you will find many sites come up which you can start making money with without the hassle.
I actually reviewed a survey site a few months back called Swagbucks and it's one of the better ones I have tried.
If Opinion City offered better survey sites or made an attempt to help you then I would regard them more but for now, I don't recommend you waste your time with them.
3. False Expectations
If there is one thing I don't like and that goes for everything then its false expectations and this is something you get straight off the bat with Opinion City.
As I mentioned earlier they say you can make $500 a week and even follow that up later with even more.
If you are no stranger to surveys then you will know that making $500 just doing surveys each week is just not possible, I myself have tried it, however, it's not achievable as there are so many factors that will
Is Opinion City Legit?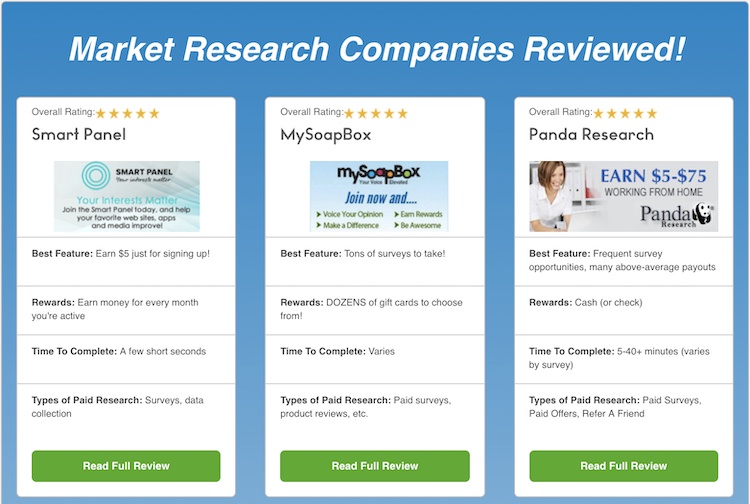 Opinion City by definition is not a scam and is legitimate, however;
I don't recommend them at all mainly due to the reasons I have spoken about in this review.
Completing surveys is a good way to make extra cash online but what Opinion City suggest in what is a full-time income is not possible and is unrealistic.
Want A Better Way To Make Money?
Since I have been reviewing many survey and get-paid-to sites on this blog in the recent month, I have noticed a very similar pattern to all of them which I personally do not like.
While yes; there are many scams in this space, most are legit BUT; you will not be able to make as much money as they claim to be.
In my opinion, "making money online" means making a living online and yes; you can do that.
What these sites offer is a way to supplement your income by earning an extra $50 to $100 a month, which to me; makes it completely not worth my time.
What is worth my time though is building up legitimate online businesses using affiliate marketing.
What is affiliate marketing?
It's the business model I use to make upwards of $10,000 a month online. I won't go through all the details of how to get started with it here, but I do have an affiliate marketing start guide here if you'd like to check that out.
You won't be able to make money today with affiliate marketing, but you will be building a business for the future that can legitimately change your life forever.
Opinion City Review: Final Words
Thank you very much for visiting and reading my Opinion City review:
I really hope it has helped answer your questions and also given you a clear path forward on how (I think) you should make money online.
If you have any questions, be sure to let me know in the comment section below. I'd love to hear from you.
Talk soon.