We all agree WordPress is great, right?
With all the available themes, widgets and plugins they have; it's just super fun to work and play on.
However, one thing that has always bugged me about WordPress is the fact that their word editor is so gosh-darn boring sometimes!
Recently I was reading one blog where I sometimes guest post and I've noticed that the content was just laid out amazingly well with colors, pictures, and an amazing flow to it.
"Hmm. Surely this can't just be done with the regular WordPress editor!" I thought.
Obviously, I was pretty jealous of how awesome this blog looked so I've emailed my friend, who's the admin for the blog and asked him how is he making his blog visuals look so good.
His answer… "Thrive Content Builder".
Hmm.. ok. I let it slip from my mind until I finally visited his website again and once more I was struck with how great it's looking.
Ok, now I have to try this out now. And I did; I've finally bought the plugin and have been using for the past few weeks.
Thus today, I would like to review Thrive for you and also share with you my experiences using this product. Let's get into it"
Thrive Content Builder Review: Putting Other Word Editors To Shame
Product Name: Thrive Content Builder
Product Website: www.thrivethemes.com/contentbuilder
Product Creators: ThriveThemes
Price: Different prices available (see below)
My Rating of Thrive: 8/10
What Is Thrive Content Builder?
Thrive Content Builder (or TCB as we'll be calling it in this review), is the entire WordPress editor re-vamped in a much more elegant way.
If you've used WordPress before, you might agree that's it great and all, but you also have to agree that there are some limitations to what you can do with it with regards to how your content looks.
With a basic WordPress editor, your content is limited to just a few edits that you can make and along with your theme of choice, it will make your content look ok-ish, but what if I said you can do so much more with it?
With the TCB, your content is about to get a major facelift.
Here are some examples of what you can insert straight into your content, without too much effort (just drag and drop) that you won't be able to add with a regular WP editor.
*Correction: You actually can add all these items without TCB but it will require you to know some special coding skills or even have to hire a web designer for certain things. With TCB, all can be done with a simple drag-and-drop click of a mouse.
Beautiful, customizable buttons.
Credit card icons.
Content reveal (shows your content after a certain time).
Columns (you can write your content in a column style).
Testimonials.
Guarantee boxes.
Pricing comparison tables.
Progress bars.
Google maps embedded.
Responsive video.
Countdown timer.
Table of content.
and much more.
You can see working examples of these items and more on the sales page of TCB.
How Can It Help You With Your Online Business?
Now that we've looked what Thrive actually is, I am sure you would like to know how it can help you and why I've decided to review it.
With the add-ons and features that you can add to your content using Thrive, your online business is going to get that professional, clean looking "vibe" that you see on those landing pages you see and go "WOW how do they make these?"
As I've said earlier, I was introduced to Thrive by seeing a page that was done using it. Luckily I knew the guy behind the content and long story short, here I am writing this review for you after trying it out myself and LOVING IT.
If done right, you should also experience more conversations with your business, I don't know what it is but it seems that when people land on a page that seems to have a more "professional look", they tend to trust it more.
I was struggling with a conversion rate on a popular post I have on my other blog and after I've installed Thrive, I did see a spike in my conversion rates.
Is it due to Thrive and the things I've added to the content or could it just be a coincidence?
I am not sure, but what I do know this "conversion rate spike" has been going for 7 days now (ever since I've installed Thrive), so I don't think it's a fluke.
Who Is Thrive Content Builder For?
Ok, so who is TCB for and is it fit for what you would like to achieve online with your business?
Thrive, as we've seen, will dramatically enhance the visuals of your blog or website and quite possibly will make you convert at a higher rate from readers to customers, this leading to more $$.
With that being said, I would say that Thrive is for people that are looking to do business online.
People that fit the job below can definitely benefit from Thrive:
Online marketers
Web developers
Affiliate marketers
SEO specialists
Graphic designers
Full-time bloggers
On the other hand, if you're just blogging as a hobby and do not see yourself in the future trying to make money off your online endeavors, then you might not much find use with Thrive.
But, if you can afford it then I say go for it. It's a great plugin and whatever your purpose is with it, I am sure you'll love it.
How I Am Using Thrive (So Far)
Personally, I do not think I will be using Thrive on ALL the content that I will be publishing in the near future. I only plan to use it on sales pages, squeeze pages and other posts that seem to be doing well.
For the normal, weekly posting, I probably won't be using it at all for the main reason that I still like the "simple" approach sometimes.
If I see a need to put in a Thrive widget in my content I will do so but I won't be "forcing it" in just for the sake of using it.
As of the time of writing this, I've only used it to create some testimonial pages and also used it to add some CTAs (Call to actions).
Pros & Cons About Thrive Content Builder?
Ok, let us now look at some of the pros and cons of using Thrive.
The Pros
Super Elegant Designs
Although I do love simplicity, I also like having a kick ass page when necessary and I have not yet seen any software better than Thrive to create such pages.
They seem to have "understood" what looks good and what doesn't and took those into account when creating this plugin.
I can't stress how much I am in love with the designs, colors and the options to completely edit, change and modify anything that is "not quite right".
Easy Drag & Drop Features
Usually, to have these features, you need to know a bit of coding but thanks to Thrive's "drag, drop & click" functionality, it has made content editing a task anybody can achieve.
It's Just A Simple Plugin To Install
Thrive is a BIG plugin which usually means it's a hassle to install it and get it working but with Thrive, it's just one single file that you download and upload it via your "Plugins" page in WordPress.
Couldn't be any easier, especially for beginners that have not yet mastered how to go about editing FTP files behind the scenes.
The Cons
A Bit Expensive
At $97, it's not exactly cheap but if you are an online business owner, then it's probably something you can afford. If so, it's definitely worth the investment.
There is more information about pricing further down below in this review.
You Can't Edit Your Already Created Content (Sort Of)
The only thing that bugs me about using Thrive is the fact that you can't easily edit your already existing content.
What you would have to do to edit an already published post is to copy / paste in sections onto your Thrive editor piece by piece.
You can't just open up your post and edit it, it has to be rebuilt from scratch once more by adding 'Content" tabs and all the features you want to add (like banners, images, bars, call to actions, email forms, etc).
I'd love to see Thrive come up with an update for this and they would me so happy.
How Much Does Thrive Content Builder Cost?
Thrive has 3 main options of purchasing, which are:
Single Site License – $67
Unlimited Sites – $97
Agency License – $49 per month
You can see what all this entails here: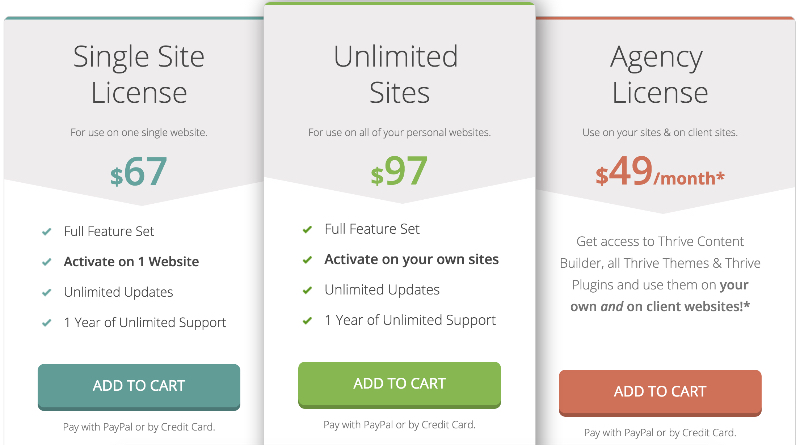 I personally picked the "Unlimited License" package as I plan on using Thrive across all the websites that I own, thus, it made sense to go for the unlimited one as it is only just $30 more expensive than the regular membership.
Any Upsells?
Yes, after your purchase, there is 1 upsell and that is for a Thrive membership where you will be able to access all of their WordPress products (not just the Content Builder) + have all the future releases included in the price.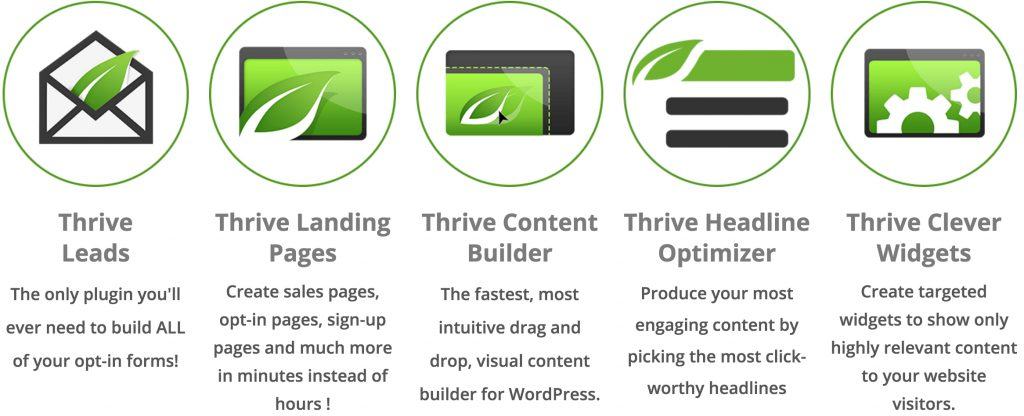 This upsell goes for:
For individual and entrepreneurs – $15 monthly
For Agencies & Web designers – $39 monthly
I have not yet gone for a monthly membership but it is definitely something that I am considering.
Is Thrive Worth The Price?
At a $97 price tag, it's quite an "expensive" plugin (probably my biggest ever expense on a plugin) but I'll be the first to admit it was worth it for me.
Having an editor like that will surely come in handy for me as I build out more blogs, websites, and online businesses. I look forward to using Thrive to continue building my websites to perform, look and act in a way that I have always wanted.
If it's an expense you can justify, then go for it.
However, if you are on a tight budget, then you should probably wait it out a bit. You can work just the same with the regular WordPress editor and your money can be put to much better use like some online training or even a premium WordPress theme if you haven't got one yet.
Are There Any Alternatives?
I'm sure there are. Here is a list of independent WordPress plugins (like Thrive) that you can take a look at it.
I have not yet tried any of the alternatives so I can't really compare which is best. All I can say is that I've tried and used TCB and I am very happy y with my purchase and probably won't be looking at any other plugins anytime soon.
My Final Rating
My final rating for Thrive Content Builder will be a HUGE thumbs-ups.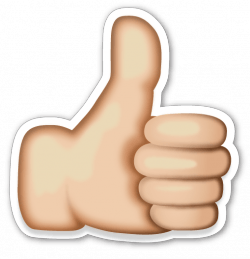 I really like the plugin and what it can do for me and other online entrepreneurs.
I'm slowly becoming a fan of all the other Thrive products as well so keep an eye out for more reviews about products from Thrive in the coming months.
Closing Words
Thank you for reading my Thrive Content Builder review. I really hope this post has answered some questions you might have had about Thrive and if something is unclear, don't hesitate to leave me a comment down below or even send me a private email if you wish.
Since you're here, I would like to invite you to join my email list so we can discuss further your online business and I will be able to send you my tips, tricks, and advice when it comes to building an online business.
I look forward to hearing from you.
Till next time