Whether it is the promotion of a business or making a profile, people are creating attractive websites now and then. It is becoming more difficult to impress the website visitors with attractive web design.
Considering the challenge, you need to select great looking landing page for your WordPress website.
It is hard to find a great looking website WordPress theme that can stand out of the competition as well as provides better user experience.
You may take help from the WordPress maintenance service providers, but that will cost you both money and time. How about, if we will guide you with the top landing page themes for your WordPress website?
Let us introduce you with handpicked top-notched landing pages for WordPress websites through this blog.
#1: OnePress (Free)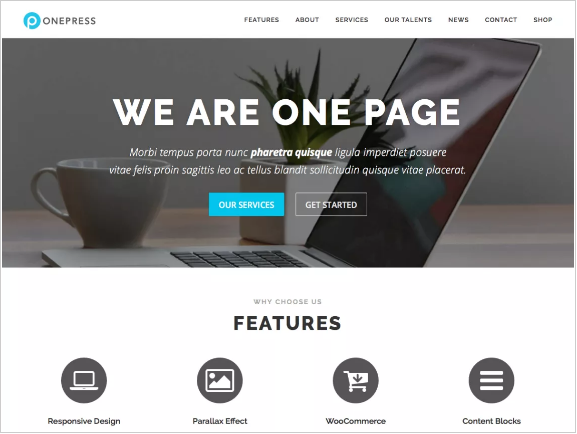 Creativity and flexibility are two terms that we can use to describe OnePress at its best.
This is a one-page theme and well suited for portfolio, business websites, product showcase, Digital agency and freelancers. This theme has an overall classic and elegant taste that surely conquers visitors' hearts.
This theme is an ideal example of Bootstrap 4 WordPress theme and it is compatible with last updated version of WooCommerce. The best thing is, this theme comes at "zero bucks."
#2: Divi (Premium)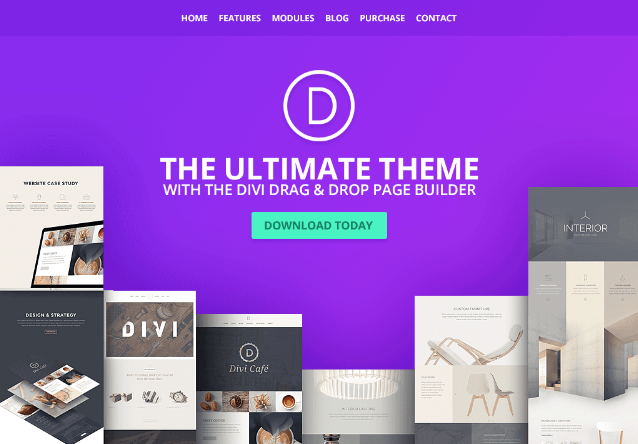 Divi is an ideal choice for the landing page. Other WordPress themes could hardly match the latest features of Divi. Divi includes a significant number of site modules.
While everybody is trying to launch an attractive website, Divi can help you to develop a stunning website without any hectic. How? You don't need coding experience while creating a page with Divi.
You can include music player on the landing page for playing sample teasers tutorials or soundtrack and you can showcase anything and everything gracefully through a Divi themed website.
#3: Uncode (Premium)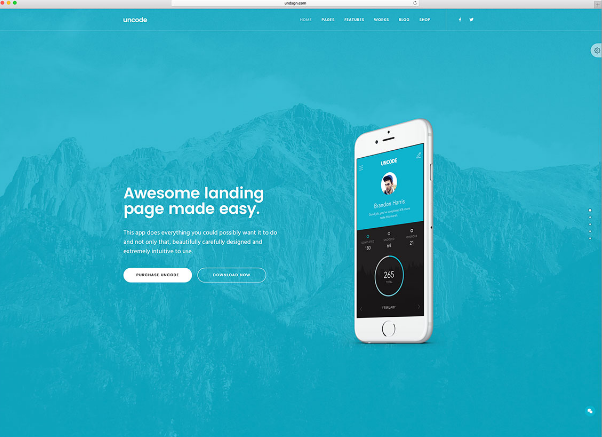 Landing page creates the first impression in visitors mind. Hence, your landing page should be creative and reflect a good taste.
Uncode is a unique WordPress theme that has a large collection of features. This SEO ready theme comes with the visual composer tool. Like Divi, you don't need much coding knowledge to customize the layout.
You can simply click and drag widgets and other elements to create unique layouts. Besides, it takes less loading time and includes some cool CSS3 animations.
#4: Stratus (Premium)
Stratus has a modern and cutting edge look. The sharpness of the landing page captivates the viewers. This theme is stylish, memorable and certainly good for those who seek a sleek and modern look for their websites.
It comes with a toolkit, thoughtfully designed for better user navigation and page customization. This stunning theme has been developed with W3C valid HTML5 coding.
The use of dynamic CSS3 animations makes it more appealing.
#5: X-The Theme (Premium)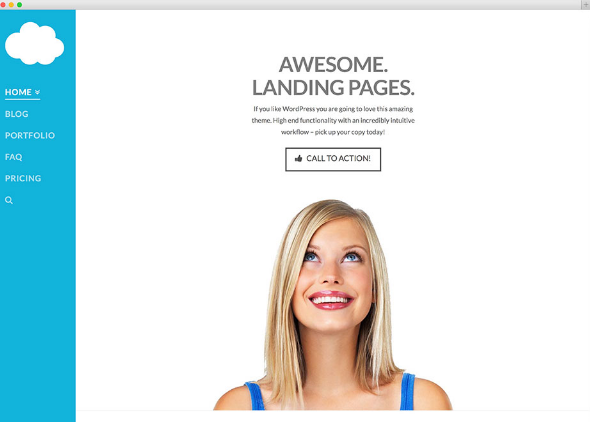 X-The Theme could be analysed as the mixture of refreshment and uses flexibility at right proportion. The maintenance of balance between refreshment and UX makes it one of the best landing pages of WordPress websites.
When you buy X-The Theme, you actually receive a package of four unique variations of the same theme.
Regardless of the browsers' types, people can access your website, if it is built with X. this theme is widget ready.
However, the best part is, it has 12-well trained associates working 24/7 behind, to improve the theme and answer back the customer queries.
#6: Folie (Premium)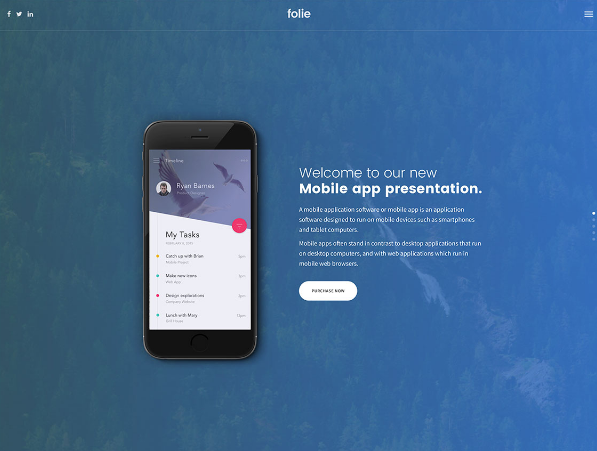 Folie is an amazing WordPress, used for different purpose. This theme comes with Visual Composer, which is packed with various useful tools Folie is compatible with WPML to translate and MailChimp for newsletters.
With 28 pages, which may include portfolio and blog styles, Folie is truly versatile. You can easily update post and videos in numerous formats. This theme has a 100% professional look with personal logo builder.
You can select pre-built options and hundreds of colours in order to customize headers and footers, which make it more vibrant.
#7: Meminz (Premium)
Meminz is a theme, which is custom built for app website and software download. This awesome framework is built on Twitter Bootstrap 3.3. The designers also used HTML and CSS3 coding technique while developing this theme.
This flexible theme comes with 6 distinctive homepage layouts as well as perfect colour scheme.
Additionally, Meminz offers CSS3 animations, 170 stroke icons and other cutting-edge features that will help you to stand out from the competition.
#8: Storefront (Freemium)
Simple but stunning- this is how we can describe Storefront. This particular theme has "just perfect" landing page, which exceptionally goes with an e-commerce site.
The WooCommerce core developers developed this theme ideally for the WooCommerce users, which is highly recommended by the WordPress support service providers.
There are several layouts, colour options, and multiple widget areas. You can use different plugins and customize the store like anything.
So, if you are up to set an e-store, Storefront should be your ideal choice.
#9: Ray (Premium)
It's an amazing theme that lets you display your mobile app on the landing page in style. This theme is clean and clear without heavy designs. This simple look offers a pleasant feeling to the viewers.
The fully responsive nature allows the users to access the website from any devices.
From header to footer, Ray has a complete retina ready graphic element, which improves user experience in a different device. Besides, it has an 8-page layout with 4 background styles.
You have ample authority to customize the theme.
#10: Dikka (Premium)
This one is a multi-concept impressive WordPress theme, which could be used to build any types of websites. The landing page is developed with "extra essence" as it is a multipurpose theme.
The framework is developed based on Twitter Bootstrap Technology. This theme is extremely responsive and offers 6 unique menus styles. It includes retina ready graphic elements and icons.
Dikka is SEO friendly, makes it more likable for websites.
#11: Zeyn (Premium)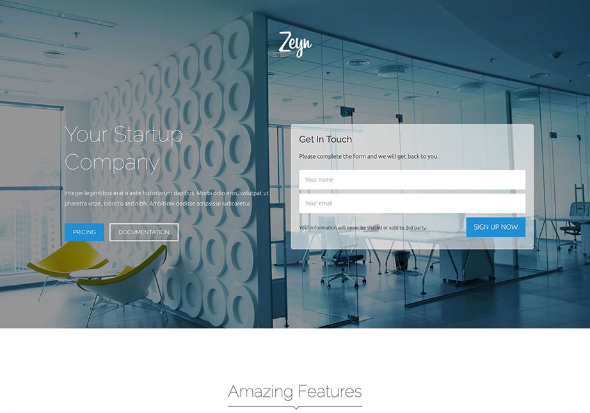 This is an awesome modern theme, ready to use for multipurpose. It is a perfect choice for attracting new clients or introducing a new product. Zeyn is extremely flexible with unlimited functionalities.
This theme includes Visual Composer, Revolution slider header style options, and unique option form builder. His page is translation ready and easy to integrate with WooCommerce plugin.
The admin panel has complete control over the theme, from theme colour to heading.
#12: Dalton (Premium)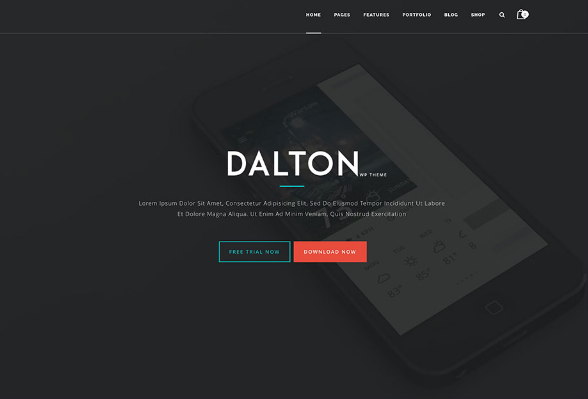 It is highly configurable, customer engaging and modern theme. The landing page is stylish, graceful and highly attractive. Technically, it is a commercial multipurpose theme, which is composed of latest web technologies.
The simple and graceful look of the landing page will indulge you to select this theme for your website.
The incredible Parallax visual, intuitive visual design and backgrounds make Dalton most favourable candidate for websites.
#13: Customizr (Premium)
It is an easy-to-customize theme for WordPress users. With Customizr you will have an instant professional look. It is designed to engage customers and help them to have smart and flawless website experience.
With Customizr you will be able to develop a fast, mobile-friendly and stunning website. It is comfortable with several plugins, namely bbPress, WooCommerce, JetPack and others.
#14: Tattoos (Free)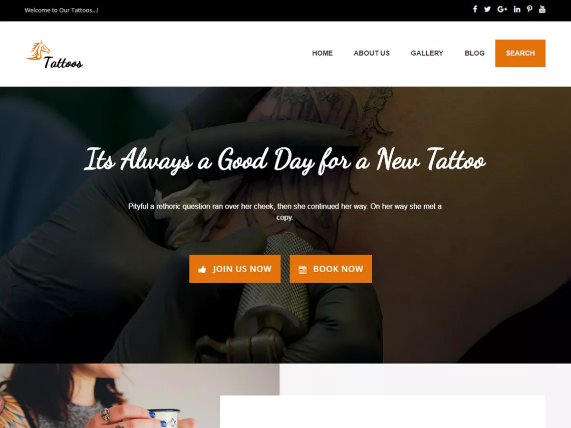 This theme is built for the artist. This theme is developed based on CSS3 and HTML5. This is the simple theme is elegant and classic enough to stuck the visitor on the landing page.
It doesn't matter whether you have technical skills or not, setting up a website with Tattoos is just a few clicks job.
Considering the role of social media in promoting arts and designs, it offers the option of social share and indulges you to grow popularity from the first day.
#15: TheMotion Lite (Free)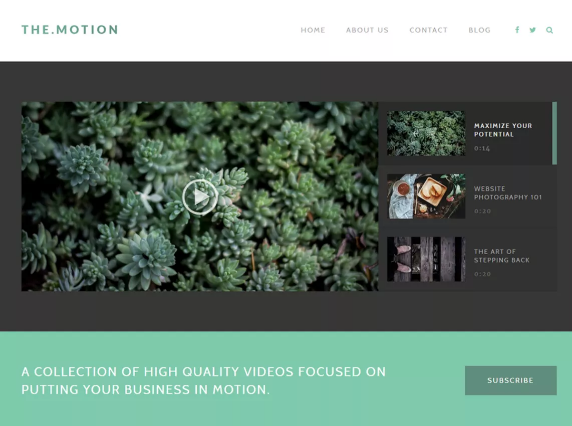 TheMotion Lite is one of its kinds. It has an elegant as well as a clean-cut look that stuck the visitors. This theme is primarily made for the video sites.
The theme users also found it perfect for creating portfolio and blogs. TheMotion Lite features a beautiful slider to showcase your thoughts (arts, videos etc).
On the other hand, it has a modern appearance as well as classy light colours. A minimum design on the landing page makes it ready to fit any kind of websites without any hesitate.
Thought Summary
A selection of landing page is always important as it creates the first impression on the website visitors.
Today, visitors hardly give time to go through the whole website to decide whether to engage with it, because they have a long list of websites.
At this point, if you really want to catch their attention, your target should be creating a lucrative, elegant and sharp land page. Your WordPress support may help you to select one of the best themes for you, but their suggestions are always limited.
We hope, through the blog we have managed to enlighten you as much as possible regarding
Stay tuned to learn more about WordPress themes.