No matter your industry of business, a more widespread workforce is becoming more common.
Office jobs that require a traditional 9-5 workday is proving to be a thing of the past, and more flexible work arrangements are on the rise.
Many employees are being given the opportunity to work remotely or work within a flexible work arrangement.
On the business side, remote work allows employers to expand their workforce by bringing on qualified individuals no matter their location.
Essentially, businesses now have an unlimited pool of employees to choose from in the hiring process.
On the flip side, as an employee, remote work has its own unique benefits as well.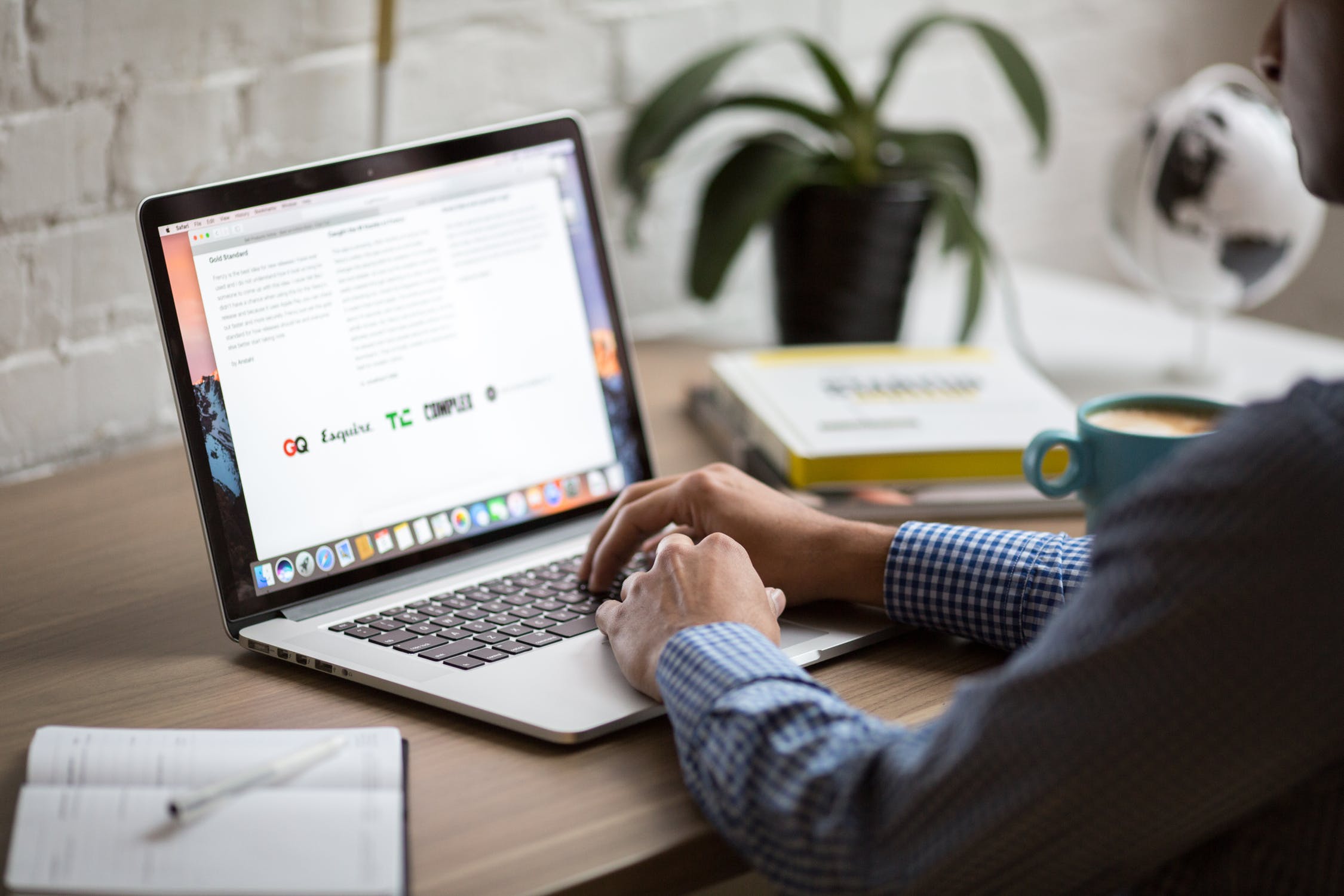 While there are always specific guidelines and company policies to adhere to, remote workers have an unmatched opportunity for flexibility.
In some cases, remote employees have the freedom to work any hours they wish as long as deadlines are met, and they are able to call into meetings that require their presence.
However, what can be classified as a perk can easily turn into a pain point for individuals and teams navigating the remote landscape.
Here are 8 ways that employees can maintain efficiency while working remotely:
Designate a Workspace
Working remotely can often mean working from your home. While this may seem like a convenient scenario, it is important that you designate a work space to be utilized for work specifically.
Converting your kitchen table into your home office can be a quick and easy solution, but will likely turn into a headache in the long term.
Unpacking and packing your materials every day creates room for error; you may misplace important paperwork, damage materials or even take over your personal living space altogether.
Having a designated workspace will allow you to properly organize and store all of your work materials, and provide the ability for you to separate your work and social life.
Whether you are able to transform one room into a home office or simply buy a new desk, give yourself the opportunity to succeed by mimicking a workplace in your own home.
Minimize Distractions
Distractions come in all forms. In the office, disruptions can take the shape of coworkers interrupting your workflow to ask questions, or through friendly chatter as colleagues pass by your desk.
Working remotely does not completely eliminate the opportunity for distractions, they simply come in different forms.
To reduce the temptation of these distractions, make sure your workspace is set up for success. Following suit with the previous point, make sure that your work area is free of distractions.
Try not to work with the TV on or become a frequent social media checker.
Think of it this way: you wouldn't spend an hour checking your personal social media accounts in the office, so why would you at home?
When it's time to begin your day, unplug from anything that is not work-related.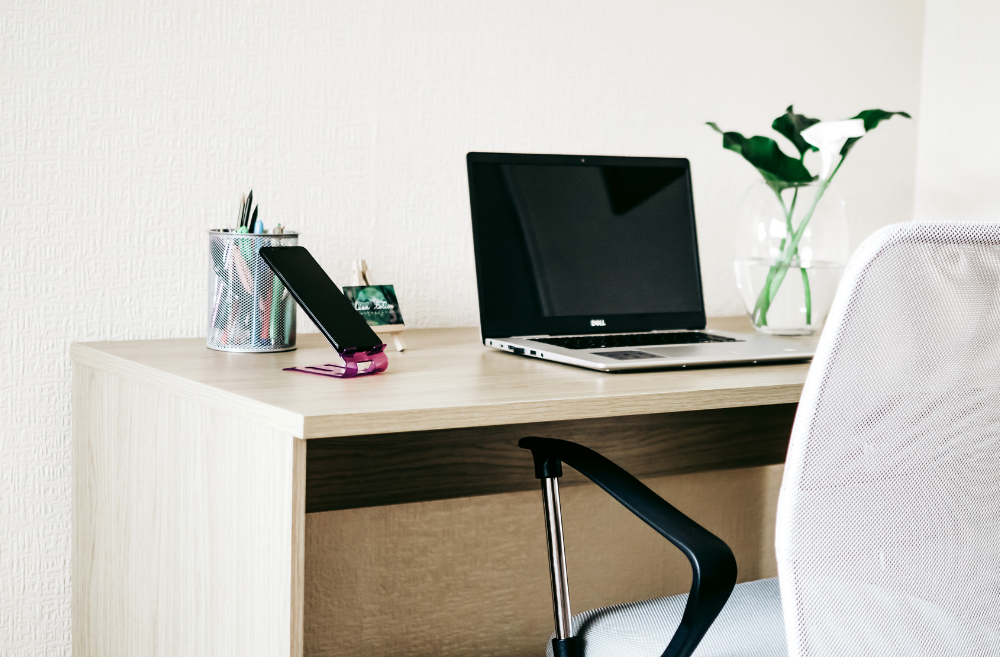 Get Yourself Ready 
For many business people, one of the many perks of working remotely has to do with the lack of dress code.
Not being required to abide by an in-office dress code allows for employees to wear what is comfortable for them.
However, there needs to be balance; waking up and working in your pajamas can make for a hard transition from lounging into being productive.
Getting ready and getting dressed for the day can aid in the shift of your mindset from personal time to professional time.
This simple process allows you to jumpstart your day and mimic what a traditional work day would involve.
Stay Connected 
To the same sentiment as getting dressed, you may not be in the office physically, but that does not give you an excuse to become disconnected from your team members.
Although remote employees can't walk over to their coworkers' desks, there are communication apps that can be utilized as a substitute form of communication.
Instant messaging apps, video chat, and conference calls are all modern ways to stay connected even when your team is widespread.
Connecting all of your tools with a custom unified communications platform can increase your response efficiency.
All of your apps will be organized in one place which will allow you to closely monitor notifications and incoming calls and messages.
Determine Your Productive Work Period
If you are fortunate enough to work within a flexible work schedule, then use that to your advantage.
Determine whether you are most productive in the morning, afternoon or evening and plan to complete your work during that time period.
Knowing when you are most productive and dedicating those hours to work on your most important projects is key to efficiency.
Don't force work when you know you will not be able to produce quality deliverables. Additionally, mastering your workflow will allow you to complete more in a shorter period of time.
Set a Schedule
Remote employees lose an element of structure when they are working in their own space on their own time.
With no one necessarily monitoring your work day, it is up to the employee to determine what their day is going to look like.
Creating structure and setting a schedule to hold yourself accountable is a surefire way to maintain efficiency in your work ethic.
Whether you set a routine for the day or map out your entire week, you will accomplish more when you solidify what you're going to do and when.
Collaborate As Much As Possible
Given today's technology, location should not hinder an employee's ability to collaborate with the greater team.
Take advantage of file sharing and collaboration services to streamline creative teamwork. This allows for you to work simultaneously on the same projects with your team.
Additionally, these services provide you with the ability to leave comments and suggestions in real time, which truly facilitates the same learning abilities that a remote employee would have if they were in the office.
Establish an End Time
 Working remotely and setting your own hours can blur the lines of when your workday ends.
Knowing that your "office" is your home, it can be challenging to know when to call it quits.
Typically, you leave an office at 5 p.m. and drive home. That transition period gives people enough time to wind down and get out of the work mindset.
Working remotely means that you rarely have an opportunity to distance yourself from your workspace and the work it occupies.
Take note of what time you start your workday, and write down a concrete end time.
This means that you stop doing anything work related so you can have downtime.
Working too much isn't productive, and can really hinder your ability to produce quality work that positively impacts your goals.
Navigating the world of remote work is still a new concept for many.
Keeping open lines of communication regarding productivity, efficiency and best practices among remote employees is the best way to develop the new standard.