Does your home need a new look?

Do you want a change of scenery?
If you are like most, the last year staying at home for work, school, and play was a challenge and an eye-opener. We all noticed things at home that could be improved.
If you are looking for easy ways to spruce up your home, take my advice with these home interior design tips and ideas.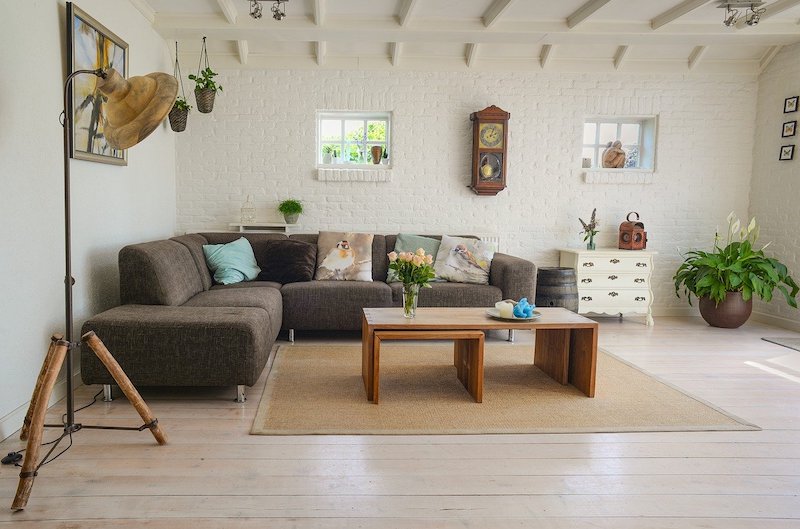 Paint an Accent Wall
One insider's tip on interior design is that you don't have to paint an entire room to make a big splash.
An accent wall is a great way to quickly spice up any room. It is wise to play with the current color palette of the room. Select a wall that is centrally located or a portion of that wall to paint.
You can then polish the look with accent pieces like throw pillows and rugs. If painting is not possible because you are renting or other, you can use peel and stick wallpaper for an accent wall. This method is easy with no mess.
Plus, it isn't permanent. If you don't like it, just peel it off the wall.
Declutter Every Room
This is the number one rule in sprucing up your home. We all are guilty of putting things in a junk drawer or a hall closet. However, eventually, every house needs to do some Spring cleaning.
Now, is an ideal time to go through your home to find items that you no longer wear, need, or use. You can donate these items or upcycle them. By creating more room and organization in your home, you will immediately see a difference.
The decluttered or minimalistic look is in. Keeping it decluttered is going to be your challenge.
Revamp Your Wall Art
Art is very personal. However, even the best art museums in the world have a curator that switches up the masterpieces from time to time. You must do this at home too. There are many options for revamping your wall art. Interior design experts recommend these wall art ideas. What is important is that you like your wall art and it compliments your space.
Add Plants
Most people shy away from house plants because they can be time-consuming. However, house plants provide a natural look as well as healthy air for your home.
If you don't have a green thumb, you may want to start with easy, no-hassle plants. Cacti and succulent plants are very easy to care for and require almost no maintenance.
If you can handle weekly watering, an ideal choice is the spider plant. This can be either a hanging or a tabletop plant. 
Increase Lighting
One of the features that can hurt your home's selling value and appeal is lighting. One way to brighten your home decor is by increasing the bulbs in your light fixtures.
If you don't have overhead lighting, you may want to consider purchasing a chandelier or spotlights. Another way to increase your natural lighting is to keep windows free of dark curtains and blinds. If you have dark curtains, swap them out for light or sheer curtains.
Add Mirrors
An easy way to add depth to a room or space is to add a mirror. My favorite trick is to have a mirror at the end of a hallway. This gives the space perspective. For darker rooms, you may want to hang a mirror opposite a window. This enhances your natural light by its reflection. Of course, mirrors come in all shapes and sizes. Choose a style whether modern or antique that goes with your home decor.
Give Your Living Room Furniture a Facelift
You can go out and purchase a completely different living room set, but you don't have to. You can give your living room furniture a facelift without too much work nor money.
By creating custom furniture covers, you can change the look of your living room in a matter of hours. Refresh your sofa and loveseat with ease by just ordering a custom cover. Then, finish the look off with great blankets and rugs.
---
We all want a change of scenery now and again. Give your home a new look and feel this year. By following the ideas above, you are well on your way. None of the ideas will break the bank. In fact, most likely, all will increase the value and appeal of your home.