Don't you just love it when you stumble on a hot tip that could potentially help you improve your blogging and boost your business straight away ?
While I do try to do that with every post I publish here, I have to say today's post was inspired by none other than Mr Pat Flynn. The super successful podcaster & blogger and the KING of smart passive income.
I've been a fan of Pat Flynn for well over a year now. I read his blog and listen to his podcasts every chance I get but one thing I didn't do for a very long time was subscribing to his newsletter.
What a mistake that was…
In his email newsletter (which I am now subscribed to), he shares blogging tips exclusively for his subscribers and I've been learning so much since I've joined.
I'm kicking myself this very minute for not joining earlier.
In one of his first few emails he sent me, Pat shares a great tip for coming up with blog post ideas, and I have to say it has revolutionized how I create content.
Basically he shows you how to get blog ideas from Amazon eBooks! Don't worry you don't have to buy any eBooks. That's the beauty of it all.
Let me explain….
How To Get Blog Post Ideas From Amazon
Let's say you're in the "online business" niche.
What you do is you go to Amazon.com, type in your niche in the search bar and choose the "Book" or "Kindle Store" department. Like so: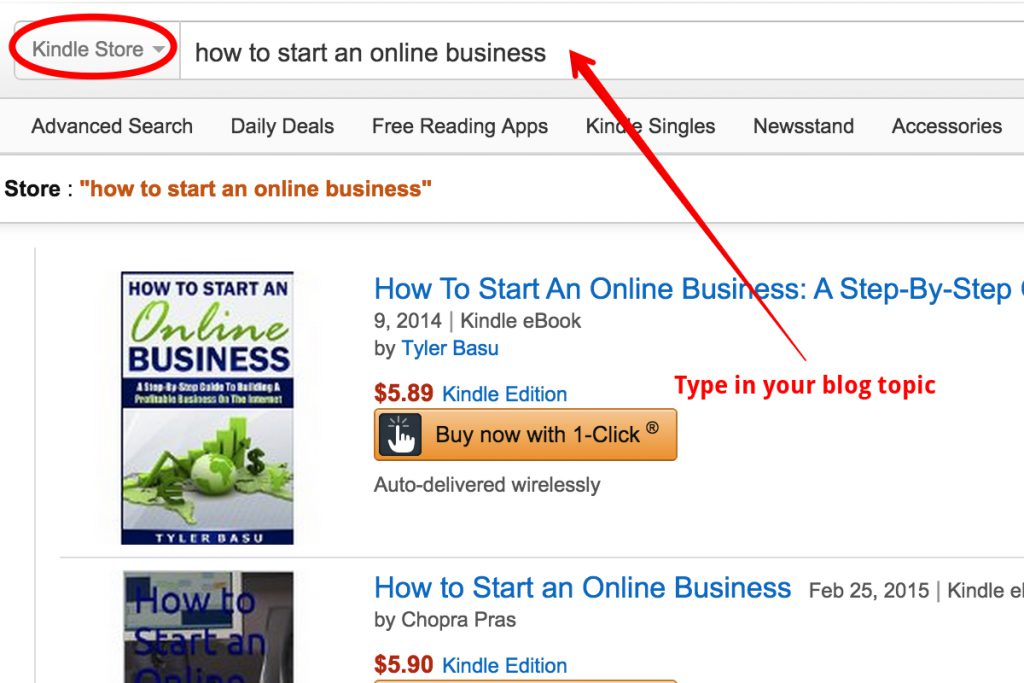 This will turn up a huge list of eBook or books that are related to your niche.
Now thanks to the "Look Inside" feature on Amazon books, you can read the first few pages of any book.
What you want to look for here is the "Table Of Contents". Some books may not have a table of contents, if that's the case move on to another book. There's 1000s on there.
This will turn up a huge list of titles that could potentially be your next blog post.
Sticking with the "online business" example, I open up 2 random books from the listings and look for their table of contents / chapters.
Here's an example: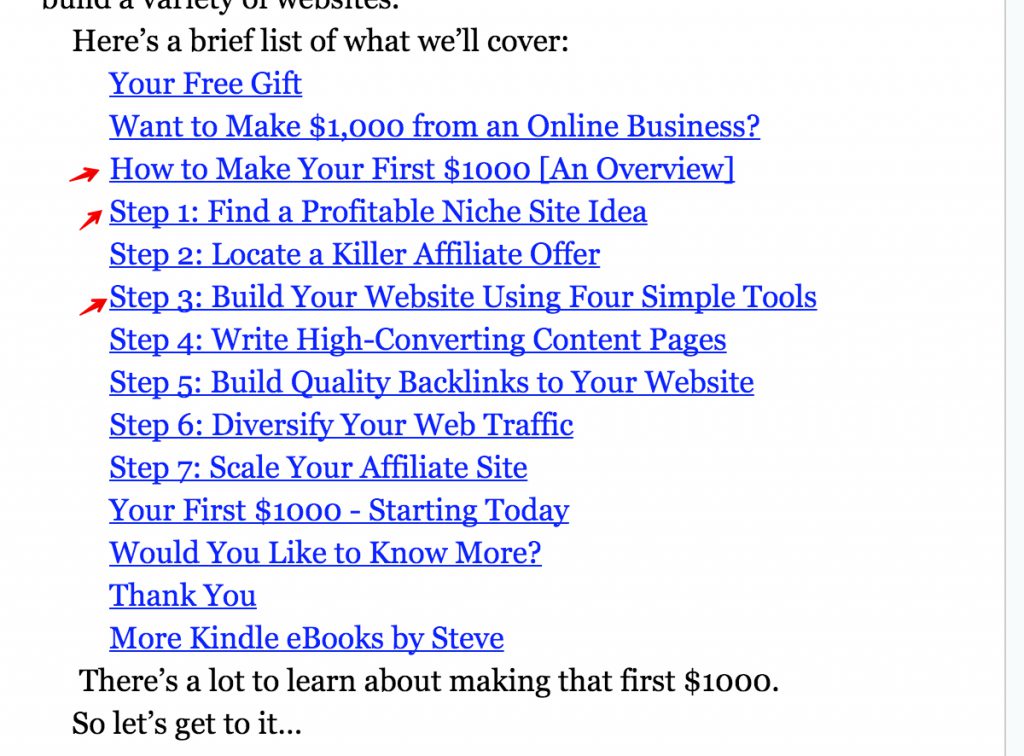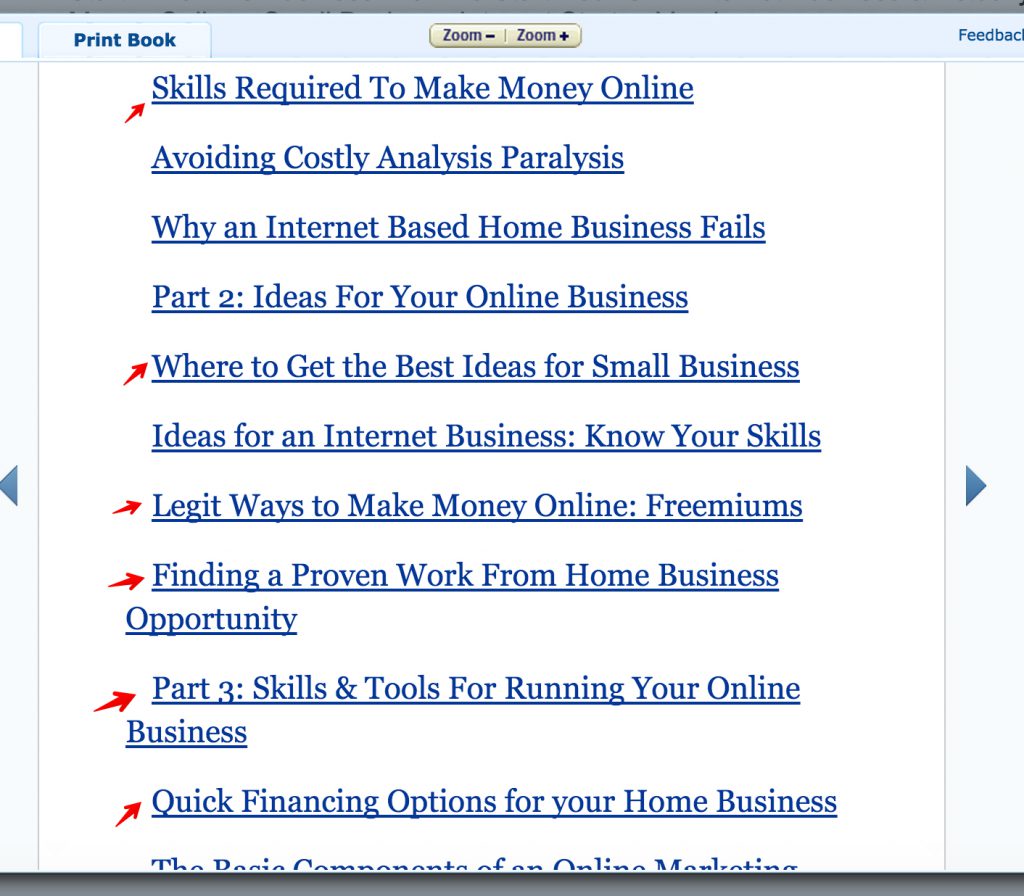 You can take these chapter titles and turn them into ideas for your own individual blog post.
Of course you don't have to copy them word-for-word but this should get your creative juices flowing.
Here are some blog post ideas I pulled from the examples that I would totally do on my blog:
How To Make Your First $1000 Blogging.
Coming Up With A Profitable Niche Idea.
How To Build Your Traffic With 4 Simple Tools.
Where To Get The Best Ideas For Creating Content.
Skills & Tools For Running Your Own BLog Business
I came up with 5 ideas doing a quick 5 min search on just 2 Amazon eBooks.
Imagine if you do an hour researching ideas; You'll have enough content ideas to keep you busy banging out content for weeks.
And this tip can be used for any niche you want. Here are some other examples in the "gardening" and "relationships" niches.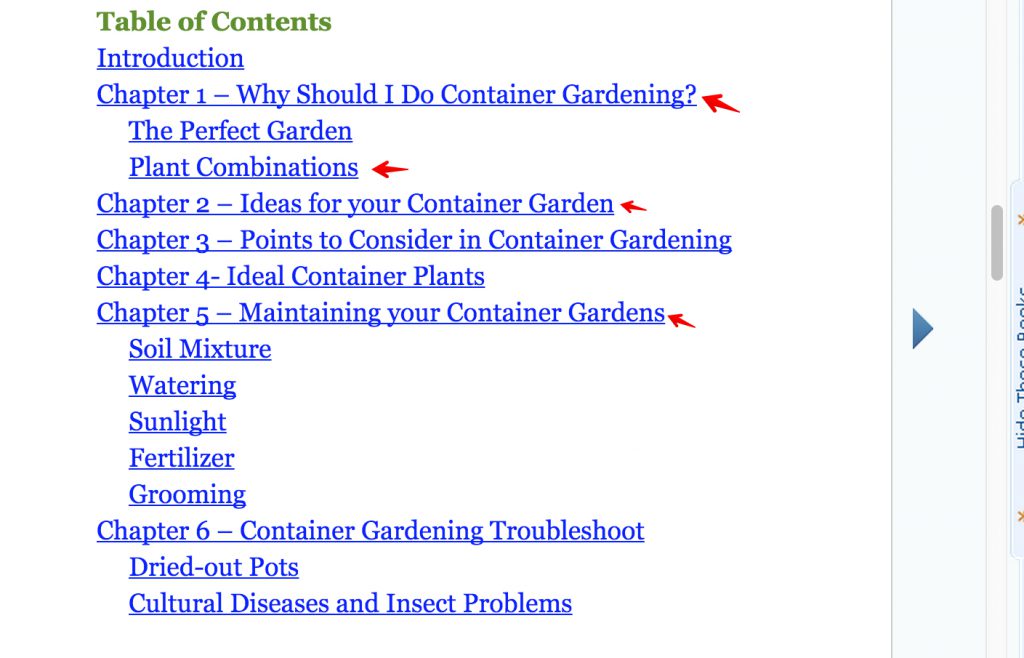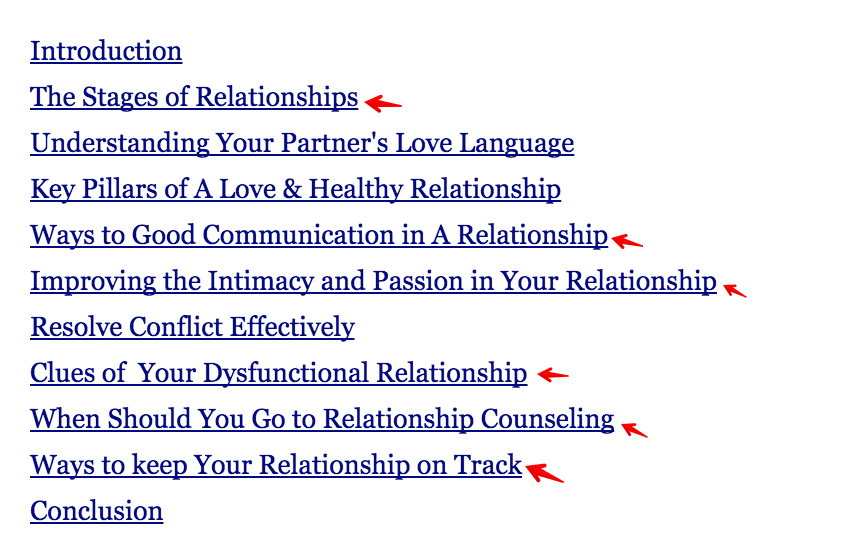 As you can see, this is super easy and quick to do.
All you need to do is spend a few minutes each day researching eBooks and you'll never run out of things to post on your blog.
Unfortunately, running out of ideas is what kills off most blogs.
People get struck and frustrated then decide to give up. I know because I've had it happen to me multiple times, and sometimes it still does.
All bloggers (even the pros) tend to get "bloggers burnout" every once in a while. Blogging is a creative process and not something you can switch on and off.
But I'm sure that with this great lesson courtesy of Pat Flynn, your blogging burnout may not happen so often.
READ: 7 Ways You Can Avoid "Blogger Burnout".
---
If you've been reading my blog for the last few weeks, you know that I've been working on a blog building case study and I've been testing out this idea on this case study blog.
So far it has given me a ton of blog post ideas that will guarantee I'll have fresh content to publish every week.
Check Out Pat Flynn's Blog For More Hot Tips
This is one of those life hacks that are so simple, you tend to overlook them. I'd really like to thank Pat Flynn for sharing this tip with the world.
Be sure to check out Pat Flynn's blog and also his podcast. It teaches you how to create passive income online and features multiple other bloggers and e-Entrepreneurs telling their story. Subscribing to his newsletter is also highly recommended.
Thank you for checking out today's post. I've kept it short today but I really wanted to get this out to you as soon as possible.
I honestly believe it will super-charge your blogging efforts and make it easier for you to create awesome blog content.
If you have any questions on this lesson or any other things you need help with. Just drop me a comment below or send me a private message.
I promise I'll get back to you as soon as possible.
Till next time.
Chris Lee
[Tweet "A Blogging Lesson From @PatFlynn"]