I mention a lot of tools and services in my blog posts every week and I'd like to list them here on one page for easy access.
These are all tools I use myself on a day to day basis that I can recommend to you with full confidence.
Some are free, some are paid and some are free but also has a premium option.
This list will continually be upgraded and modified when I find more services and apps that will help you blog faster and better.
Awesome Resources To Build Your Blogging Career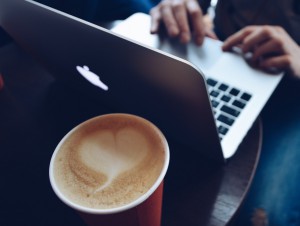 Evernote
www.evernote.com
I use Evernote to jot down ideas that come to me while on the go.
Sometimes I use the mobile app to add a blog post title that came to mind and sometimes I sit down to do some research and write all my ideas in there. 
There are many, many ways you can use Evernote and you'll find it's a highly recommended tool from a lot of pro bloggers.
Buffer
www.buffer.com
If you want to conquer social media, then I suggest you sign up with Buffer.
Buffer will allow you to automate your social media posting on multiple accounts (Facebook, Twitter, LinkedIn, Google+ and more). 
You can use it for free but there are some limitations. The premium subscription I use is just $10.
I love it because I can add multiple posts and tweets and not have to worry about publishing content daily. 
IFTTT (If This Than That)
www.ifttt.com
"Put the internet to work for you"
That is what IFTTT is all about. With IFTTT you can create recipes that trigger automated actions if another certain action happens.
Let me explain: 
If I publish a post, it automatically tweets it out.
If I schedule a post and it gets published, I get an email reminder.
Do you get the idea?
There are a million different recipes you can create that will help you automate your blogging and your digital life. 
It's not just an awesome resource for blogging, but for life in general.
I suggest you check it out, link your WordPress/Blogger post on there and see what you can do.
Up to now, IFTTT is 100% free. 
Siterubix
Probably the fastest, easiest way to create a WordPress blog is by using SiteRubix.
I can literally create a new WordPress site from scratch in just over 1 minute.
Here is how you can create a WordPress blog with SiteRubix.
Canva
www.canva.com
If you're a regular reader on my blog, you'll know that I like to create little graphics at the end of every post, usually with the blog post title.
This is meant to: 
a: provide a much more visual experience.
b: be easily shared on social media.
A large part of my traffic comes from social media and it all comes from these graphics that I create using Canva.
But apart from blog graphics, you can also create social media banners, timelines images, facebook covers, business cards, Instagram photos and a whole lot more. 
I love Canva so much I created a blog post entirely dedicated to this awesome resource. You can see my full Canva review here.
Aweber
Email marketing; My number 1 tool to help drive traffic, increase sales and build trust with my followers.
To capture leads and a set up a great email funnel, you must have an email marketing managing system in place and for that; I trust Aweber 
Aweber has a $19 fee but you can try it out for a month for just $1. 
If you're looking to get into email marketing but don't have the budget for it yet, then I suggest you use MailChimp. I never used it myself but I hear great things about it
Headline Analyzer 
www.coschedule.com/headline-analyzer
If you want people to click through to your post, then you need a kick ass blog title.
The first time a reader will interact with your content is when they read the title of your blog post. Needless to say your titles have to be good, actually they have to be great.
For this, I use a free tool by Co-Schedule called "Headline Analyzer". This allows me to enter my title idea then it will suggest improvements on it.
It will also tell me what quality score it has, how it will appear in search results and how likely it is for people to click on it. 
Basically after a few tweaks and suggestions, you can turn a boring title into an interesting, enticing one that will increase your CTR.
Jaaxy – The Keyword Tool
Keyword research is what it's all about to get ranked in the search engines and that is where Jaaxy comes in.
All the research I do and posts I publish start from a simple keyword that I find in Jaxxy then expand on it. 
If you're interested in learning about keywords and how they can help you conquer blogging, then read my previous post about picking keywords.
Jaaxy is a paid tool but it comes with 30 free searches if you want to check it out.
Fiverr
www.fiverr.com
Fiverr is an online marketplace for people offering services starting from $5.
You can get anything done on there with regards to your blog including: 
Creating a logo
Purchase content (although not recommended)
Hire coding experts
Create eBook covers
and much more.
Here are some great ways to use Fiverr on your blog. 
WorkFlowy
www.workflowy.com
Workflowy is the kind of app that looks simple but helps you accomplish so much. It's super easy and if done correctly, it can help you improve your productivity by ten folds. 
Typically, I use it to list all my goals and tasks that don't have a deadline and I just work accordingly tackling each task one by one
I find that seeing my long term goals listed one after the other has helped me incredibly in keeping the momentum going when working.
Todoist
This is the to-do list app that I will recommend to you to handle everyday tasks. 
This is another app that I don't use just for blogging. It's also helpful when it comes to running my life on a day-to-day basis.
It helps me keep track of when I should publish new blogs posts on my sites, reminds me to answer emails and comments, tells me when I got a commission coming in or an expense I have to pay, etc..
I've used A LOT of to-do apps but this one deserves an honorary mention. The best I've seen so far.
Facebook Pages App
"Pages" is a Facebook app that helps you manage your Facebook pages from your smartphone.
I'm a huge fan of services that can be run from mobile for the simple fact that I can do my work anywhere at anytime.
Facebook is a huge part of my marketing strategy and I find this app incredibly efficient to help me keep up with it on-the-go. 
Dropbox / Google Drive
www.dropbox.com
Both free services that I'm sure you've heard of before. 
These two services will help keep all of your data "in the cloud" and thus accessible from ANYWHERE in the world. 
I use both these 2 services to store my articles, personal records, graphic designs, WP themes and most importantly back ups of all my blogs 
SIDE TIP: Having a backup of your entire blog is super important. Sometimes things go wrong and you just may end up losing all of your work. Try to backup your blog at least once every 2 weeks. Here's how.  
The #AskGaryVee Show
This is not necessarily a tool but it's a huge resource of information for people that want to do business online.
The "#AskGaryVee" show is hosted by Gary Vaynerchuk; a business mogul that runs a social media agency and CEO of multiple online based businesses.
It's super educational (and fun) to watch and it has taught me so much on how to run my online business.
Check out and follow the #AskGaryVee show on YouTube. I'm sure you'll find it helpful in running your own blog business this year
Wealthy Affiliate
www.wealthyaffiliate.com 
Wealthy Affiliate is the "Harvard" of online marketing schools. It's the most prestigious online business communities I have ever been a part of for years now and I owe all of my blogging success to this place. 
I've written a lot about Wealthy Affiliate on this blog so I won't go into detail about it here. Feel free to check my previous articles on WA here.
---
What do you think? Do you use any of them? Can you recommend some other resources to me and the community?
I'm sure there are 100s more I've yet to discover so if there is something you enjoy using, please let me know.
I hope you enjoyed reading. Feel free to share this page with your followers and also don't leave without downloading my free ebook:
"How To Win At Affiliate Marketing" < another awesome resource #humblebrag 
Till next time.
Chris Lee
---