SEO may be slow, but it's one of the best sources of traffic you can get for your website.
Many struggle with SEO – it takes a very dedicated person to be able to achieve good results with SEO because unlike paid ads (where you pay and you instantly get traffic), with SEO, you are going to have to put in a lot of work before you even see a glimmering hope of some page 1 rankings.
Today I am answering a question that I know many to wonder (and struggle with), which is:
How long does Google take to rank your post?
This is a loaded question to answer but I will do my best sharing with you not only proof but also examples of how long it generally takes Google to give you the traffic we both know you deserve.
With this post, you will learn:
– How long it takes for Google to rank you.
– How to get indexed (quickly).
– How to improve your rankings over time.
+
In the end, I will also give you my detailed roadmap (a 10-day video course) that will show you what you need to do to make give your website the best possible chance to rank for the keywords you're after.
Ready?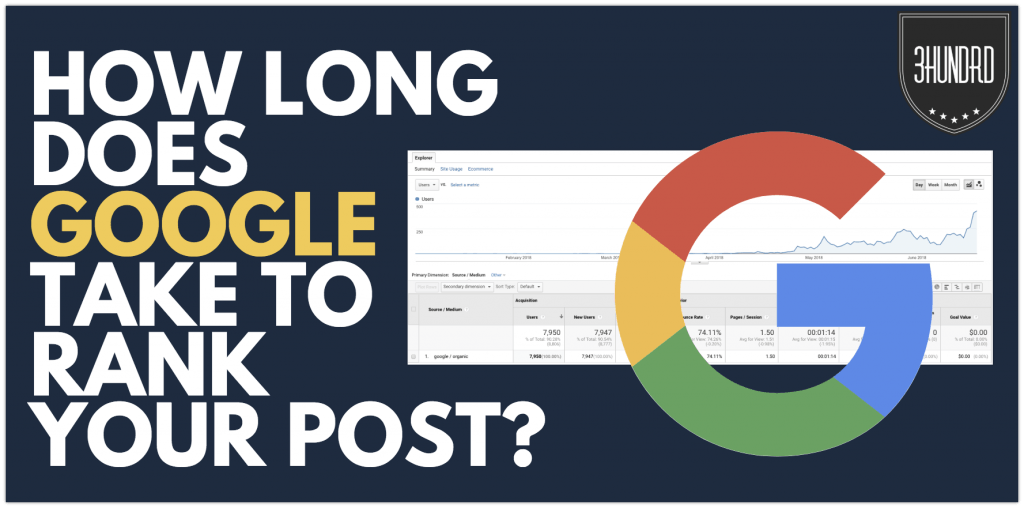 How Long Does It Take For A Post To Rank In Google?
As I said, this is a loaded question and very hard to answer as it's not the same for every site.
I will be giving you an idea of what to expect, but without knowing exactly what your website is, your niche and how well you are executing your SEO strategy, things may move faster or slower than what I'm about to share with you below.
At the current time, we know of 200+ metrics that determine how fast you rank and in which position, you can read an in-depth guide of the 200 metrics on Backlink's famous blog: "Google's 200 Ranking Factors"
From my own experience, I can tell you any given post you publish, you will see the full results of your effort 8 to 10 months down the line.
That is a long time to wait I know but that is what I'm currently experiencing (you can see proof of this below).
However, this I only because I am following the right roadmap (the same I will offer you down below). Some even report that it takes around 2 to 3 years for a post to fully get the rankings it deserves.
2 full years! Can you imagine waiting that long?
Before I tell you why Google takes so long to trust you, here are some of the screenshots from my own Analytics to show you what I'm typically getting with posts I am currently publishing on this website.
My Experiences Ranking Posts On Google
Post 1 Example: My Oberlo Review

Date published: December 2016
Reached "peak traffic": October 2017
The month it took to reach peak traffic: 10 months

Date published: May 2016
Reached "peak traffic": January 2017
The month it took to reach peak traffic: 8 months
Post 3 Example: My Canva Review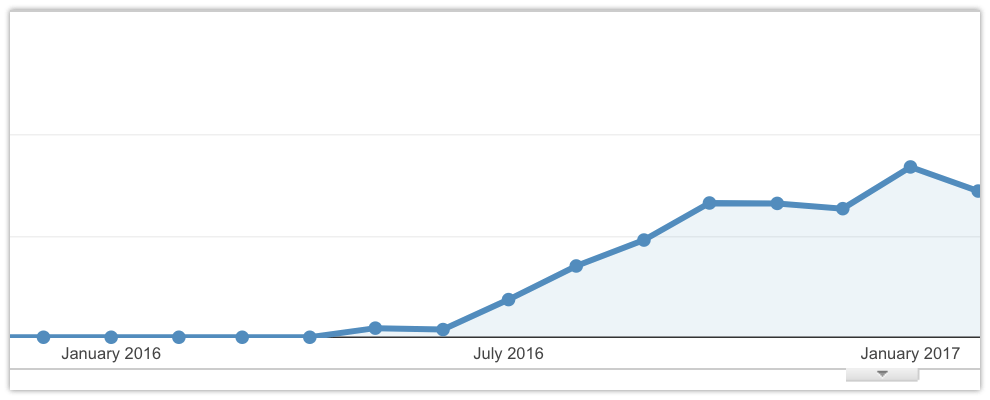 Date published: April 2016
Reached "peak traffic": January 2017
The month it took to reach peak traffic: 9 months
Also remember that these posts have been getting traffic before they reached their peak and also, I can't tell you where and how they will be in the future.
For all I know, the peak has not even happened yet and there will be new highs as the content matures and develops even more.
How Long Does It Take To Get Found On Google?
Do not confuse ranking, with indexing.
Indexing is quick and easy, you can get indexed a few minutes sometimes seconds when you use the "fetch as google" tool in Webmaster Tools.
What this will do is alert Google that your website has a new blog post and they should index it. Most typically they agree and index your post but when they do, it rarely is a page #1 position.
In time, and after going a rigorous process where Google passes in through its 200+ metrics, the post will start ranking higher and higher until it reaches the ranking Google thinks you deserve.
When you first publish a new post, you will often notice that the post can be quite volatile with its rankings.
Page #3 > Page #9 > Page #2 > Page #14 > Page #7
This is called the "Google Sandbox" and while it has never been confirmed to be a thing, it's what many SEOs assume to be Google' testing phase with your new blog post.
For some keywords, you will get a page #1 instantly, but that also comes after your site has been up for quite some time and has some trust with Google already.
How Long Does SEO Take To Work?
As we've seen above + many other sources confirm this as well, it's safe to say it takes Google 6+ months to fully understand what your post is all about.
You may be surprised to hear this a Google is incredibly efficient and smart, but remember you are not the only one competition for that keyword post.
The algorithm is mostly based on how its users interact with your post, hence why it takes so much time for Google to really understand how and where to place your post.
Remeber that Google also owns Google Analytics and they can measure the activities both on their own website and also on yours (and can easily connect the dots).
If your post is getting a big CTR, then they know your post is appealing to users.
If they send traffic to your post and people stay a while reading it (time on page), it shows that it's interesting and informative.
If they send you the traffic and that traffic ends up reading more than one post while on your site, it shows your site is an authority and they will rank your post (and the other content on your site) accordingly.
Obviously, the opposite is also true:
Low CTR = not enticing enough

Low time on page = not interesting enough

Hits "Back" quickly = not what the user wanted to see.
All of these will have either a positive or a negative outcome on your how well your content ranks.
How To Rank A Blog Post In Google
Next, I am going to tell you the exact process I use to give me results such as you see here.
Note this is an Amazon niche website I have built and it currently only has 19 posts on it.

As you can see, my traffic is always increasing month on month and I am sure there's not stopping it at this point using the following strategy:
Basically, here is how I structure my posts for SEO:
Keyword in the title

Keyword in the first 100 words

Semantic Keywords throughout the posts

Keyword in the last 100 words

Keyword in Meta Title

Keyword in Meta Description

Keyword in Image Alt Text
That right there is what is getting me the results shown above. If you want to take it a step further with it, here's the free training course I promised you earlier in the post:
How To Learn SEO (With Wealthy Affiliate)
Wealthy Affiliate is where I have made my bones in affiliate marketing. I have been a member of it for 6 years now and I credit every cent and every page #1 ranking I ever had to it.
In a nutshell, it's an in-depth affiliate marketing training course designed in a day-by-day, step-by-step manner to teach you how to become a super affiliate.
Of course, affiliate marketing and SEO go hand in hand (as it should) and you will benefit greatly from learning the ropes of affiliate marketing and SEO inside Wealthy Affiliate.
Although it has a premium price plan for higher memberships, you can get started with it for free and stay on as a free member for as long as you desire.
I'll be in there to help so drop by my profile and leave me a comment once you join.
You can read my entire Wealthy Affiliate review here >>
In Closing
Thank you for reading and I hope this post has given you a glimpse (or at least a basic understand) of how long Google takes to find, index, and unleash full traffic potential for your post.
If anything is unclear, be sure to let me know – you can even message me inside WA for a quick answer.
Talk soon.