Building an email list for your blog is something that you might not consider when first starting out, but the more you get into (and learn) this "business", the more you're going to hear this phrase:
"Start an email list"
"The money is in the list"
"You need to have a list to make money."
While I would not go to the lengths of saying you MUST have an email list, it sure is a good tool to have if you can.
Today we are looking at how to build an email list from scratch.
How can you, as a newbie blogger, start building your email subscribers without spending too much time, money and without having any experience doing so.
If you're new to email marketing, you're going to love this!
But before we get into how to actually do it, let's take a look at a few reason WHY you should do it.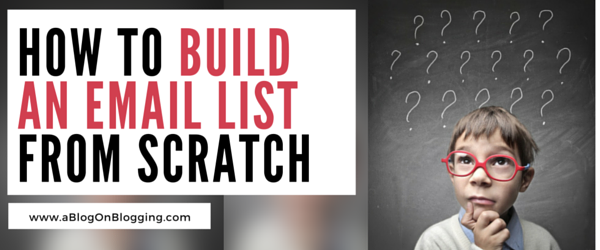 Why Is An Email List Such An Important Component In Online Marketing?
Reason 1: It's Targetted Traffic
Anybody that signs up to your list clearly wants to know more about the subject you're blogging about.
This means that the people you have on your email list are officially; "your audience".
They didn't stumble on to your email list, or got referred to by a friend, they chose (and confirmed) that they want to hear what you have to say.
Attention is a powerful metric in online marketing and these people are paying attention to what you are doing and how they can use your information to get better.
Reason 2: It's YOUR Traffic
Without email, all the traffic you are getting has a source. Mostly, it's usually search engines and / or social media.
Are you getting traffic from Google? What if they change their algorithms?
Are youYou are using Pinterest to drive traffic? What if Pinterest shuts down?
Obviously, these "disasters" don't happen often but they are a possibility, that's why you need to "own your traffic".
Sure every email provider can shut you down or email can go extinct but that's also unlikely. The fact is that these email subscribers now belong to you. You are your own source if traffic.
You get my point here?
Reason 3: There Are No Restrictions
I will explain the rules of email further down below because when I say "no restrictions", I don't want you to get me wrong.
However, with email, you are not restricted.
There is no recommended word limit to send.
There are no negative consequences for using affiliate links.
There are no limits to what you can say.
However, this does not mean you should:
Spam the life out of your readers.
Send them useless information.
Think just having a list means $ (it's not a magical pill for income, although it does help).
Reason 4: It's Quick And Powerful
At the time of writing this, I have around 700 subscribers for this blog (y0u can become one of them too) which means at any point in time, I can reach 700 people with a few clicks.
All it would take is for me to go over to Aweber (which is my preferred email software) and in an "instant" I can reach 700 people.
That is the power of email marketing!
And remember, these people opted to get my emails so we're talking about 100s of potentially targetted visitors.
Reason 5: It's Not That Hard To Do
Once you read this post, it's not that hard to figure out how to build an email list from nothing.
All it takes is some patience and the right tools and soon enough, you are going to see the subscriber count starts rising.
It's a good feeling to get the email notifications that you have a new subscriber but also remember that subscribers will cost you money, so it's wise to "use them" (if I may use that term) in the right way.
How To Build An Email List From 0
Now that we saw why it's important to have an email list, let's get into how to build one and I promise you, it's super easy.
First things first:
Get A Membership With An Email Management Software.
The main two ones on the market are Aweber and MailChimp.
Personally, I use Aweber but there is no specific reason for that, it's just what I chose at random and it has worked out well.
Both tools are paid tools but, the pricing works a little bit different:
Aweber is free for your first 30 days and then it's $19 per month.
MailChimp is free for your first 500 subscribers, then there's also a monthly fee.
*The fees are calculated by how many subscribers you have. The more you have, the more you pay but there's a threshold for each level.
You absolutely need to have these tools but I assure you, they are worth it.
You can get started with Aweber here and Mailchimp here.
Build Your Sign Up Forms
To collect email addresses you need what it's called an "email form" (you can see examples of this in the sidebar to your right and at the bottom of this post).
These can be created inside the software you've chosen (Aweber or MailChimp).
I won't go into detail on how to set them up because here it's different for either platform but do not worry, both of these programs have a comprehensive guide on how to set up your email forms.
You can even use their templates to get started quickly.
If you want to create your own unique images with your unique images and words, then design one in Canva and you can then upload it to Aweber (or whichever you choose) and use that.
Place Those Forms In Your Sidebar & Content
Now that you've got your forms ready and customized, (remember you have to adjust the settings for each one but that will be explained) you need to start inserting them into your blog.
The first place you should place it is in the sidebar, you can see my form to the right of this page (or scroll down if you are on mobile).
Another favorite place for me to insert a sign-up form is at the bottom of every post after the reader has finished reading. I also like to include one around the middle but only if it is a long blog post and it's getting a lot of readers.
Now, having an email automation system set up and the forms placed in your content and sidebar is not enough to guarantee that you will get subscribers.
There is a "law of numbers" to this all.
If you have 1000 readers a month, I am sure at least 1 will surely join (and that is a very, very minimal number).
However, you can do things that will improve how many people join your forms (that's what we call the sign-up rate).
Here are the forms that I am using for this site, as you can see, they do not have the same sign-up rate and that is ok.
You will be creating forms that work great and some that won't. That is ok.
Just keep your eye n the data, test everything out (with the use of A/B testing) and always use what works best.
Now, back to my point. Here is…
How To Get People To Sign Up On Your Forms
Make Your Forms Relevant
One thing you should keep in mind is to make your sign-up forms relevant to the page people are seeing.
You do not have to make this for every post you publish but if you do have a post that is getting a lot of visitors, it's a good idea to follow this advice.
You can see a perfect example of this on my guide on how I make money as an Amazon Associate.
The sign-up forms there are unique to that page and they are super relevant to the content the visitor is reading.
Make It Enticing
Just asking for an email address without giving (or promising) something in return is a bit dull and won't get you many subscribers.
Now, the free ebook giveaway model is getting a bit outdated as well so try to think of something else to give (I'm also in that process right now myself).
However, if you can't think of anything, go with the "ebook way" and write one and save it as a .pdf.
Don't worry; It doesn't have to be a masterpiece.
A short, to the point guide on anything related to your niche will do the trick.
Bonus Tip: Give It Time, These Things DO Take TIME!
Before I close this post off, I just want to tell you to give it time.
These things take a lot of time and testing to get them working perfectly, (especially learning how to build an email list from scratch).
I've been doing email marketing for a while now and I still have a lot to learn + the companies behind these products (in my case Aweber) are constantly making changes and introducing new ways to connect with your subscriber.
Give it time, learn how it's done and keep experimenting with it.
Closing Words
Now; I've just shown you how to start an email list from zero and build it up and I would appreciate it if you join mine to help me boost mine also haha.
I promise I will not spam you (I hate spam more than you so don't worry).
I will send you my free ebook (dull I know, but something big is coming soon)
I will also send you my weekly blogging advice (that's on Sundays usually) and
A "Get Started" invitation to my #1 rated online marketing course; Wealthy Affiliate.
If this post was enjoyable for you, let me know in the comment section below. I'd love to hear from you.
In the meantime, keep learning and keep earning.
Till next time,
Chris Lee.