I often look at blog posts as individual bricks that will, (over time), help me build a much bigger blog and business.
If you don't see them that way, then I suggest you start to and I will be explaining the reason why below.
When I publish a blog post, I make sure that they are the best they can be. Meaning I want my business to be built on "bricks" that give me a solid foundation to continue building on later, thus I'll be able to build a better, more successful blog in the long run.
On some of the "Facebook groups for bloggers" that I am a member of, I often came across these type of questions:
How do you know if your blog post is ready to be published?
Is there a way to make sure that it's ready for readers?
Yes, there is and today I want to provide a quick checklist for you to go over every time you want to publish a new post.
I will also include a free .pdf you can download for free at the end of the post so you can save this checklist on your computer.
How Do You Know When Your Blog Post Is Ready To Be Published?
Let's take a look;
A Kick Ass Headline
A headline is what a potential reader will read first, that is why it makes sense for me to put this tip at the top of my list.
The headline is what will grab the reader's attention whether it's on social or on a search engine page, so it is a must that you make sure that your headline is on point.
Luckily, there's a tool out there that can help you pick great headlines every time and that is CoSchedule's Headline Analyzer.
I really suggest you play with a bit and see what results it can product fro you. I am sure you will find this tool super useful.
Also don't forget to research and include keywords in your post titles, this is how search engines can help you bring in readers.
I suggest you read my introduction to keywords here.
Even Better Blog Visuals
Every blog needs to have a minimum of 2 images per post and before you hit publish I suggest you have these up and ready for viewing.
Try using Canva.com to create your images and also focus on creating images that are fit for the social networks you want to share them.
You should always have one main social network which you use the most so make sure you design the right sized images for each platform (no not every image works on every social network).
If you use Canva, it has templates that you can select for your desired social network, like so: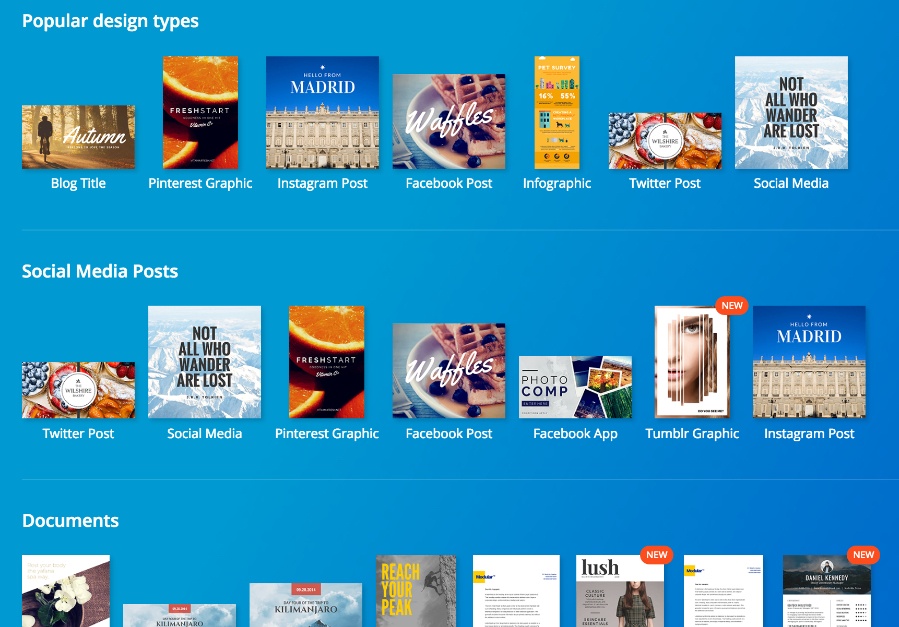 Also make sure you include a "Featured Image", which you can be found in the lower right-hand side of your WordPress editor.
This will make your post display a picture every time it appears on your blog's sidebar and/or homepage.
Can People Find It?
One thing that is often overlooked is putting the post under the right categories and menus thus allowing people to find them with ease.
Make sure that you have at least 3 or more categories on your blog which you publish under and mark every post in its intended category before you publish it.
You can see an example of what I mean and how to add this step here.
Also, note the menus how they appear on your menu bar on your website, all the information should be clear and properly categorized.
Is It Visually Pleasing?
We've already talked about having images but there is another thing that will make your blog look amazing and that is proper word formatting.
Before you publish, hit the "preview" button and see how a reader would see the blog post live on the site.
Make sure there are no extra-long paragraphs, the points are clearly displayed with titles and subtitles and also try to avoid too many colours. A plain black text on white background is good enough.
Keep Your Eyes Wide Open For Grammar Mistakes
As you're reading this post you might have noticed some spelling mistakes but trust me, there was much, much more than what you've probably seen before I proofread this 3 times.
Always make sure to proofread your content before you publish it. Sure sometimes the odd mistake slips out and it won't cause much damage, but it's best to keep it clean and professional.
It's understandable too; I've read classic books from best selling authors that had spelling mistakes in them so don't stress too much about this, just make an effort to try and catch every error there is before you publish.
I suggest you check the free Grammarly toolbar to help you proofread your content. I've just started using it and I really like how it works (review of it coming soon).
Is The Information Legit?
Here is another good one and something to think about: Is the information you just blogged about correct? Is it updated? Are you really know enough to talk about it?
I find that too many bloggers just post rubbish and somebody that actually knows about the topic can smell it a mile away.
I read a lot about blogging and sometimes I can tell that the writer behind it has no effing idea what they are talking about, which in most cases; makes me leave the blog and never go back to it.
I will be the first to admit that I am no "SEO expert", as a matter of fact I do not know much apart from the basics. That is why I tend not to go into too much detail about SEO here.
Most of the post you will find about SEO are either from guest bloggers that do know SEO or else just a brief intro.
I really like to deliver information that I know is correct (or at least from what I've experienced) and before you hit that publish button; I suggest you do the same as well.
Does It Answer The Question?
Continuing on from the last point:
Does your blog post answer the question that people were looking for?
Say your title is about "how to paint white walls", does the content talk about "how to paint white walls"?
Most often in a bid to try and reach a sizeable amount of words, we tend to fluff up our content with a lot of useless information and forget to actually answer the question people have asked.
I too am guilty of this and it's only after I analyzed a few old blog posts (that weren't performing well) that I realized this thing.
I'll share this simple formula with you when it comes to this:
Tell them what you are going to tell them.
Tell them.
Tell them what you've just told them.
That right there is a formula for creating a great post about a certain topic: You have the intro of the post, the body, and the conclusion.
Easy, to the point and effective. Nothing more, nothing less.
Insert A Call To Action Of Some Kind
Whatever it is you want your readers to learn from your post, you should always add a "call to action".
For those that do not fully understand this; a call to action is the process of suggesting to your reader what they should do next (in hopes of increasing engagement).
Here are some few examples that are popular, that I use, and that I am sure you've seen on other blogs:
"Leave a comment"
"Subscribe to the email list"
"Check out this product"
"Check out this other post I have on the subject"
"Share this post on social media"
etc..
These are all ways that you can use to "get more" out of your reader. And I do not mean that in a bad way, but if you have the reader's attention and you convince them to do one extra step after they are done reading, you are well on your way to building a successful blog.
Before I leave you, I'd like to share with you some bonus tips on this subject:
3 (More) Ideas On How To "Complete" Your Blog Posts
The following things are not "a must", but they sure would help if you can mark them off your list before you publish a blog post. Here goes:
Write A Bit Longer
This may be a bit challenging to people that are just getting into blogging so if you are new, I say just "consider this", you don't have to do this every time.
However, having said that: I would like to state the importance of having long-form content on your website.
Meaning; try to at least hit 1000 words before you publish a post. Anything below that is considered "thin" content for search engines.
It may work fine for social but search engines like a bit more meat on the bone.
I've found that the sweet spot is around 1200-2000 words and it is easier than you think once you get in the habit of writing every day and improving your writing skills.
That is why I said if you are a newbie blogger this may not apply to you, but do practice your writing skills so one day you will be able to publish 2000 words blog posts.
An Email Opt-In Form
If you have an email marketing campaign up, then try to include an email form inside the content that will entice the readers to join your email list.
If you can, also take some time to personalize the Aweber form to be related to the blog post's title.
For example, if you are talking about a topic, try to mention that topic in the image you will use in the web form, like so:
(see what I did there?)
A Mention To A Product You Are Promoting
If you are promoting a product that you would like your audience to try, try to reference it at some point in your post.
If it doesn't come up organically, do not force it but if it's possible; link to your product review (ideally not the product itself).
This will help you get more traffic to your review thus increasing the chance of a customer buying and you making money.
Here is another example of that.
Closing Thoughts
Many thanks for reading. This post sure took a while to complete but I am glad that I've finally got around to writing it.
As promised, you can download a .pdf of this checklist here or you can pin the image below on Pinterest under your "to reads".
I really hope you've found this post useful. If you follow this checklist I've laid out for you, I am sure you will have no problems with publishing more and more content on your site.
Thanks again and please feel free to drop me a comment down below and subscribe to my email list. I would really like to hear from you.
Happy learning, happy earning!
Till next time.