It often goes unnoticed how much Google has brought to the world.
From the search engine to the email service and beyond, we use Google tools every day without even realising how much they have become a part of our lives.
Now as a blogger, you might not know that Google has a lot to offer you as well. That is why today I'm going to give you a list of 13 free Google tools that will help you blog better & easier.
While researching and writing this blog post, I've come to realise how important Google is to the internet. Can you imagine an internet without Google?
13 Free Google Tools That Will Help You Blog Better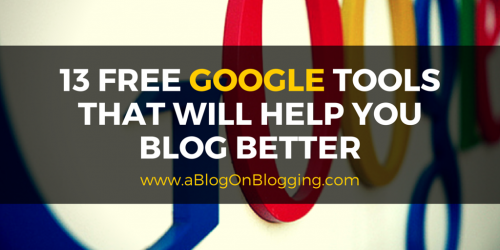 Google Search
To be honest, I was going to overlook this when I was researching for this post. Google has become such a "household name" that we take it for granted!
If you're a blogger or any body that has business to do online, then you definitely need to make friends with Google.
Google Search, the search engine that has everybody trying to get on its page 1 is the best tool you can use for your business.
Search traffic is one of the best quality of traffic you can get to your site and without it you're going to be missing out on a lot of potential traffic and sales.
For the best advice on search engine optimisation I have to direct you to a great post by BlogTyrant.
RELATED: Reasons Why Your Post May Have Disappeared From Google
Google Analytics
Google Analytics is data heaven!
One of the best things you can do when you start getting constant traffic is to find out all you can about it. This is what Google Analytics is for.
It will show you
How many people visited your blog.
From where did they come.
How did they end up on your blog.
The average time they spent reading your content.
Where did they click.
Which article is the most read.
etc…
If you've just started your blog and haven't made use of this great too yet, make sure to install it right now so you can start collecting data.
Here is a short tutorial on how you can install Google Analytics.
Webmaster Tools
Hmmm! More data I love it!
Google's Webmaster Tools allows you to track your site's progress in the SERPS, find out about any errors, submit a sitemap, get messages from the Google team etc…
Basically Webmaster Tools provide you more data that you can use to fine tune your blogging efforts and marketing campaigns.
Also I do recommend joining the Bing Webmaster Tools as well.
*Please note that the data from GA & WT is useless unless you have a steady flow of visitors. You can't really analyze the data from a 100 people. They are much more useful once you start getting 1000+ traffic.
I also suggest you follow WT channel on YouTube for more tips.
GMail
Of course I can't forget to mention this superb service that Google offers. With Gmail, Google has revolutionized email and I personally think it's the best email service you can use.
I could go on and on about how great Gmail but I'm sure you probably know, so instead I'm going to give you a little fun fact:
Gmail.com was the fan club and website of Garfield where fans could send the legendary cat fan letters. That is until Google bought it around 2014 and turned it into what it is today.
YouTube
If you do any form of video marketing, then YouTube is definitely for you.
Video is one of the most easily consumed and easily shared form of content there is and if you really want to leverage this power then you should hop over to YouTube, set up a channel and get to work.
YouTube is another form of blogging too, actually it's vlogging and you can run a very successful blog business without ever writing a blog post.
There are many ways to earn revenue from YouTube and if doing videos is more appealing to you then writing blog posts, then go for it.
Google+
Google said that their own Google+, is the second most used social network in the world. I don't know if that is true or not but I have grown to like Google+.
You can check Google+ and circle me here.
Most of the visitors on Google+ are bloggers, marketers, journalist, etc… Mostly people that have some sort of business online.
For me this is perfect as I can network and share with fellow bloggers all the ideas and posts I publish here.
A quick look into my Analytics shows that Google+ is my 3rd biggest source of traffic for this blog and they stay an average of 1.54s. Thank you Google+!
If you think / know that you target audience is on Google+, then spending a few hours a week on there may not be such a bad idea.
Google Docs / Drive
Another free Google tool that I would gladly pay for!
Google Drive is a cloud-office where you can write your posts and have access to them anywhere in the world. One great feature I like is that it autosaves with every letter that I type so I never lose my content if something were to happen.
Also Google Docs is a cloud storage service (like Dropbox) where you can store all your data, images, videos, posts, presentations. forms, etc…
If you're not using Google Drive, you're missing out.
AdSense
AdSense is one of the many ways you can monetise your blog. It basically allows advertisers to show their ads to your visitors through the Google AdWords program. (More on this later)
If a visitor clicks on an ad, you get a percentage (68% I believe but I could be wrong) of what the advertiser paid to Google. Pretty neat right?
I didn't mention Google Adwords because it is not free but if you're interested in doing some PPC marketing, then it's definitely a great option for you.
Google Alerts
How would you like to know what is being published about your niche? That is what Google Alerts is.
You set up an alert for a keyword and you get a rundown of articles that have been published related to your niche.
This will help you stay in the loop of what is happening and also it is a great way to come up with content ideas for your own blog.
Check out Google Alerts and sign up for some notifications, but unless you want to be bombarded with emails every second, I suggest you go for the "once a week" or "once a day" options! 🙂
Google Trends
This nifty tool gives you an inside look at what people were / are searching.
Take the term "How to start a blog" for example….

Google Trends shows me that since 2005, the number of searches for this particular search term has increased significantly (good for me), but it's past its boom time in 2011 (this kinda sucks).
But if we were to look deeper into this data, we can see that in January, it always gets a spike upwards. What could be causing it? New Years Resolutions you think? Maybe.
With this info, I can create campaigns that will help target the perfect audience at the perfect time, which is superb!
Whatever niche your blog is about, I really do suggest you take some time to research some keywords that are related to your business. The next "spike" just might be around the corner!
Instant Search
Also knows as the "Alphabet Soup Technique" this is a tool that which is not really designed to help you blog better but if you know how to use it, you can leverage it to come up with a ton of ideas for blog posts!
If you'd like to know more about this powerful technique, then I suggest you take a look at my previous blog post: How To Come Up With Blog Post Ideas Like A Pro.
Link Shortener
You know those long links that are a hassle to show and share on social media? Well you can shorten them with a Google's own free link shortner.
This is great for when you want to share a link on social media platforms like Twitter and Facebook. A very long URL is not a pretty thing to see.
To make it even better, Google provides you with data on how many times your link has been clicked! Fantastic!
Google Blogger
Blogger is a content publishing tool that is free to use to anybody that has a Google account.
Obviously I can't complain about a free service that I never really used properly but if you're serious about blogging, I suggest you start up on WordPress.
While Blogger is great for moms that just want to blog about their children's favourite foods, if you want to run a serious business on a flexible and powerful platform then go with WordPress.
Here is why WordPress will always be king!
What Have I Missed?
Google has given the internet so much that I am sure there are tools I've left out. There even might be ones that I've never heard of before so make sure to drop me a comment below with your suggestions.
Also which is your favorite Google tool and what would you pay for it if it wasn't free?
Thanks for tuning, it's been a pleasure!