One of the hardest things to do when you decide to blog is to blog. You have to pump out content at least 3-4 times a week. Everyday would be best!
I for one have been stuck many times but after seeking the help of my peers and reading a few posts about the subject from my favourite bloggers, I have discovered a few ways to come up with blog post ideas like a pro.
Keep Your Eyes And Ears Open
Using sites like Twitter, Facebook, Quora and Yahoo Ask, you can type in any search term and see what people are talking / asking about.
This will give you a clear idea of what the most common issues are for people in your niche.
See what the most common problems are and help solve them with 300-400 word blog posts.
Read Blogs
This is also one of my favourite ways to get ideas for new content. I love blogs & blogging and I read blogs that blog about blogging! LOL!
Every day I read blogs that cover my topics and then I use that information to help me better understand my niche.
You have to keep involved in your topic. It's one of the principles of blogging success. That is why it's always advisable to start a blogging about a topic that you actually enjoy.
I use sites like ProBlogger & CopyBlogger to help me come up with content ideas for this blog.
If you want to give this method a go, get a Feedly account (RSS reader) and subscribe to blogs related to your niche. This will help you come up with new content but always remember to make it your own. Don't just repackage the information you find.
Use your own life experiences….
Experience The World
One of the many benefits of blogging is that you get to write about your life experiences.
Life just happens and all the ups and downs you experience are great stories. A perfect example for this is when I blogged from 30,000 feet or when I revealed the ugliest mistakes I made in blogging.
This is great because you show the "human" side of you and I like that. I like the transparency and the unique-ness that comes through when you write about your own personal experiences.
Let Google Do The Work For You
There is actually two ways you can let Google come up with blog post ideas for you. I'm going to show you these two ways using the example search term "how to save money".
Related Searches
When you type that search phrase into Google, you can scroll down to the bottom (used to be on the side once as well) and you'll see a list of related searches.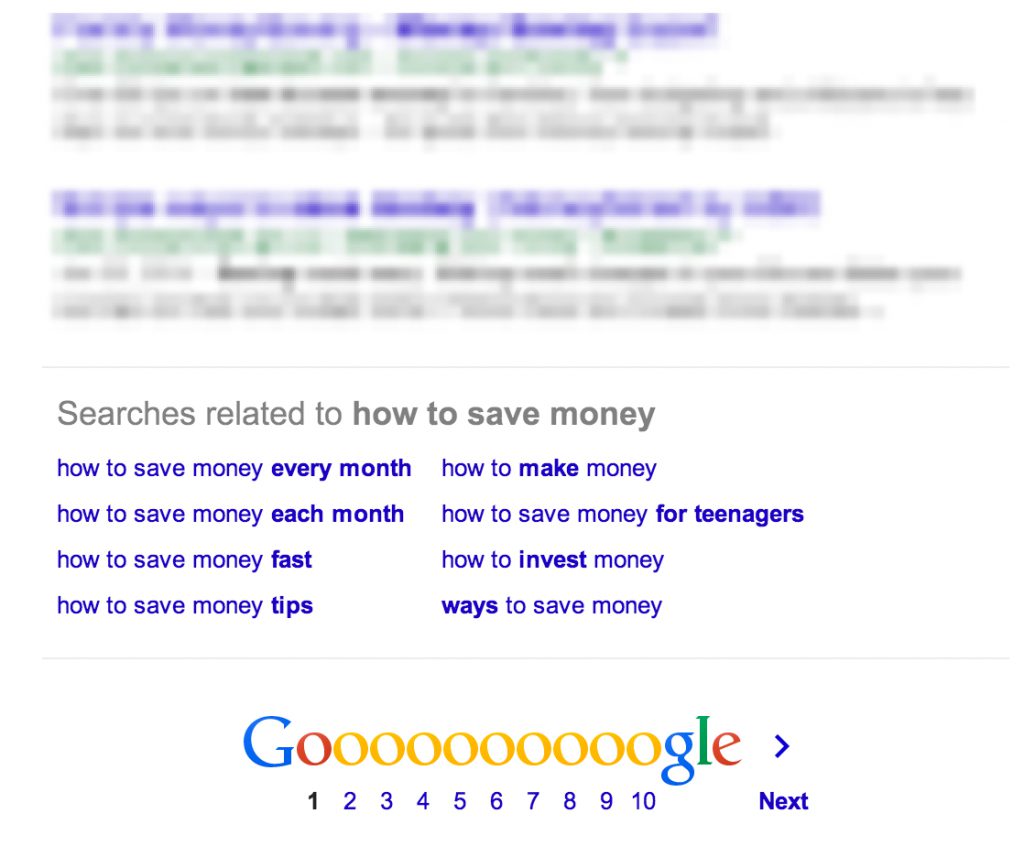 Now I know that the term "how to save money" is way too broad super competitive BUT those suggested search terms have a lot less competition and they're much easier to rank for. Thanks for that Google!
Alphabet Soup
You use this method by typing in your keyword (in this case "how to save money") and then type "a" and see what search terms come up.
You can go through the whole alphabet and get 100s of ideas just by doing this.
If you do not want to do this manually there is a tool you can use called "Uber Suggest". it does the same thing but personally I prefer to do it manually.
Use A Title Generator
Ok so this may not be exactly a "pro" method but it's incredible what these tools can come up with!
You just type in your main keyword and let them do their magic of coming up with creative and interesting title ideas. After I find the titles that I like, I just run them through my keyword tool and if it's a good keyword I write an article.
Some of my favourite generators are: Hubspot, TitleTool, Portent & InboundNow
Use A Keyword Tool
Generating keywords is one thing. Generating keywords that have a high search volume and low competition is another.
For that I use a keyword tool called Jaaxy; It can suggest keywords to you, see the monthly traffic, competition, SEO power, etc…
Keeping with the "how to save money" example, here's a screenshot of Jaaxy's results.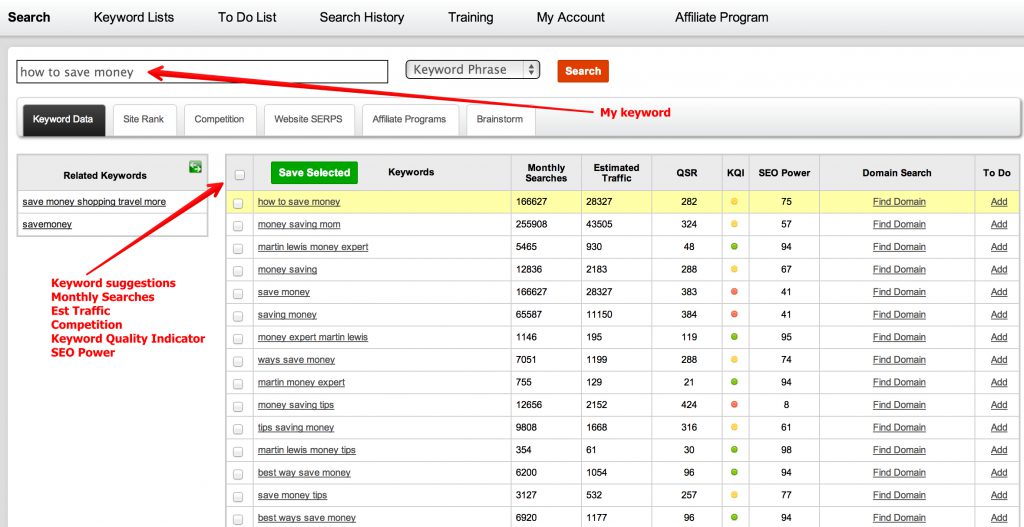 Jaaxy is free for your first 30 searches but then you have to upgrade. I know that might be a bit of an additional expense for new bloggers but once you get going I really do suggest you invest in a keyword tool like Jaaxy.
Or else, you can take advantage of the free keyword tool you get with you Wealthy Affiliate starter membership.
---
Not knowing what to write about is pretty frustrating but these few tips should help you overcome that. Just remember to make your blog titles enticing and interesting and a great title must be followed by a great article too!
Also don't feel discouraged when writer's block hit. It happens to the best of the best.
A bonus tip: When you're stuck just step away from your computer and stop thinking about it, it will come soon enough!
I hope I brought you value today and if you have any questions or comments make sure to leave them down below.
Many thanks!
READ NEXT: 10 FAQs Regarding Blogging
READ NEXT: 10 Free Tools That Will Help You Blog Better & Easier
---
---