I can't deny that while I do love a WordPress blog, other emerging blogging sites are also catching my interest (and I have been experimenting with some lately.)
Today, we are looking at the best blogging sites that are currently out there available for you to try, you might not have heard of them yet but if you're getting into blogging, you might want to try one of these out.
In this post, I'll be breaking down the many sites and platforms that are out there (or at least the ones I have tried) thus helping you pick a platform that is ideal for you to use.
If you've been looking for a blogging platform, then this post should help clear up any confusions and questions you may have and you should have an enough information here to make an informed decision.
These are the 6 blogging sites we will be discussing today:
Ghost
Medium
Wix
WordPress (SiteRubix)
Tumblr
Google Blogger
These are all the sites that I have tried and used in the past, some I don't use anymore (details on why later) but these are all platforms you should know about if you plan on starting a blog yourself.
Let's get into it shall we?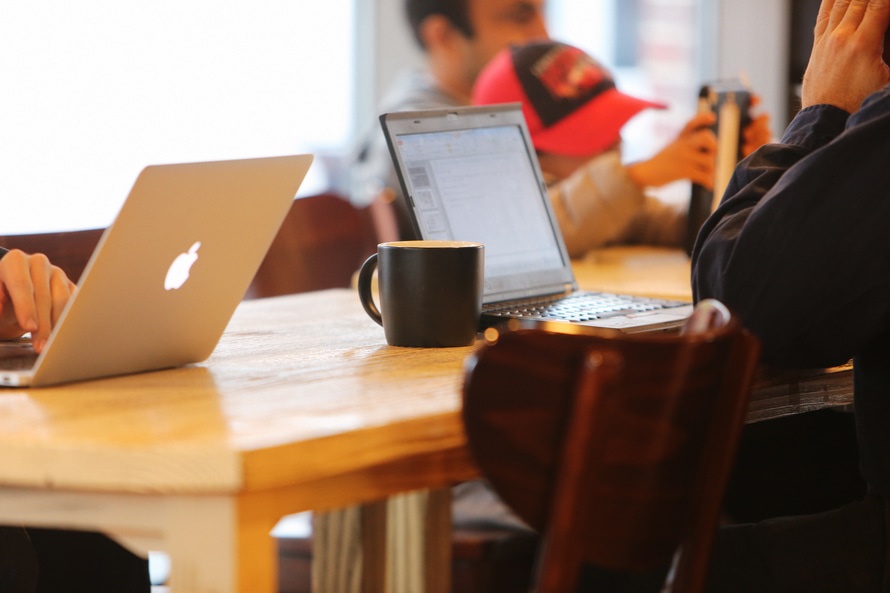 Ghost (Blogging Platform)
Ghost is the new kid on the block and when it did come out (with a boom) when it launched somewhere in late 2014, I did try it out just for kicks.
While it is a great blogging platform for people that just want to get their message out, personally for me it failed with usability.
Yes, it does look great with all its minimalistics features and no-BS designs, but it doesn't have the power of the other blogging sites I will be talking about soon.
Not to mention that Ghost is a paid platform (although they do allow you to set up a blog for free).
I honestly do not know why it's a paid platform but you can see their pricing plan and what you get with each plan here.
Give it a try and if you like it go for it. I personally would not be on Ghost, especially since there are many other great blogging sites out there.
Medium
Now Medium, I love!
I first heard about this Twitter-backed platform through some Gary Vaynerchuk video and I'm a big fan of his so if he says, it's legit; I'm on it.
Medium is great. It's simple, easy to use, free and has a great feature that will show you how long it will take a reader to read your post, which is extremely helpful in today's very impatient way of consuming content online.
I do have a blog on Medium as well, but it is more of a personal blog where I don't have to worry about my content being perfect, I don't have a content schedule, I don't care about SEO and I sure don't use it for "promotional purposes" (yet).
It's just a place where I vent my thoughts and ideas on the many subjects that cross through my mind.
If your aim is to start a personal blog where you can just talk about whatever, then Medium may be the best blogging site for you.
I really do suggest you give it a go as I am sure you will love it. However, there's more to see so stick around and see what's coming next:
Wix
I can't knock Wix much because I have tried the platform many times, including WixStores which is GOLD so I do recommend Wix to anybody that wants to get started.
The only thing I dislike about Wix is that to get the free blogging site, you have to put with an annoying Wix ads that just make your whole project look a bit unprofessional.
Sure they have a premium membership which gets you rid of the ads but I honestly think blogging should be free (in it's most basic form) so that is why I don't use Wix for my businesses.
On the other other, it has a great user experience, a great platforms which will allow powerful blogging if you could just get past their pricing options, then definitely check out Wix as an option.
If you want to a website that's more of a digital store then a "a blog", then yes; WixStores would be my #1 recommendation on this list.
If you just want to blog; then read on.
WordPress (SiteRubix)
If you've been following me for a while, then you know WordPress is my personal favourite for many reasons.
It's just incredibly powerful with all the themes, plugins and add-ons you can install, it's loved by Google, search engines and every online reader (great UX system) and most of all it's free to get started with, use and maintain.
Yes, you do need a domain name and a hosting package to have it without having the .wordpress extension on the domain, but it's a small price to pay for the most powerful blogging site that's out there.
You may also have heard me talk about SiteRubix before, which is basically a free WordPress site builder that comes with an incredible amount of training with it.
The only reason I push SiteRubix is because I've found it's the easiest way to create a WordPress blog with. In this post, you can see me launch a WordPress site (using SiteRubix) in only one minute and 10 seconds.
For whatever you want to do, WordPress has it and I am sure you won't be disappointed with it.
It's used and recommended by the best in the business so if it's enough for eBay, Jay Z, CNN and all the rest, it's good enough for you, me and my business.
Tumblr
Chances are that if you're not in the age group of 15-25 years old, Tumblr seems like such a weird misunderstood place to you.
Made popular by the hipster audience sharing a constant flow of glowing pics, gifs and inspiring images, it has gained a huge popularity with aspiring (young) bloggers looking to get started with a blog.
I do have a Tumblr profile (Tumblr is more of a social network actually) but it is not something I use to "blog on". I just share and re-share images I find inspiring to me.
Yes you can publish full-length blog posts on there but my opinion is that it won't get much done with regards to social media and SEO.
The one main thing that Tumblr has going for it, amongst the many others on this list, is the ability to follow blogs like you would follow accounts on Twitter and Instagram for example;
You can easily re-share the content with a click of a button to your own "followers" that you have on there too.
Think of Tumblr as a social network first, blogging platform second. While it's great if you want to share your ideas, that's about all you can expect to do on Tumblr.
Google Blogger
Google Blogger (otherwise known as Blogger or BlogSpot) is a blogging platform that Google itself provides for free.
You may imagine that a service by Google will be the best platform out there, but I have to say I did try BlogSpot and it did leave me a bit disappointed (I had high expectations).
Wordress, (which we've talked about already) is far more superior than Blogger in every way you can imagine.
I'd also thought that Blogger will have some benefits when it comes to SEO but data shows that WordPress sites get ranked much higher and quicker too over Google Blogger posts.
You'll also find a lot of bloggers that use GB have started looking for ways to switch their blog (along with all their content) to WordPress and although it is a bit of a complicated job (last time I checked), it sure is a great idea.
GB is good for beginners but that's about it. I'd advise you to set up a GB account and start learning there but any other platforms on this list can help you do that also so if I were you, I'd get started on WordPress from the get-go and work on developing your skills there.
Final Thoughts
I hope looking for the best blogging sites you can join has been made easier for you with this post. While I will end with WordPress being my top choice, I'd advise you to try out the platforms if you wish and see what works best for you.
There are many bloggers who are happy and successful with what they are getting with every blogging site we mentioned on this post, my (and many millions more with me) favourite just happens to be WordPress.
To get started with a blog, the first thing you should do is just that; get started, so do not waste much time deciding where you want to set up your blogging website.
The fact that you are reading this is proof enough you're ready to get started so find your favourite platform, so get to work.
I'd also like to help you get started and see you thrive with your blog so if you think I can help in any way, please do send me an email or leave me a comment down below as it will be my pleasure.
I look forward to hearing from you and thanks for reading.
---
PS: If you're new to blogging, it might be a good idea for you to join my email list.
I will be sending you weekly (sometimes biweekly) emails with all the important blogging tips I share that will hopefully get you to your goals much faster.
You'll also be getting a free invite to try out Wealthy Affiliate, which is my #1 recommend training course for bloggers, affiliate marketers and digital entrepreneurs alike. I look forward to seeing you "on the inside".