If you're still asking whether your eCommerce site needs a blog, stop asking. Blogging is not an optional extra to your business—it's a MUST!
"But why?"
Not only will blogging get you noticed by search engines, it will also create channels for more customers to find you.
"But how?"
Good question. Here are seven important ways you can boost your ecommerce website with blogging.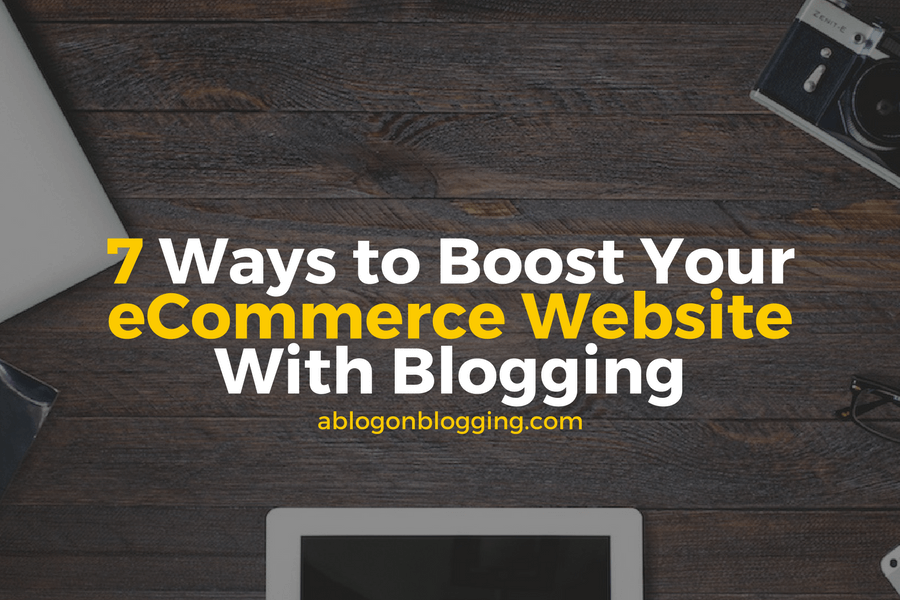 #1 Help Your Clients Find Your Products
The whole point of eCommerce platforms is the freedom of having multiple products on display. Your users can browse through these products and purchase them with a convenient click of a mouse.
Because you have so many products on display, you can sell each one in its own unique way. That's right… You just got a whole bunch of blog topics that were right under your nose the whole time!
The purpose of product blogging is directly related to online search.
Users want to read about products before they purchase them. We're living in the information age, so don't expect someone to buy your products if you aren't giving them a reason to do so.
Example:
Jim is looking to buy fertilizer for his vegetable garden. You sell organic garden products on your eCommerce website. But Jim isn't sure what the difference is between regular fertilizer and the organic range.
So he Googles: 'Differences between regular & organic fertilizers'. You've just put yourself in Jim's shoes. This is where blog content comes from!
Your blog idea? Simple! "7 Reasons to Buy Organic Fertilizer for Your Vegetable Garden". When Jim Googles his question, he's going to find your blog. Your blog is on your site.
The same fertilizer Jim needs is right there, on your site, ready to be purchased.
Still think blogging isn't necessary? Read on…
#2 Blog About Your Online Buying Features
What sets your eCommerce website apart from others? Is there a special delivery promise? Does your rating system work differently from others?
There are many reasons customers should be using YOUR eCommerce site to buy their products.
Here are a few hypotheticals you may not have thought of:
Having your products delivered is free, convenient and fast
You have hampers of products that work out cheaper than buying them separately
Your eCommerce site has a special, a promotion or a competition running
Users earn rewards when they buy from you
Your products have informative reviews from other users, making buying decisions easier
An innovative wish list system provides your friends with gift ideas
Your users aren't going to know about your special features unless you blog about them. All of the above—and others you may have thought of yourself—are excellent opportunities to sell your services to eager buyers out there.
#3 Your Facebook Followers Are Craving Interesting Content
How many of your followers sit scrolling through their Facebook feed? Take that number and multiply it by each day of the year. HELLO? This is your chance to advertise directly to your followers!
But no one is going to click on your posts unless they're interesting, right? It's time to create some truly informative blogs that are Facebook friendly.
More often than not, Facebook browsers are bored. Give them a reason to read about your products, your company, your features and your reviews.
#4 Why Story Blogs Are So Popular
Whether they realize it or not, your audience wants to connect with you. There are two things that connect us all. The first is music, that universal language that everyone loves. The other is stories. And it's through stories that you can truly shine!
You may not think you have a good story up your sleeve—at least not one that's worth telling. But all it takes is a bit of initiative. Let's look at some great examples.
Sticking to our organic vegetable garden supply eCommerce site, some catchy blog topics could be:
"Debbie Noticed These 6 Things When She Switched to Organic Produce"
"How I Treated My Son's Cancer with Organic Food"
"He was Diagnosed with Diabetes at 39. This is How He Turned it Around"
Here's an example of a story blog on this site. Get the picture?
See where we're going with this? Your products have the potential to improve the lives of your customers. Tell them how by relaying interesting stories about,
Why they should buy your products
How to use them effectively
What to do when they run into user problems
…and more!
#5 Categorize Your Audience Types
Here's a secret to successful eCommerce blogging. Define your audience, divide them up into categories and cater for each category with relevant content. Yes, it's that simple.
Here's an example:
Define your audience. A sporting goods company caters for all types of people:
Fitness junkies: Write blogs on cycling, running, boot camp, etc. for this demographic
Children (parents): Soccer balls, learning to ride a bicycle or items needed for school sport are topics you can explore for parents with sporty children
Bodybuilders: These folks are interested in nutrition, shakes, how to lift weights, etc.
New moms: New mothers often want to know how to lose weight after pregnancy through fitness, yoga, Pilates and block walking
You can apply this same concept to your own products:
Ask yourself the following:
Who buys your products?
What do they need those products for?
How can your products help them achieve their goals?
What advice can you give each type of audience?
When you have all this information, it becomes so easy to create informative blogs that speak to your different types of audience.
#6 Google Wants To See Content
Google won't exclude you from their search criteria just because you're an eCommerce site. Search engines see content as fuel that makes you relevant.
But what do search engines like Google look for when they crawl your eCommerce blog section?
Relevant keywords must used in your blogs. This isn't only applicable to the topic, but your site as a whole. In other words, if you're a sporting goods company blogging about running shoes, be sure to mention keywords such as "online sporting goods". Be specific, but be generic too.
Guest posting is must if you want to rank high on Google (see point #7 for more on this).
Your content must be relevant in that it covers your topic well. This means it should be about 1, 800 words, contain lots of questions & answers and stay on point regarding the title.
Use Google's criteria as a guideline for writing your blogs.
You're writing for people, not machines. But Google's machines are adept at knowing exactly what people want—so stick to their requirements as much as possible.
You won't go wrong if you do.
#7 You Have More Than 99 Reasons To Guest Post
How relevant is your eCommerce site? Google has algorithms that determine relevance. The most important factor Google looks for in establishing your relevance is something called link building.
Here's how it works:
Google wants to see that your site is being referenced by other websites. The best way to make this happen is to blog for other companies (such as your suppliers) and include a link in those blogs that lead back to your site.
Example:
An eCommerce platform that sell s baby paraphernalia can write a guest blog on a site that specializes in helping new mothers cope with their new-borns. A blog title can be, "8 Ways to Help Your Baby Sleep Better at Night".
In the blog, you could recommend rocking as a way to soothe a baby to sleep. In that section you would then create a link to rocking cribs on your website.
It's that simple! The reader will click on the link and find a practical way to follow your advice—by buying a rocking crib from you. Google will also pick up that an authoritative website is referencing your site.
This will automatically help you rank higher, causing more people to see your site when they search for products you sell.
Try Some Product Highlight Testing
Choose a product you want to sell more of. Apply some of these points to that product and monitor your sales. If sales for that product go up, keep at it. You know your strategy is working!
Try it on other products next month, and so on.
Blogging is an integral part in eCommerce sales. If you haven't blogged at all since starting your eCommerce business, it's not too late to accelerate sales and grow your customer base.