Lately here on the blog, we have been talking a lot about SEO, about keywords and how to get your site ranked in the all mighty G's search rankings, ideally (of course) in the number #1 spot.
Today, I want to continue with this theme as I know that this is a bit of a difficult subject for many of my readers. From the responses and comments that I get on a daily basis both on my blog, and on my training course, it is very clear to see that people are struggling with SEO.
And, of course; I understand it all.
SEO is a very difficult thing to grasp and it can get very frustrating trying to get a new site to rank.
Now, for those that have been following me for a while, you'd know that in early of 2016, I launched a new site with the hopes of turning it into a "case study" where I try out different methods of SEO and see how they work.
In this post, I will share with you the first 4 SEO actions you should take for your new blog if you want to start getting it ranked the same way as I did with my "case study" site, which you can see below:

The below image is showing my organic SEO rankings (data from Google Analytics) and next is another one from  my Webmaster Tools for the past 28 days: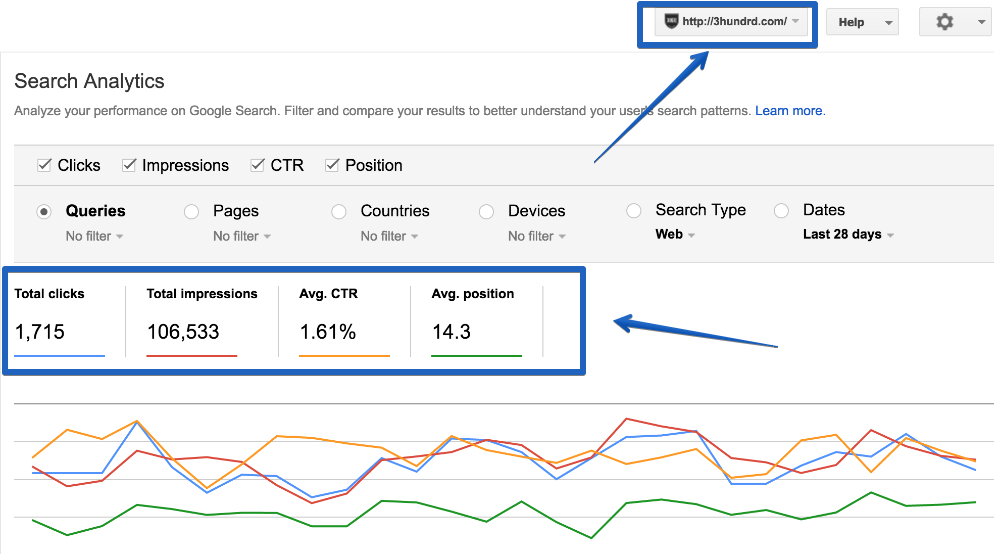 As you can see, from the time I have started this blog (mid-February) to the day I am writing this (mid November 2016), with just 1 post a week, I've have some pretty good results.
Now, of course they are not the BEST results, but it's enough to get the site ranking quite well for some great, great keywords and that site now also contributes to my monthly income from my blogging.
So, how do you do this? How do you get a new site to rank and rank high in the SERPs? That is what I want to discuss with you today. These are:
The First 4 SEO Actions You Should Take For Your New Blog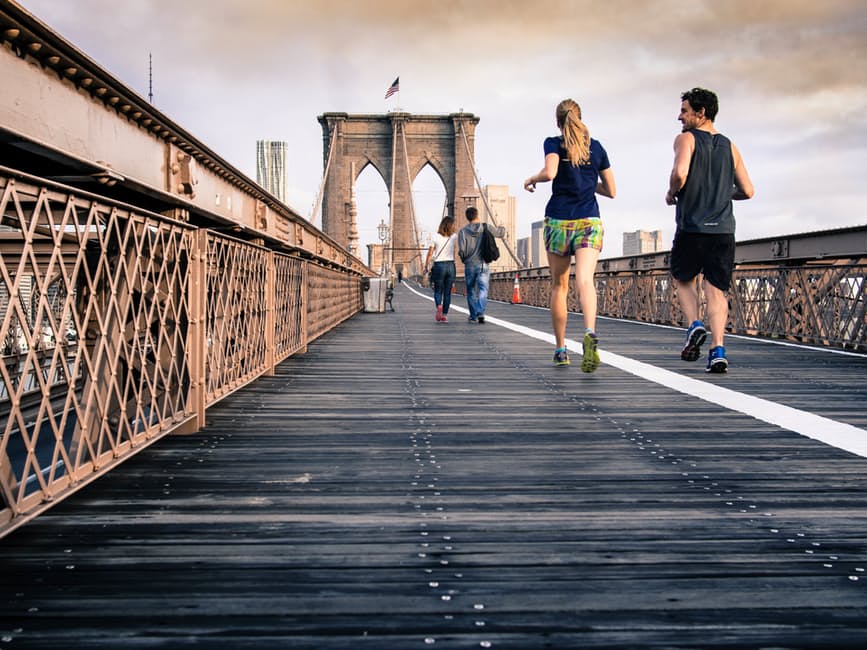 First things first…
SEO Action #1: Set Up Your Tools To Measure SEO
In the past, I might have told you that you do not need to have analytical tools installed from day one but now that I have grown to understand Google better, I definitely recommend you do so.
There are 3 things you need to install to get your site ready for some good SEO rankings, and they are:
Now, although WMT, in my opinion, is not the best of tools, it is still a must and it does wonders for your SEO if you have it all set up and running.
This is not something that you have to do every day, just set it once and you are good to go.
You can log in from time to time to see what results you're getting, but apart from that, once you've set it up, your job is basically done.
The reason this is important to install is because you:
Get To Install A Sitemap
This puts your new blog and the content that goes along with it "on the map" for Google to find and crawl and
You Get Access To The "Fetch As Google" Tool
As I said, as a newbie blogger with a newbie site, your SEO is going to be an uphill battle because Google, quite frankly doesnt know you exist and since you're new; it doesn't really trust you that much either.
It sucks I know but we all had to go through it don't worry.
Now, with the "Fetch As Google" tool, you can force Google to visit your site and index your content.
I will talk more about this tool and method of getting a new site ranked further down below but I wanted to give this a quick mention beforehand because I do belive that this tool was one of the main reasons I manged to get 3HUNDRD.com case study to rank fast, and high in the search engines.
Google Analytics
Now, (hopefully) with the tips I will be sharing with you in this post, you will be getting at least some traffic (from Google or otherwise) but you will never know that unless you have the amazing blessing that is Google Analytics.
If you know what Google Analytics is then great, go ahead and set it up, you can use this video guide I have for you here to follow along with it.
If you do not know what Analytics is, it's a free tool by Google that will track the visitors (and more importantly the actions they are taking) that you get on your site.
It will be an impossible feat to try and analyze your traffic without Analytics so whether you want to focus on SEO, or other traffic generating methods, you still have to do this step.
Again, I will refer you to my video guide on how to install Google Analytics.
Yoast SEO or All In One SEO
Now, on-page SEO is important so I will give a brief intro to what this is.
On-page SEO is the method of optimising your content for SEO purposes.
There are two types of optimising for SEO and those are "on site" and "off site". We won't talk about the off-site part today, but you can read all about that here.
On page SEO is what we will be focusing on and for good reason – if you are new to blogging with a new fresh site, then this is the area that you need to focus on first.
Once you get this going properly, then the other part is much easier to handle.
But how do you do this?
Simple, you install what we call an "SEO plugin" and it will do most of the work for you. 2 popular options are YOAST, which I am not a fan of and the All In One SEO plugin, which I use across all my sites.
Now, I am not telling you to choose the All In One plugin. My suggestion would be to see the difference between these 2 plugins then figure out for yourself which one you want to use.
What both of these do is simple; they optimise and "prepare" your content to be ready for SEO once those Google spiders come knocking on your door (hello again "Fetch As Google" tool.)
What these plugins will do is create the Meta tags that are needed for proper SEO. They will do this all on their own (once you set them all up) so you do not need to worry about your on page SEO (for now).
You can also edit the meta tags and titles yourself but that too is highly debatable so I will let you come to your own conclusion on that.
Now I know this may be getting a bit advanced here but stay with me as things are going to become much easier going forward with this post.
SEO Action #2: Start Writing Some Content On Your Blog
We can talk all day about how to make Google find you, love you and rank you but if there is nothing to rank, then you are going to have nothing to show for your efforts.
Luckily for me, I am a fan of blogging and creating content so this part is easy for me.
If you do not know how to create content, or more importantly content Google will love, then you need to learn.
Yes, it is that important. Forget all your SEO plans if you do not plan on writing content on a consistent basis (or else hire somebody to do it for you).
However, let me tell you something that may help you out;
Do not be afraid of creating content online. This is not a term paper that will be graded and where your future hangs in the balance.
We are talking about simple blog articles about a topic that you (hopefully) enjoy writing / talking about.
Writing content shouldn't be scary at all. I'd understand if you think you're not good enough but hey; nobody ever was. You just do it consistently and I promise you; you will get better.
A quick tip I can give you about this is to write a minimum set of words each and everyday. For me, I write 1000 words a day or more every, single, day – no exceptions.
My writing is not the best (I know that too), but I promise you that I was much worse 6 months ago and I will be much better in 6 months time.
Before I go on, here are some quick tips to help you publish your first article. It's one of my favourite posts I've written on this blog so far and I am sure it is going to give you a new way of looking at publishing your first few pieces of content.
SEO Action #3: Develop A Social Strategy On The Side
SEO is wonderful but all SEO experts and Google itself agree that having a significant amount of shares and retweets, does improve SEO dramatically.
NB: Please note that "hearts" and "likes" do not count; what is measured is how much a post is shared and re-shared.
Now, even though I know you are desperate to get your new blog ranked with SEO, it does not hurt to have some social proof to go along with it.
It will also allow you to start getting some real visitors in reading your content before you start seeing the results of your SEO efforts.
Ideally you'd be on all major social networks but who has the time for that?
So, what I suggest you do is to pick one, or maybe two and focus on building a great profile on there.
For me, that was Pinterest and thankfully; it has boosted greatly my SEO (since Pins do get ranked in search engines) and also it brings in over 20,000 visitors a month to my site, which I like that very much.
If, on the other hand, you have absolutely no interest in doing social media but you're going to choose one "just because you have to", then make it Google+.
You may have heard of Google Plus before when it was "cool", but now Google+ is more like a ghost town from the old wild, wild west movies.
Nonetheless, it is still a powerful way o get your site ranked and give it some SEO juice because Google loves Google and they blush when people use their products.
See, I told you SEO acts just like a human being would!
SEO Action #4: Understand This Is Not A Short-Term Task
These tips that I just shared with you will definitely help you get started with your SEO, but please note that these alone will not get you ranked and then you're set.
A great SEO campaign takes months and even years to see the fruition of it so if you do not get the results you're after immediately, remember that this is not an "instant gratification" sort of thing and you do have to wait it out.
So that is what my last and final tip is; give it time and understand that it is a slow and steady process.
If you look around, you'll see that 99% of bloggers and affiliate marketers struggle greatly with SEO but they wouldn't' stress it too much if they knew that it just takes time.
You may be doing the work now, but understand that the results won't come now.
If you get this inside your head and understand that it will take time, your mindset will instantly change on how you approach the SEO of your business and hopefully, you won't be frustrated when you don't see results.
Now obviously, this doesn't mean that you won't see any results either.
The tips and advice I gave you should get you ranked quite well but also remember that whenever you launch a new blog, you won't have much content on there so even if you rank on page #1 with your first post (which is highly unlikely), then it still is one post getting you a bit of traffic.
Your job now once you've set your blog up for "good SEO" is to start (and never stop) creating content.
If you want to have a successful blog, then you need to blog. It's just as simple as that and there is no other way around it.
I have many posts that do not do well in search and a few ones that do amazingly well and trust me when I say, those few ones are well worth the overall effort.
A Quick Recap + Parting Words
So, these have been my recommendations for the SEO actions you should take for your new blog.
What do you think? Are you going to follow this advice?
Here's a quick re-cap on what we've just talked about:
SEO Action #1: Set up Your Tools To Measure SEO
SEO Action #2: Start Writing Some Content On Your Blog
SEO Action #3: Develop A Social Strategy On The Side
SEO Action #4: Understand This Is Not A Short-Term Task
I am sure this will give you "that edge" you're looking for that will make all this worth your time – but remember; give it time!
Before I leave you, I'd like also like to invite you to join my email newsletter list so I can send you:
My FREE ebook: How To Win At Affiliate Marketing
This doesn't touch much about SEO but it does give you my story of how I got started and how I managed to finally make money with affiliate marketing.
My FREE Bi-Weekly Blogging Tips
I don't send much emails, but if you join, you can expect to receive an email every week or two sharing with you my best blogging and SEO tips for you to use and try.
A FREE Invite To My #1 Training Course
If you're new to this site, then you might not know that I offer mentorship inside the training course where I actually learned myself how to start a blog business.
If you'd like to join me, then you can see my full detailed review of the training here.
Thank you very much for reading. I hope this post finds you well and I wish you much success with your SEO campaigns.
Talk soon.