I got asked this by a teenager via my Twitter DMs and I have to say, what a great question.
I love this question for many reasons:
Who's asking realizes the power of the internet to make $$?
They are asking the right question (not; how to get started for free).
They are focused on the right thing; learning how to make your

own

money.
So, how old do you have to be to make money online?
The benefits of making money online are huge, and I won't go through them in this post as I am assuming you already can imagine how making your own money and being your own boss is a good thing in life.
There are some cons to it as well, but we'll leave that for another time.
In this post, I will go through all you need to know to get started online, how old you have to be, and what's the best way forward if you are just getting started.
So, let's start off with the main question at hand…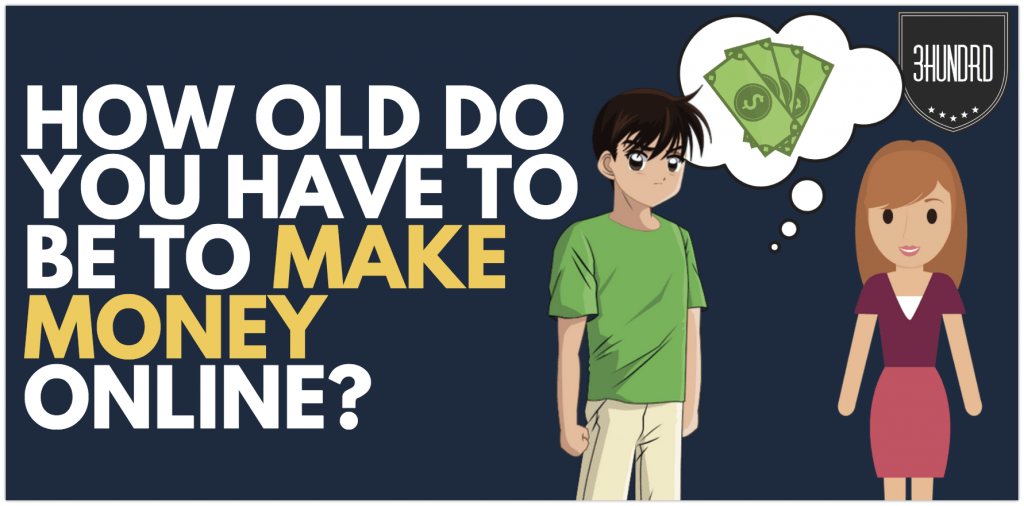 How Old Do You Have To Be To Start Making Money Online?
The best is obviously being an adult. In some cases, that may be 16, 18 or even 21.
However, I am going to go out on the limb here and say you can actually start earning money way before that.
There are 14-year-olds who are making bank using Instagram for example, not to mention the top (traditional) methods of drop shipping and affiliate marketing.
That said, if you want to start "early", you are going to have to convince your parents (or your guardian) to get access to their credit card/bank account.
You're also going to want to sign up to PayPal – I would strongly advise you to get a PayPal business account too (which does require an adult) as if you are willing to grow your business and yes, make a lot of money, you can't rely only on a "normal" account.
You can get started with a normal PayPal account, but if you're successful at it, it will cause problems down the line once you start doing a lot of transactions with it.
Before I go on and I give you my opinions as to where best to start when you are young, let's just recap what we've talked about above:
Ideally, you have to be an adult (whatever that means in your country).
You have access to a bank account/credit card and you also have a PayPal account (ideally PayPal Business Account).
Ok, boring technicalities over, let's look at some ways you can make money online as a teenager (or even younger than that).
Getting An Online "Job"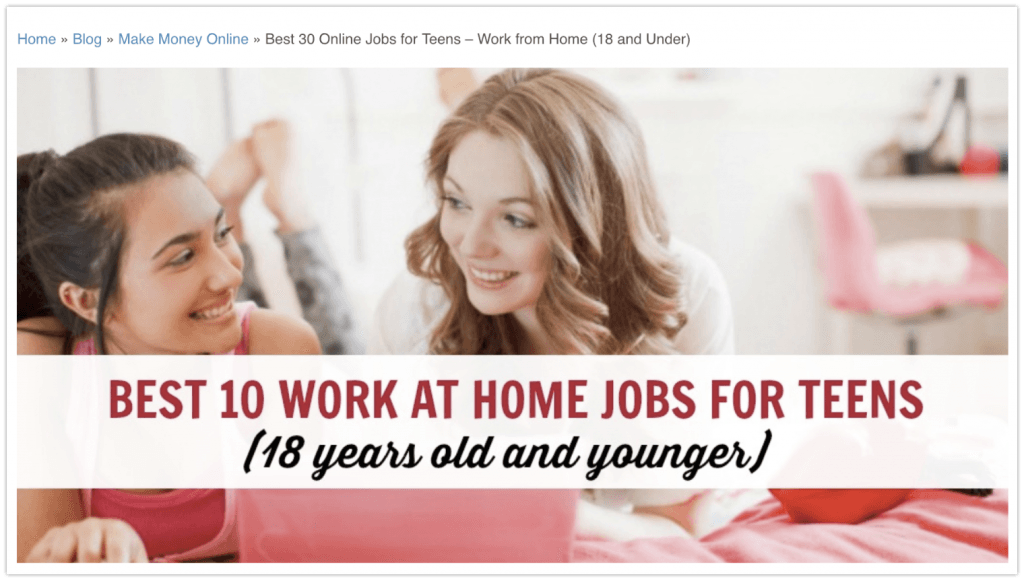 When it comes to making money online, there are two options.
You either work on a task-based kind of thing (like a job) or you can start building your very own online business.
In this post, I will cover how to start an online business as that is what I've always done but if you simply want to make some (quick) money online, you can take a look at this great guide showing you 30 ways to make money online as a teenager.
If you're looking to start a business at a young age, then read on…
Affiliate Marketing
This is my favourite method of making money online and it's also my bread and butter that allows me to not have a job and be my own boss.
In a nutshell, affiliate marketing is basically selling other people's products and services in exchange for a commission.
This would require you to build a website (you can see how to do that here) and publish content on a particular niche or topic and recommend products in your content related to your audience.
Interested in the latest Sneakers?
A "sneaker review website" would be a great way to get your feet wet with making money online and learning how it's done.
Most of the articles on my blog are about affiliate marketing and how to make money with it.
While I would advise you to read all of the articles here, I am sure you won't so here are some of the must-reads for quick access and practical information on how to get started:
Dropshipping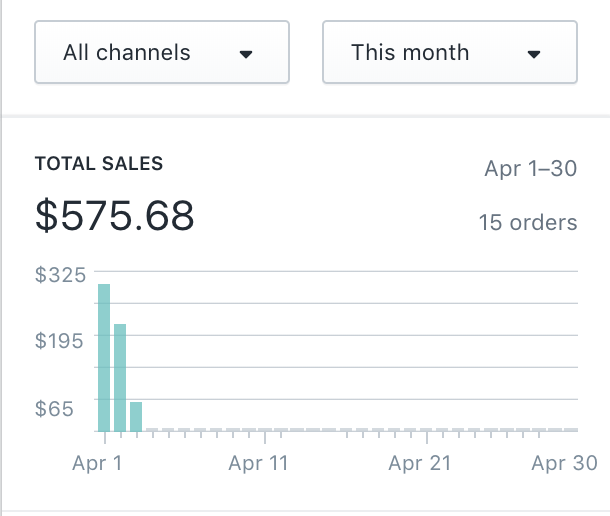 The other favourite model that seems to be the most popular choice with youngsters looking to make money online is drop shipping.
Drop shipping has been around for quite some time but it has since become one of the most talks about methods to make money online.
It basically involves you outsourcing products from China and selling them to an audience.
For this, you are going to need a Shopify membership plan and a budget for Facebook Ads.
The whole drop shipping model runs on being able to connect an audience to a product that they want and the quickest way to do this (without having to create a lot of content like affiliate marketing) is through the use of Facebook Ads, which means… you are going to need a budget.
While affiliate marketing can be started practically for free (or very little), drop shipping would require some funds upfront to find the operation.
My suggestion would be at the very least $500 (ideally $1,000).
This would allow you to test a variety of products, learn the FB ads platform, pay for your Shopify store etc…
I know I'm getting too technical here without giving you much advice on how to get started but I also happen to have a lot of guides about drop shipping as well here.
Here are some of my most-read posts on dropshipping but if you are looking to skip all that and get to it asap, then I recommend you checkout Ecom Elites, a training course that will show you all you need to know about dropshipping.
Social Media Influencer
If you're still in your early 20s, then you were brought up on social media.
Facebook, Twitter and most importantly Instagram are one of the biggest opportunities for young people looking to make money.
There are many, and I do mean many that have turned their knowledge of how these platforms work into a cash producing machine.
I have done very little with this stuff myself, but I hear many stories of people who are using this method. One of the most "famous" is a YouTuber by the name of Hayden Bowles.
He started off at age 16 I believe and have since built an incredible business for himself using many of the methods I am sharing with you in this post.
Stock and Forex Trading
Lately I myself have been looking into Forex trading and maybe even stock trading. This may sound complicated to you, but trust me; it's isn't.
Well, it is – but everything can be thought.
Warren Buffet, at one point the richest man in the world started trading at age 13 and is now, well… Warren Buffet.
The thing with Forex is that it takes quite a time to learn, master and perfect – which is great as a young teen, all you have is time.
Looking into this method of making money online as it can be extremely profitable. A good resource to start learning about this would be AstroFX, you can follow them on Instagram here.
Cryptocurrencies?
This is another golden opportunity for you young people looking to start earning online.
Cryptocurrencies are our future – more to you than to me.
Learn about investing in cryptocurrencies and start looking at how you can catch the "crypto craze", trust me; you will not be disappointed in 5 years time.
However, as is the case with Forex and stock-trading, you are going to need some capital to get started with, which brings me to my last piece of advice for you…
Do Not Quit Your Job
If you have a job, keep it. If you do not have one, go find one.
As much as I myself hate the 9-5 scam system we've all grown up with, it's a big mistake not to hold down a job while you are building your online business.
At first, you will not make money – that I can guarantee, which means you are going to need a steady flow of income to help fuel you.
You are young, you can do with sleeping a bit less and both managing school and a part-time job + building a business.
Do not think an online business is going to make you rich soon, get a job and hold on to it then use the earnings from your job to grow your online business.
If you're 18 years old, holding a job and building a business on the side, at 20 you are likely to already be a massive success.
Rich at 20 is a worthwhile goal if you ask me.
Get Started Making Money Online
Now while there are many ways you can make money online as a teenager, you are still going to need to know how to do it.
For this, and to help you save time cutting the learning curve in half, I'd suggest you invest in some training courses.
I already suggested Ecom Elites as a training course to learn about dropshipping and AstroFx for crypto and Forex trading, but for affiliate marketing, you can check out Wealthy Affiliate.
Believe it or not, there are members in there who are 7 years old using their mother's account to learn how to do business online.
I also happen to be a believer that in the future, doing business online would be the norm, not the luxury so make sure you are prepared for the business world that's coming.
You can join Wealthy Affiliate on a free starter membership here.
Final Words
Hope this post has answered your question. If you've been wondering how old you have to be to make money online, now you know and you have no excuses not to execute on your dreams.
Again, I applaud you for your determination and for being wise enough to recognize the internet as one huge business opportunity. You are already way ahead than 99.99999% people I know.
Well done.