Can you make money as a Pinterest VA?
As it turns out; yes you can.
Pinterest is often referred to as one of the best traffic sources an (online) business can get but;
Growing and maintaining a presence on Pinterest does take a lot of work, which most companies and businesses are not willing to do.
Hence why today, we find ourselves talked about Pinterest virtual assistants.
If you're looking to become a Pinterest VA, then I'm going to assume you consider yourself Pinterest-proficient enough to be able to provide a service to these businesses.
If you are, then this guide should help you get started (& make money) as Pinterest VA.
Here's what you'll learn below:
What is a Pinterest VA?
What a Pinterest VA does
3 reasons why becoming a Pinterest VA is a good idea
4 courses on where you can learn how to make money as a VA
How to find clients as a virtual assistant and;
a whole lot more.
As you will soon realize, becoming a Pinterest VA may not be the ideal "online job" for you so down at the very bottom, I will also share with you a few other ways you can make money online (not as a virtual assistant).
If this sounds good to you, let's get started…
What is a Pinterest VA?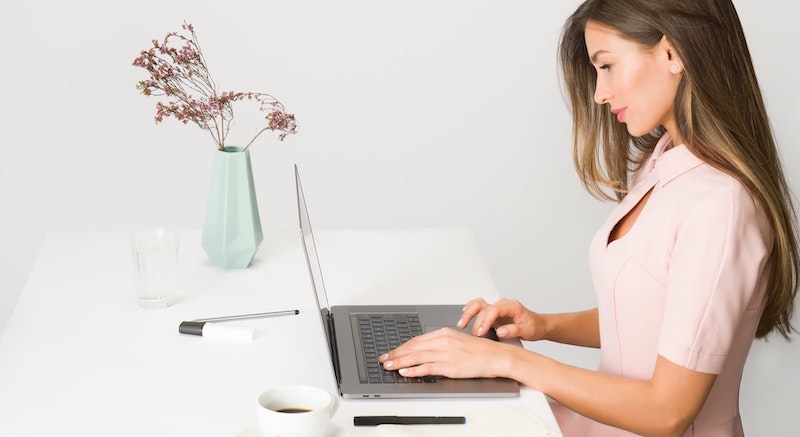 A Virtual Assistant who manages Pinterest accounts on behalf of their clients.  
As a Pinterest VA, your main job is to drive traffic to your client's website using Pinterest.
Here's a list of the typical services a Pinterest VA offers and the going rate for each service.
Initial Set-Up
Consultations – $75 to $200 per hour

Setting up a Pinterest Business Account – $250 to $700

Account Audit – $200 to $600

SEO (Keywords), Alt Text & Descriptions – $250+

Setting up Tailwind – $250 to $700
Ongoing Management Fees
Monthly Fee per client: $250 to $600 a month

Designing Attractive, Clickable Pinterest Pins – $5 to $10 per pin

Writing Enticing, Keyword-Rich Pin Descriptions – $5 per pin

Scheduling Pins Monthly – $200 to $800

Miscellaneous Services $30 per hour
3 Reasons Why Become a Pinterest VA

📌 Because Pinterest is Awesome
Pinterest is growing exponentially

70% of Pinterest's users earn over $50,000 a year 

Pinterest is a visual search engine with people looking to buy products

55% of Pinterest users shop on Pinterest (4x more than other social platforms)
📌 Because it's Fun and Flexible
It's fun – you get paid to Pin.

Work your own hours

Work from anywhere

You can learn the skills in a month
📌 Because of the Income Potential
Most Course Instructors help get you hired

High-income potential (depends on how many clients you take on)

Earn $25 to $60 per hour

Earn anything from $300 to $3000 a month within 6 months

Reported earnings of $10,000 a month for top PVA's
Top Courses on How to Become a Pinterest VA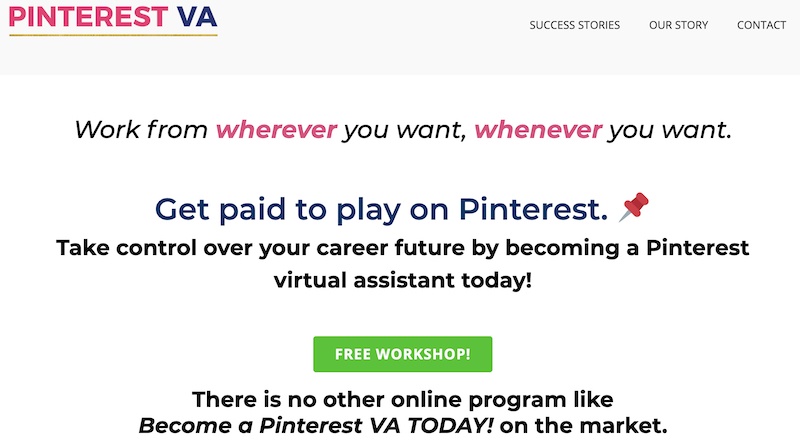 Gina Horkey of Horkey Handbook and Kristin Larsen of Believe in a Budget have teamed up to create the gold standard of Pinterest VA Courses. It's in both video and written format.
You are free to learn at your own pace, the whole course can be completed in a month.  
There's a huge bonus in working with Gina and Kristin. If you take their course, they will help get you hired and you can earn your investment back with your very first client (and then some).
Investment:
$799 – one-time payment, or

$479 x 2 months

Gina Horkey has also created her own 30-Day Pinterest VA Course.
Investment:
$397 – one-time payment, or

$167 x 3 months

ACT NOW – Price goes up to $499 in January 2020.
3. VA Ninja by Megan of LoveFamilyHealth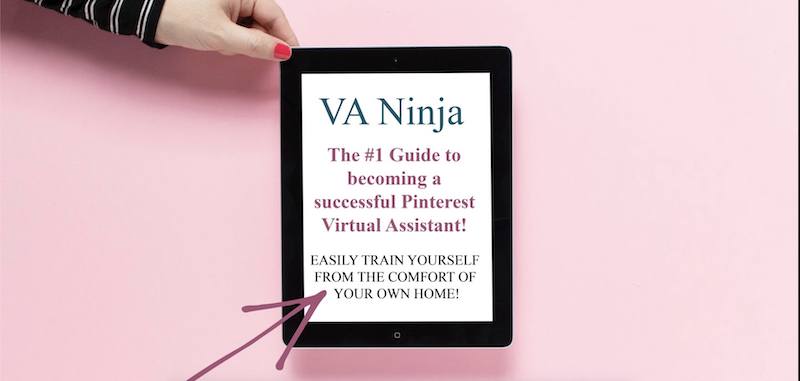 If you're a complete newbie at Pinterest, this is the course for you.  Megan first teaches her students how to become a Pinterest Ninja and then how to become a Pinterest VA. 
Once you've taken Megan's course you can list your services on her VA Ninja Database Free (non-students pay $100 to list their services).
$69.99 – Pinterest Ninja 

$149.99 – VA Ninja

$209.99 – Pinterest Ninja and VA Ninja Bundle

$229.99 – VA Ninja Big Bundle (includes a Profile Audit)
4. Pin-to-Profits by McKinsey Bean of MomsMakeCents

Pin-to-Profits teaches you how to take something you love (pinning) and start making money from it. 
Although not strictly a course on how to become a Pinterest VA, McKinsey received a rave review from one of her students who did Pin to Profits and is now a Pinterest VA making over $2000 a month.
$397 – one-time payment, or

$147 x 3 months
The Best Tools To Use As A Pinterest VA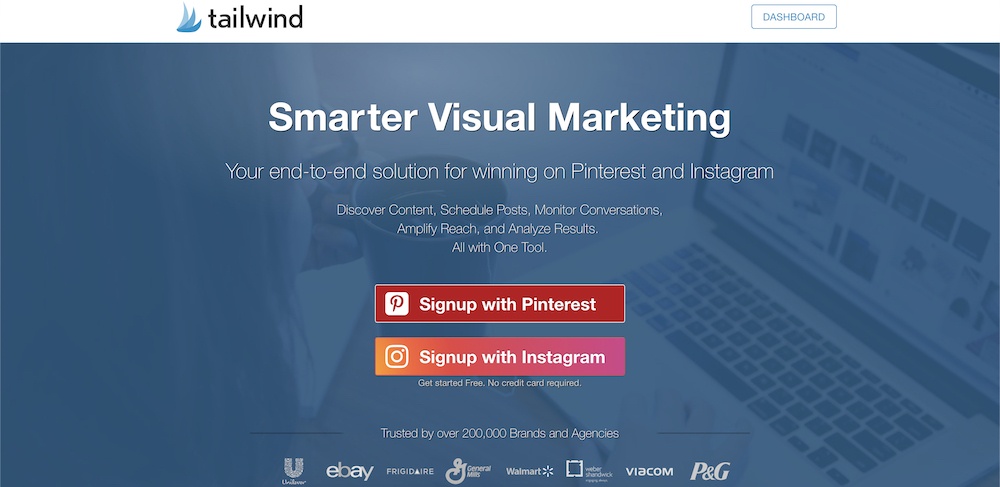 Free Trial to Schedule and publish 100 Pins or 30 Instagram Posts

$15 a month, or 

$9.95 a month, paid annually
Free

Pro – $12.95 a month, or 

$9.95 a month, paid annually
Invoicing Software
Paypal
2.9% + 30 cents ($0.30) per invoice
Freshbooks
Free Trial or Special Half-Price Offer for 3 months

$7.50 a month for 5 billable clients (unlimited invoices)

$6 a month if paid annually

$12.50 a month for 50 billable clients

$10 a month if paid annually
Xero
30-Day Free Trial

Starter Pricing $10 a month for first 3 months (half price special)

Standard Pricing $15 a month for first 3 months (half price special)
Harvest Invoicing
30 Day Free Trial

Free (1 Person, 2 Projects)

$12 a month (unlimited people, unlimited projects)

$10.80 per month if paid annually
How to Find Clients As A Pinterest Virtual Assistant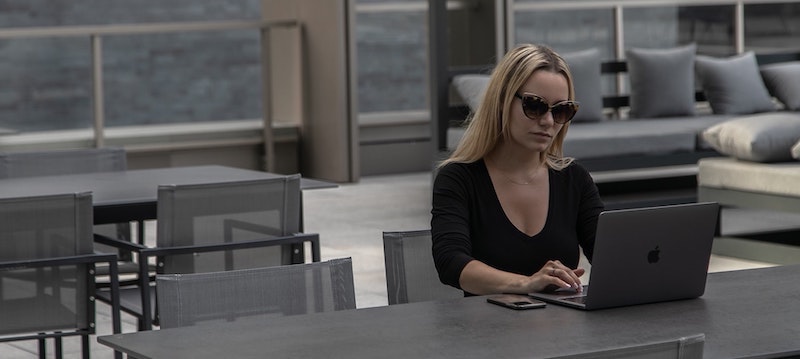 ✔️ Word of Mouth
Tell everyone you know that you've become a Pinterest VA and you can help them drive traffic to their website via Pinterest.
Ask your friends and family to refer you to friends who may need your services.
Attend business networking events in your area where you can introduce yourself and what you offer.
Network or collaborate with other Social Media Managers and see whether any of their clients need your services.
✔️ Social Media
Post helpful information about Pinterest on social media so that you become the go-to person on Pinterest.
Create a post to promote your services on social media.
Join Facebook or LinkedIn Groups about Business, Social Media Management or Pinterest and offer valuable advice.
✔️ Blogging
If you have a blog or niche website, add a "Work with Me" or "Hire Me" page. 
Create helpful posts about Pinterest.
Offer a free Pinterest Profile audit as your freebie or as a Giveaway on your site.
Promote your new service via email newsletters to your subscribers.
✔️ Freelance Sites
Advertise your service as Pinterest VA on Freelance sites like Fiverr or Upwork.
Do You Need a Niche to Become a Pinterest VA?
Yes.  It's not essential, but it's highly advisable to find a niche before you set yourself up as a Pinterest VA because it differentiates your VA business in the market place.  It gives you a unique selling point.  
At the very least, we recommend you give some thought to who your ideal avatar would be as targeting clients you like working with will make our work far more enjoyable and fulfilling.
Do You Need a Blog to Become a Pinterest VA?
Yes. Again, having a blog is not a pre-requisite, however, it's a really good idea to have a website to market your services.
If you already have a website and you've already carved out a niche for yourself online, it will be far easier to promote yourself as a PVA.
Here's my no. 1 recommendation if you want to create your own website.
Alternative Ways To Make Money Online
Is becoming a Pinterest VA something you want to do?
If so, go ahead and use the information and links provided above to get started.
However, if this is not for you (but you still want to learn how to make money online);
Here are some alternative ways I would suggest you look into:
At the risk of sounding too guru-ish, I honestly believe anyone anywhere can learn how to make money online.
Whether that's by doing a variety of online jobs as described above or; even by starting your very own online business.
If you're looking for a way to make money, I hope this post has helped point you in the right direction.
Whether you want to become a Pinterest VA (or not) is up to you, but don't give up on it as yes; you can most-definitely learn how to make money online.
I'll leave you to it.