We're all going mobile right?
Nowadays I am astounded by how many people tell me that they just do not have a personal computer anymore, everything they need to do can be done from a mobile phone. WOW!
Out of my group of friends, family, and people I hang out with in my "everyday life", I'm probably the only one left with a home computer (desktop or laptop), all of them are 100% mobile.
While mobile technology has come along way since smartphones came onto the scene, blogging and all the other stuff related to doing business online is not, at the time of writing this, fully achievable with just a mobile.
Some might argue that in fact it is possible, and I agree, but it has not yet made the switch to it being easier done on mobile.
Will that time ever come? I'm not sure but if I had to bet, I'd say it will.
However, us bloggers and e-preneurs have not been left out completely from this mobile boom that we're seeing and in fact, there are some great mobile apps for bloggers to use just to make things run a bit smoother.
These following 20 apps are apps I use regularly directly from my phone.
I am sure there will be others that I am not yet using and also there might be some which are better than the ones I will be mentioning below, however; this is what I use and I can confirm from experience that they get the job done very well (and in little time).
If you want to try and go a bit more "mobile" with your blogging, then check out my favorite apps below. You will be able to download them from the links included with each one below.
All of them are free to use (except one), but you might also find some that have a premium option in place to unlock even more advantages from them. This I will leave it up to you whether you want to go for the premium version or not.
20 Great Mobile Apps For Bloggers To Use
Social Apps
SNAPCHAT:
Snapchat has been blowing up lately and it's the new social media craze for people.
Snapchat has came a long way from it being the secretive 'sexting app' that it once had a reputation for and now it is used by many influencers and bloggers such as:
Gary Vaynerchuk.
Pat Flynn.
Darren Rowse.
Grant Cardone.
and many more.
If you want to take advantage of this app and the popularity behind it, then download the app and start getting accustomed to the uniqueness the app brings to the social world.
There's also products that you can get to show you how to use Snapchat to increase your followers, engagement, and traffic to your blog / business.
PAGES (By Facebook):
I have recently started putting in a lot of effort into my Facebook page for this blog, which you can see and LIKE right here.
The Pages app by Facebook is a super clean and easy way to manage all you need to do to make your Page a successful one. I mainly use it to answer comments on the go and even to check how my posts are doing "analytically-wise".
Get serious about Facebook pages as I think it will be one of the few that will last for a long time when it comes to branding and creating engagement online with your readers.
PINTEREST: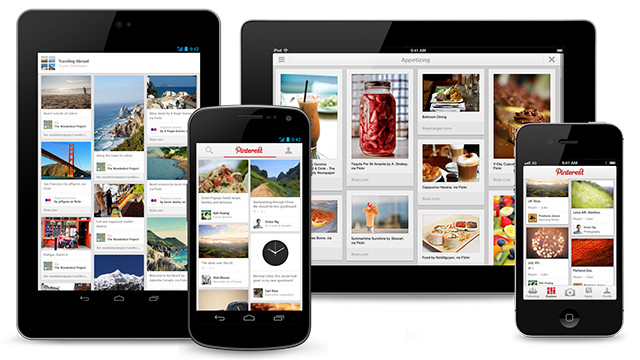 Not only am I a huge fan of Pinterest myself, but I'm also in the process of writing a book about how to market on Pinterest sharing my tips and tricks on how I get over 20,000 readers a month from there.
The Pinterest app is a huge bonus for me and I use it to repin content that I like onto my many boards.
It has also proven great to use for one of my unique methods of Pinterest marketing and that is leaving comments for people!
If you're a Pinterest fan, then I am sure you already have the app installed and you're loving it.
If you're not on Pinterest, see why it is so important and make sure you download the app and start your account.
FACEBOOK GROUPS:
Also, I've recently started a secret facebook page for my readers and subscribers so I have been spending a lot of time understanding how Facebook Groups work and what are the benefits of having one.
Luckily for me and for the many others that want to get into this "group thing", Facebook now has it's own dedicated app that you can download for free from here and use it to keep up with all the groups you're involved in along with the ones you created and manage.
Here's also a great list of "Business FaceBook groups" that you should consider joining.
PERISCOPE:
Periscope is a little know app that was getting a lot of buzz late 2015, early 2016 and it is a live video streaming app which is owned by Twitter itself.
The reason Periscope has been dying down slowly but surely is due to the rise of popularity in Facebook Live videos.
However, Periscope is still a great tool to use to find niche audiences that you can get in touch with at any time of the day.
I have not used Periscope for promotional purposes in a while but I still enjoy following and tuning-in to my favorite bloggers and entrepreneurs who regularly use Periscope to share their message.
Productivity Tools Apps
NAMECHEAP:
This may be more for the "power players of blogging" and digital marketing but it is a useful tool that I frequently "consult" when I get hit with the urge to start a new project.
NameCheap is the app for the domain registrar where you can buy domains and hosting for your blogs.
Although I do not use NameCheap myself anymore, (I'd much rather prefer Wealthy Affiliate's domain registrar and hosting packages), I use NameCheap to get domain ideas and also see if a niche (blog topic) has any value to the world.
Again; this may not be for everyone but it's useful to have also if you have domains registered with NameCheap.
You can edit, add, buy, sell or do anything you want with your NameCheap products directly from the app itself.
TODOIST: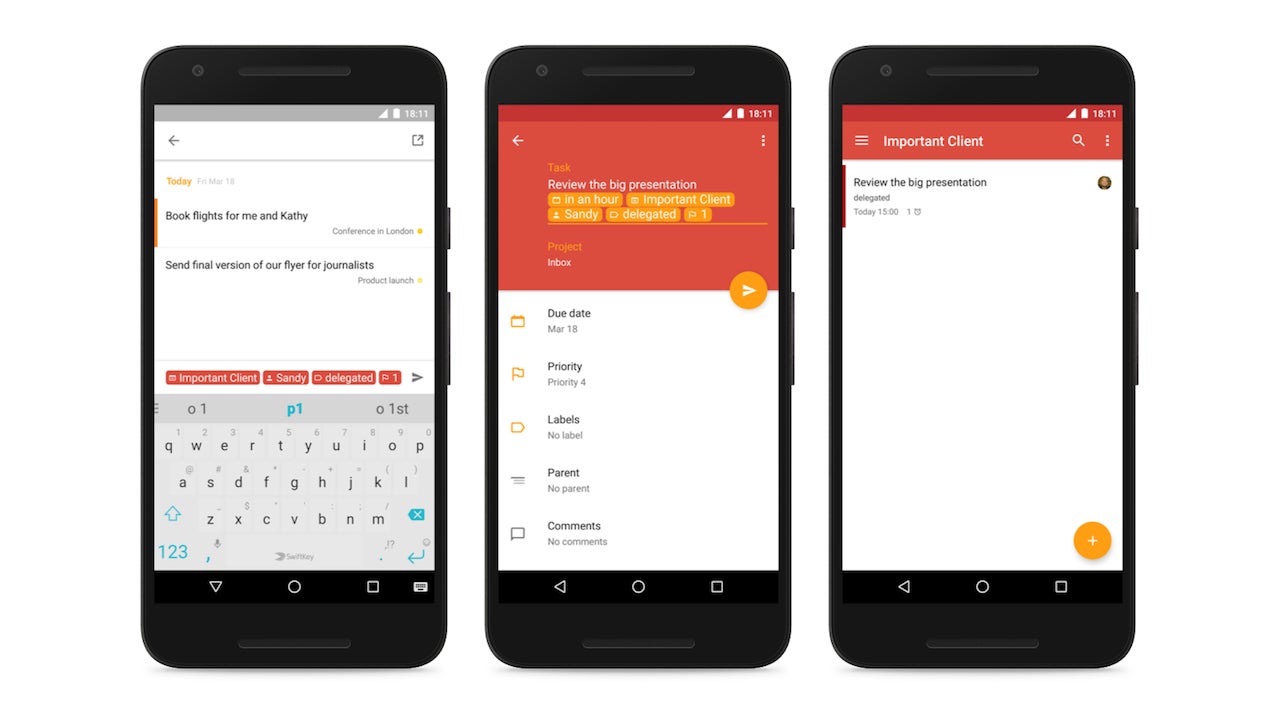 In early 2016, I came to the conclusion that I am not the focused human being I always hoped I am.
In fact, I realized that unless there is somebody or something holding me accountable for my actions, then I tend to waste my life away watching Narcos and Suits "on binge" and drinking wine.
Not very healthy and not very productive. Especially when you work from home.
Enter ToDoIst
A free productivity app that will manage and keep you updated every day on the tasks at hand.
At the start of 2016, I made a promise to myself that I would not go to bed until I finish everything on my daily to-do list and here we are mid-September 2016 and to this day I have not missed one task that I had to do.
Whatever goes in my ToDoIst, gets done! That is it!
Needless to say my productivity shot through the roof; I started writing my second ebook and I doubled my publishing frequency.
Thank you ToDoIst!
I know there are other apps that can do the job (Wunderlist is also a great option) but ToDoIst as the one to finally pin me down and get me to actually get my stuff done.
Luckily, ToDoIst has an amazing app that will keep you on your toes even when you are away from your home computer (if you're one of the few that still has one).
You can sign up and get the app for free here.
WORK-FLOWY: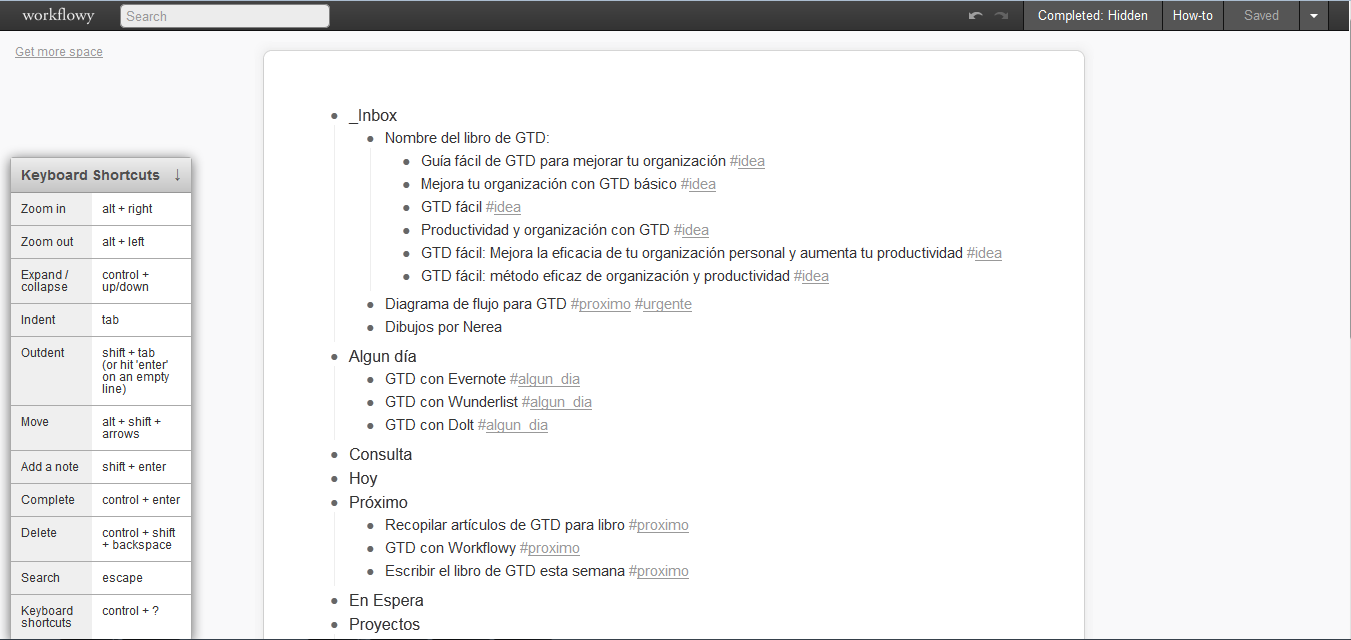 This is also another great app for productivity but I most use it to keep track of my yearly to-dos, goals, dreams and projects I am working on.
This app is simple, yet effective in every way as I am able to keep track of everything that I need to do through the months and years.
There are no fancy pictures or fancy interface, just the tasks you need to get done and make a note of!
You can get the Workflowy app from their website.
BUFFER APP:
WOW! Where can I start with Buffer?
Buffer is a social management app that allows you to post and schedule posts on all of your social media channels at the same time.
I use it every day, actually; it works for me every day (I just update it when I can) and it has given me so many results and return on my investment that I can not see myself ever working without Buffer ever again.
You can use Buffer for free but if you want the full benefits of Buffer, you should really get a premium subscription so you can harness the full power of this app!
I credit Buffet to most of my success on social media and online in general. In fact, it is one of the most recommended tools to bring in loads of traffic from social media.
It's also responsible for me being able to get thousands of visitors a month to my blogs through social media namely Twitter, Facebook and Pinterest!
Get the Buffer app now and your life will never be the same again!
FACEBOOK ADVERTS:
I love advertising online. It's cheap (if you know what you're doing), it's quick and since I drive traffic to my lead pages or my social networks, I basically made a connection "for life".
I was a fan of advertising using the Bing Ads platform but I've since moved all my advertising to social mostly on Facebook (Still waiting for Pinterest to open their ad network worldwide)
Again, Facebook has thought of everything and they also have a dedicated app for you to be able to launch campaigns, manage them and even see the results you're getting while on the go from your phone.
This little tool allowed me to make adjustments while on the go to my ads thus saving me time, money and getting me even more results as I am able to adjust to my data almost instantly.
If you're thinking of doing Facebook Ads soon (which I highly recommend if you have the budget for it), then go ahead and get the Facebook Adverts app for free and start experimenting with it.
AWEBER STATS:
One of my major sources for traffic and readership engagement is through the use of email marketing, which this year I've also made it a point to milk it for all its worth.
For email marketing, I use Aweber (you can see why I chose Aweber here over all the competitors out there) and sure enough, they have an app for that as well.
The Aweber app, which can only be used for analyzing the data and the traffic (you can't set up emails just yet) is a convenient way for me to be able to see what exactly is going on with my list. I can see:
A list of all my subscribers,
How my follow-up sequence is doing,
What my open rates are on my broadcasts and
Much, much more.
This is not an app I use on a daily basis, but I sure do check into it a couple times a week just to see what is working and what isn't and I love the simplicity and "cleanliness" of the app.
Good job Aweber on creating this masterpiece. I look forward to more apps and updates coming from you!
Photo Editing Apps
CANVA APP:
And finally… Canva (my favorite picture editing software) has made an iPhone app to compliment their already amazing service.
Canva, for those that do not know; allows you to create a slew of social media images that you can add text to and use to spread your message on social networks.
With this app, I can quickly create a piece of artwork that will go with one of my blog posts and / or for sharing quickly on my social media platforms.
While I mainly still use the desktop version of Canva, having the app just a press of a screen away has made my "graphic design work" much, much quicker and to the point.
See my detailed Canva review here.
AFTERLIGHT: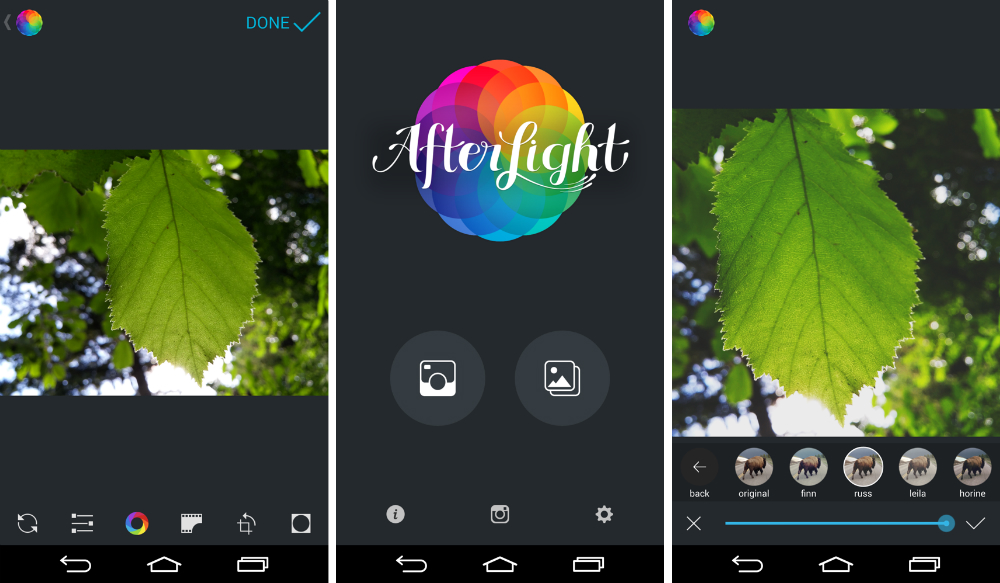 I love Canva, but I use it mostly to add text to my social media images. However, for editing photos and giving them a vintage look with a huge selection of filters and such, forget Instagram and use AfterLight.
It's the only app that costs money on this list ($0.99c) but it has so many capabilities it's amazing. Obviously, you don't have the social sharing feature like Instagram, but if you want to edit photos in any way that you like, Afterlight is the best option that I have found.
Cloud Hosting Apps
GOOGLE DRIVE:
Google Drive is a great way to store files on the go and have them accessible to you everywhere you go at any time.
Next, I will be talking about Dropbox, which also is a cloud app but I like to have them both as most people use Google Drive instead to transfer large files and even information.
Not to mention you will also be able to see your Google Docs (which has it's own dedicated app) in Drive. Google Docs is just like Evernote (which we'll talk about both soon) and you can write and edit your content on the go.
DROPBOX:
Dropbox was my first experience with the "cloud phenomenon" so I keep it because I have a lot of files on there that I would like to keep.
When it comes to my blogging though, I mostly use DropBox to backup my blogs on there (which is very important to do) and also keep a backup up of my premium plugins and WordPress themes that I purchase.
You might not need both Google Drive and Dropbox but it's no harm having them both. They are both free and you will have A LOT of space "in the cloud" where you can store any information or content that you may need while on the go.
Writing Apps
EVERNOTE:
I love Evernote. I even have a whole post dedicated to it showing you all the awesome all the features it has.
Evernote is something that I use on a daily basis and thanks to it, I can do most of my writing (I always do 1000+ words a day) whenever I please.
Commuting? Easy, take out Evernote and get to work.
Lounging by the pool? Easy, take out Evernote and do some work.
Stuck somewhere without internet? Easy, take out Evernote and get to work. (Once I get a connection, it will be readily available to me on my home computer.)
Evernote is awesome, it has tremendous value for a free app (there are premium options if you'd like).
You can also store images on your Evernote, business cards, notes that you pull from the internet, save articles you want to read later and much more. And this is just on the free membership!
Thank you Evernote, you have been a lifesaver productivity-wise and you might just be the greatest mobile app any blogger could use!
GOOGLE DOCS:
Google Docs is Google's version of Evernote but I have to admit; I like Evernote much better.
However, I do get the bug sometimes to use Google Docs and it always works great!
I did use Google Docs for some time before I found Evernote but recently I've started using it to write my next ebook, which Google Docs works great for since they have the possibility of saving a .pdf file (Evernote, unfortunately, doesn't).
Reading Apps
FEEDLY:
Next I'd like to talk about some blog reading apps that I use every day.
I make it a point to do some reading each and every day because I have found it really improves my writing.
I read about everything, but most importantly I read about blogging just so I can get an idea of what is happening and what I can blog about next.
Feedly is a tool that you can use where it's like Facebook; you have a news feed of articles coming up but they're all from blogs that have published new content.
Simply skim through it, find the article you want to read and once you read it, you won't see it anymore (unless you look for it in your archive)
BLOGLOVIN:
Blog Lovin is the same as Feedly with all its goodly features.
The reason I have both is because I simply happened to be using the two and adding blogs to each one of them so it seemed less of an effort to keep using both than to add all the blogs I am subscribed to to one single app.
Both BlogLovin and Feedly are awesome so if you want to brush up on some reading and keep up with your favorite blogs (like this one), then get the app and start adding up your favorites.
Monetization Apps
GOOGLE ADSENSE APP:
Last but not least, I want to talk about a great app that is suitable for bloggers who make their money through the platform 'Google Adsense".
Personally, I do not use Adsense*. I've shared in the past why I think affiliate marketing is better than Adsense.
But, if you're an Adsense user, then you might be happy to know that they have an app which shows you in real time your earning for the day, week, month and year.
It's a really great app that is very easy to use.
*I don't use Adsense but I have it on my phone because I do have a plan to start using AdSense again till I get over the $100 threshold (so I can get my cheque haha).
In Closing
Thank you very much for reading , I really hope my round-up post of these 20 great mobile apps for bloggers helped inspire you, save you some time and even help you keep up with the all the responsibilities of building and running a blog.
If you liked this post, see some more on the blogroll and also share it with your blogging friends. I'd really much appreciate the extra exposure.
If you have any questions, be sure to let me know in the comments below.
Many thanks.
Chris Lee
PS: Since you're here; I'd also like to invite you to subscribe to my email list. It will only take you 5 seconds and I will be able to send you a lot of goodies (including my free ebook) straight to your inbox in no time.
Talk soon!