Not too long ago, I published a post called "How To Start A Business With NO Money".
While yes that is true, you can start with $0, as you start to grow your business, there will be some expenses that you will have as a result of the growth of your blog.
However, it's not as much as you may think.
I have recently decided to pay close attention to what I'm spending and I was shocked by what I've realised.
I am running a full time business on $2.74 a day.
Wait what? I am running a business on less than $100 p/month?
Yes, to run my online business that generates income like this, my only costs are $74.10 per month.
Let me break that down to you so you can see what I am spending my money on and why I choose to have these investments.
*Also I have to add that my time is not calculated in this.
How Much Does It Cost To Run An Online Business?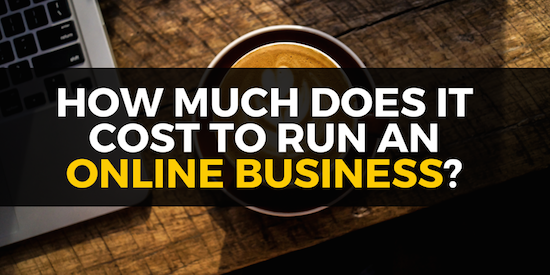 Aweber (Email Marketing Manager)
$29 per month/ $0.97 per/day.
Notice the forms in the sidebar? Those are all run by Aweber and if you choose to join my email list, I will be able to get in touch with you via this service.
Having an email list is a must to run your online business and I have over 1500+ subscribers across all my blogs.
The fee I am paying is to host all these email addresses and send them emails automatically. The thing with Aweber is that you get charged by how much subscribers you have. Let me explain:
As a new member you will get the first 30 days of your membership free (it used to be $1 but not anymore).
After your first 30 days, you will start paying $19 for your first 500 subscribers. After that it will increase as follows:
501-2500 subscriber = $29 (This is what I am on right now)
2501-5000 subscribers = $49
5001-10000 subscribers = $69
10001-25000 subscribers = $149
Check out the full price sheet here.
Is Aweber worth the price? Most definitely! It keeps my business running 24/7 and generating revenue even while I'm asleep.
It's highly recommended to have even if you are a new blogger just starting out, the sooner you start collecting emails subscribers, the better you will be in the future.
READ: Email Marketing Done Right: How To Run Your List
Buffer App (Social Media Management)
$10 per month, $0.33 p/day
I am huge on social media. I just love how fast it can generate traffic as opposed to search engines where you have to wait to get ranked and get traffic.
If done right, social media can drive readers and customers in an instant.
But what is "social media done right"?
I view social as a way that I can connect with people that I think will be interested in my ideas.
But I have to admit, it's hard to feed the beast that is social while still have time to do anything else.
Hence why I love Buffer so much.
Buffer helps me schedule posts that will go out periodically as I set them and I then never have to worry about it again.
I can schedule a piece of content to go out multiple times in a year so once I set it I can really "forget about" it for a while.
I say "a while" because once it gets published, I am on there engaging with the followers so it's not "complete automation".
Remember consistency and engagement are key to a great social media campaign.
Not only that, but Buffer also offers you insights and analytics on how your updates are performing. It will show you the best time to post, what type of content performs well, etc…
Although I use it mostly for Pinterest, Twitter and Facebook, you can also add Google+ and LinkedIn to it too.
Buffer has a free option if you would like to try it out (but it will be very limited), I choose to pay the tiny $10 per month fee because it has no limits on how much content I can schedule.
I have tried using competitor products (like HootSuite) but I always return to Buffer. It's just that good and very cheap.
I can't imagine myself manually updating all my social networks everyday so Buffer is really a great tool to invest in.
I suggest you take a look at it if you want to use social media to generate results.
Jaaxy (Keyword Research Tool)
$19 per month, $0.63c per day.
In order for me to come up with blog post ideas and find out what topics I should write about, one of the main tools I use is Jaaxy.
Jaaxy is a keyword research tool that will show me keywords people are typing in search engines along with the search volume, expected traffic if I get ranked, competing pages and the SEO power of a keyword.
I admit, in the beginning of this blog, I didn't pay much attention to keywords (and I suffered because of it).
So yes, you DO need keyword research. And I can't recommend anything better than Jaaxy.
READ: An Introduction To Keywords.
Wealthy Affiliate (Online Training Platform)
$299 per year, $24.91 per month, $0.83 per day.
Wealthy Affiliate; by biggest expense, yet my most valuable asset.
If you do not know what Wealthy Affiliate is, check out my official review of it and my top 10 reasons why I love it so much.
WA is amazing.
With just the $0.83 I pay every day I have access to all this and more:
Free hosting for all my blogs (currently 4). <- Massive savings here
I can create unlimited free SiteRubix websites.
A weekly Live Webinar.
24/7 Live Chat.
2 Main Training Modules.
1000s of hours of other training material.
and so many more.
I think all that is well worth the $0.83 I pay each day to be a member. The hosting alone (for 4 blogs) would cost so much more.
Investments I Am Considering For The Future
Those are all the expenses I have so far in my business. However there are other tools that I am looking to invest in that will eventually add up to my expenses:
Canva For Work
At the time of writing this, "Canva For Work" has just launched and I am on my 1 month free trial.
Canva is the magical tool that I use to create all my blog graphics and the "Canva For Work" premium option makes my job so much easier.
I would definitely be subscribing to "Canva For Work" as soon as my trial expires and that should cost me $12.95 per month which is about $0.43 per day. Well worth it and still under $100 per month for total expenses! 🙂
Aweber
In 2016 I expect to reach the 2501-5000 range of subscribers and I would start getting charged $49 per month or $1.63 per day.
It's a bit of a steep jump from the $29 per month I pay now but still worth the price so yes I will keep the subscription.
Premium Hosting
As this blog continues to grow bigger and bigger, I might consider switching hosting providers to something faster and stronger like NameCheap which would cost me around $12-$20 per month.
Wealthy Affiliate hosting is perfect to get started but the bigger your business grows, the more power you are going to need to run it.
---
So there you have it. That is how much it costs to run my online business.
Obviously, throughout the year I will incur more one-time payments for stuff such as:
Coders to edit some codes in my themes.
Graphic designer for my eBook giveaways.
New WordPress themes.
Domain renewals.
Products purchases for reviews.
etc…
While none of these things are expensive, collectively they will amount to around an extra $100 per year (roughly).
---
In Closing
I hope this post helped to inspire you and see how little you need to run a full fledged online business from home.
As you can see, the start up costs and upkeep of such a business is minimal. That is why I love blogging so much. It's just super easy to get started and the income possibilities are endless.
Thank you for reading and be sure to drop me a comment down below if you need any help or would like to ask a question.
Your Tasks For The Day:
Read my guide on how to get started for free.
Right below in the comment section, tell me how much money you are ready to invest for your new business.
Also, post your URL of the blog you just created. I would love to check it out.
Till next time.