Ok, you've started a blog. Now what?
Now that you have a blog, we need to look at some ways you can get your blog off the ground (and make it successful).
Running and maintaining a blog can be a lot of work sometimes, which usually leads to neglecting certain areas that are a necessity for your blog to grow, like certain promotional methods to get your content out there.
If you have been blogging for a while and you are not seeing the results you want, you may want to read what I have for you down below as I am sure it will help you.
Let's get into it shall we?
7 Things You Need To Focus On To Get Your Blog Off The Ground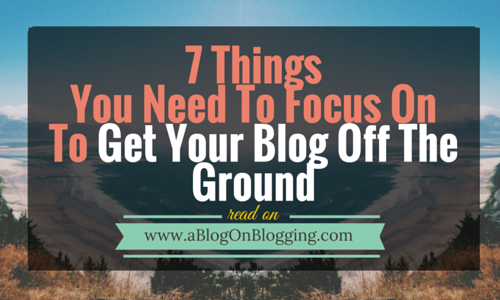 Registering Your Domain & Getting Hosting
If you don't have a blog just yet, you need to have your domain and web hosting up and ready to go. (If you have a blog already up, that's good, you can skip this point.)
If not, however, you need to:
Pick a blog topic.
Decide on a domain name.
Get your WordPress site up (Why WordPress?).
If you don't know how to do this, do not worry; I've got you covered and it's all explained in this guide right here.
Setting Up Your Website (i.e Your Blog)
Ok, we've got the site up, now what?
Next on your list should be:
Installing / updating plugins (Like the All-In-One SEO plugin).
Delete the default posts and comments that come with WordPress (so you have a fresh, clean website).
Setting up your profile (you can do so inside the "Users" tab in WordPress).
Setting up your contact info (it would be ideal if you can have a website email such as yourname@yourblogurl.com, but if that's not an option right now, a quick Gmail account will do)
Creating Your Founding Pages
Before you do anything else, you also need to set up your founding pages, wich are:
Writing Your Content Successfully
Ok, before you launch, I suggest you have at least 1 (ideally 5) blog posts that are up online and ready to receive readers.
If you are going to launch you blog and have it gain some traction with readers, you need to have content for you to send them to.
So, before you launch, make sure you spend some time perfecting at least 1 article. When I say perfecting I mean:
Make sure it has a great title,
It has images you can share,
It's written as best it can be and
Include a signup form (optional but it will help).
Once you have a post with those requirement, you're set to launch (successfully).
Pick A Socia Media Channel & Go All In
If you want to get your blog off the ground as quickly as possible, you are going to need social media.
SEO is an amazing resource of traffic but that takes time and patience to build up, so for quick results; it's best to use social media.
One thing I'm always pushing is that every blogger needs to have at least 1 social media account where they can focus on 100%.
For me, that place is Pinterest and Facebook for my other blog.
With a solid social network in place, you can immediately start seeing results if you post your content on there.
If you do not have a social channel or have one but it doesn't have many followers, spend some time building it (it will be time well spent).
You may also want to use paid advertising like Facebook Ads to start getting likes and followers but that's only if you have some money to spend
Also, I suggest you pay close attention to Instagram as I've come to see it's a huge opportunity to get traffic from there. See my guide on getting traffic with Instagram.
Consider Doing Some Outreach & Networking
Want to launch and grow your blog faster? Consider doing some collaborations with other bloggers in your industry.
This could simply mean submitting guest blog posts to other well-established blogs with the intention of getting some traction going before (or even after) you launch.
Jon Morrow successful used this method to get 5,000 loyal subscribers before he even published his first post, which is an amazing feat. See his guide on guest blogging here.
How to find guest blogging opportunities?
Research and networking.
Hop on over to Google, Twitter and Facebook and look for other bloggers that publish content related to yours and get in touch with them with a tweet or an email (email is better).
Let them know that you would like to contribute to their website and see what they say. The majority will refuse but you will get some blogs that want to work with you.
They might even ask you for some examples of your work (which is understandable) so try to have some posts ready to show for them.
Sign Up For Affiliate Networks (Optional)
This may not be something you need to do to get your blog off the ground but it's definitely something you should think about after you start getting some solid traffic numbers;
Blog monetization!!
If you want to make money with your blog, then you should really consider doing some affiliate marketing or the least display some banner ads from Adsense. I don't really recommend AdSense but for starters, it's good enough.
It's an incredible feeling to have your blog make money for you, even while you sleep or while on holiday!
I can never get used to waking up and seeing my inbox with emails that I have made money while I was sleeping! How crazy is that!?
Blog monetization should always come after you have successfully launched and got some visitors coming in. However, I do suggest you start learning and discovering the many ways you can make money with your WordPress blog.
Give It Time
One last parting tip I want to share with you is to just give it time. Even if you do all the above tips I've just shared with you, chances are the progress won't be instantaneous.
It takes time, focus and determination for a blog to grow (and also a lot of learning on your part).
So give your blog and yourself some time. Don't worry; if you keep at it, it will happen for you.
If you want some inspiration, take a look at this guy who after months and months of work, he's now making $10,000 a month online.
Just give it time!
In Closing
I really hope this post has helped you figure out how to best get your blog off the ground and into blog-stardom!
Building, running and even maintaining a successful blog is not an easy thing to do (although it's very fun), but if this is something you want to do, I would like to help you do it.
Consider subscribing to my email newsletter so I can send you my blogging tips straight to your inbox and also a free invitation to my #1 rated online marketing training course you need to check out before you even start your blog.
I promise you it will change the way you go about creating your blog and also shows you how to achieve results faster.
Thank you very much for reading. If you have any questions, be sure to leave them down below in the comments are. I would love to hear from you.
Til next time.
Chris Lee